SUNDERLAND, England -- So I just finished up an interview with John Harkes and Tony Meola -- two United States soccer legends -- and figured I would drop you all a quick line.

Not sure if you all heard or saw but something huge went down Tuesday in the Midwest for American soccer. That's right, fans of the red, white and blue. Clear your schedules next summer and start saving your money, because we are heading to Brazil. What an amazing result my U.S. teammates put together against our rival Mexico, recording another 2-0 win and securing us a spot in the World Cup. From Eddie Johnson's opening goal to Tim Howard's clean sheet and everything in between, it was a total team effort and brilliant performance.

For me, there were an array of emotions running through my mind and body when the center official whistled the match complete. First and foremost, I was thrilled that all of the hard work from the coaching staff, players and numerous people behind the scenes of our national team had paid off. We accomplished one of our big goals in making it to Brazil, which is something we should be proud of.

Yet at the same time, personally it was a tad bittersweet. I was at home, some 3,700-plus miles away, watching everything unfold from England.

I didn't play a role in the decisive qualifying game. I couldn't pay tribute as planned to my friend, Kirk Urso, in front of his friends and family on the field he once called home. I wasn't part of the awesome atmosphere generated by our dedicated fans at Crew Stadium in Columbus, Ohio. And I wasn't part of what was truly a night of postgame fun and celebration.

As a player, you always cherish being part of what Tuesday's result delivered us -- a spot in the World Cup. To not be there was tough. Fortunately, the latest "Dos A Cero" home result against Mexico was only one entry in this lengthy chapter we're trying to write in U.S. soccer history. And I look forward to being part of the next steps and all that is yet to come.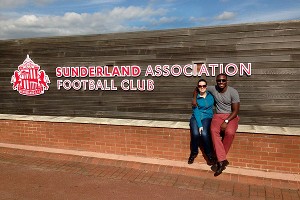 Courtesy Jozy AltidoreMy older brother Janak and his girlfriend Aisling will be at the Stadium of Light on Saturday to watch us take on Mesut Ozil and Arsenal.
Switching gears, we have a huge match on Saturday morning here at Sunderland. The Gunners of Arsenal come to town and a positive result is all that's on our minds as we prepare for the showdown. It is going to be a tough match, like every match in the Premier League is, but we will be ready as our supporters will surely have the Stadium of Light rocking as usual.

It will also be cool since I have some family in town visiting me for the first time since my transfer here this summer from AZ Alkmaar in the Netherlands. Hopefully they can help me continue getting my new home in order and that bedroom loaded with boxes from my move cleared, as well. Just an optimistic thought on my part!

On that note, I hope you guys have a great week and continued thanks for supporting me and my teammates here and back home. See you all next week, hopefully talking about a good showing against Arsenal.