An unforgettable night at Old Trafford
Life as a professional football player could easily be compared to riding a roller coaster that seemingly never stops.

There are amazing highs you experience as an individual as well inside the team structure. And at the other end of the spectrum, there are some horrific, gut-wrenching lows that make you question why you chose this path for a living.

Yet, every once in a while, you get the opportunity to be part of something special, something that will stay forever with you.

Well, needless to say, Wednesday's match against Manchester United was one of those times I will not soon forget for so many reasons. Talk about an amazing moment for me, my Sunderland teammates and coaching staff as we did what so many said we could not do -- get past Manchester United in our two-leg showdown to reach the Capital One Cup championship in March.

- Jolly: Utd's rough season continues
- Report: Sunderland beat United on penalties
- Payne: United's calamity
- Okwonga: On Sunderland, Mata and metaphors
- Randall: Mannone the hero

To say Wednesday's game was thrilling would probably do it a disservice. It was much more than that. You had two clubs going back and forth, taking blow after blow from one another, until we needed a penalty-kick shootout to decide who would earn a trip to Wembley Stadium to face Manchester City.

The atmosphere was tremendous, rivaling our derby against Newcastle back at home on Wearside at the Stadium of Light earlier this season.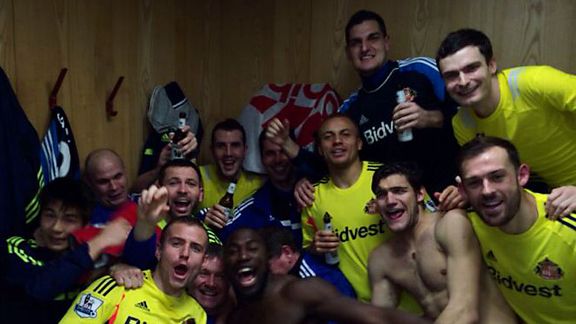 Courtesy of Jozy AltidoreWe had every reason to enjoy our post-game celebrations having beaten Man United at Old Trafford!

And to say our ridiculously devoted and fantastic supporters weren't the loudest group at Old Trafford would be a lie. We have the absolute best fan base in the Premier League and it showed Wednesday when roughly 9,000 fans made the trek south to cheer us on, then celebrate with us in our accomplishment.

Aside from the fact that we earned our spot in the Cup final, I think there was one glaring thing everyone watching should have taken from the match. Simply put, if we play like we did against Manchester United on a consistent basis the rest of the way through our Premier League schedule, we will be competitive in every match and will have every opportunity to safely stay above the relegation zone.

We showed that when we are on our game as a team, we can put together positive performances that lead to favorable outcomes.

Now, we must prepare for another big match Saturday when we face Kidderminster Harriers at the Stadium of Light in the fourth round of the FA Cup. Hopefully we can ride the momentum from Wednesday's thriller and give our fans another home victory.

Until next time, take care and stay positive, my friends.