World Cup group is one to relish, not fear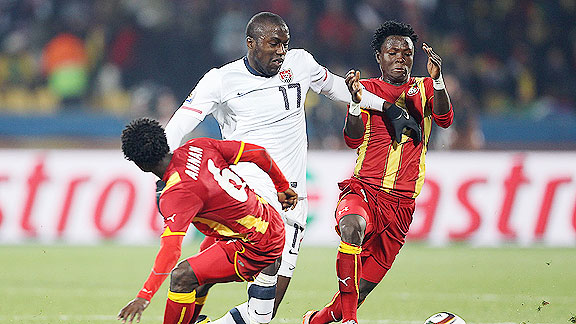 Phil Cole/Getty ImagesJozy Altidore and the United States national team will get another crack at Ghana at next summer's World Cup.
SUNDERLAND, England -- Well, that was interesting.

You never know what to expect or have a clue what's going to happen when it comes to the World Cup and Friday's draw didn't fail in its attempt to deliver the drama and excitement that always surrounds it.

So, I assume you all saw we open the World Cup with Ghana on June 16 in Natal, Brazil, as part of what the soccer pundits are calling the toughest of the eight groups at the event.

And why wouldn't we get a chance to play Ghana? We have faced our African nemesis the past two World Cups, once in the group stage and the other in the round of 16, so having Ghana among the hurdles on our journey seems like it was almost destined to happen. Something almost predetermined.

But suffice it to say, it won't be too difficult for us to get up for that opening match or our games against Portugal and Germany. There's a lot of history between the U.S. and that trio that has accumulated over the course of decades on the pitch. So, needless to say, it's going to be extremely exciting for us.

As I said, I don't consider this a "Group of Death" for our team, country and supporters. I can tell you for sure that we aren't going to be walking around scared and worried like a bunch of long-tailed cats in a room full of rocking chairs.

We are going to relish this chance. This is a group of opportunity for us as a team and nation. It's a situation for us where can further prove we are among the most talented countries in the world.

At some point at global tournaments, whether it be at the World Cup, European Championships or Confederations Cup, every team is going to have to face some of the finest teams on the planet on their respective journeys toward a championship. So, for us having to go up against talented nations right off the bat in the World Cup's group stage just means we are going to see some of the best early on.

And we will be racking up those frequent-flier miles as well. We are going to amass somewhere around 9,000 miles of travel, which is pretty wild to say the least. However, it's just part of the early path laid in front of us and something we must adapt to in Brazil.

Obviously, the World Cup is still several months away, but I can't wait until we start preparing for the tournament and continue this exciting trip we began in what seems like forever ago in the qualifying stage. If we put it all together, we can do some very special and memorable things. I think we'd all be extremely disappointed if we didn't do just that.

In the meantime, I will keep working hard here in England with my Sunderland teammates as we keep pushing to better ourselves and our position in the Premier League.

We suffered two very difficult losses last week, both coming at home, against Chelsea and Tottenham. It was great to score my first goal of the Premier League season in the Chelsea match, but I'd take a pair of victories and six points over a goal any day of the week. Hopefully, we keep improving and string together some positive results during this very busy stretch of matches we have ahead of us.

Until next time, take care and best wishes to you all.