SARAJEVO, Bosnia-Herzegovina -- Well, that was fun.

As I get ready to leave the hotel and head to the airport, I can honestly say this has been another great trip and created one more lasting memory in my life as a professional athlete.

- Bennett: Lessons learned as US streak continues
- McIntyre: Altidore in form of his career
- Carlisle: US earns historic win in Bosnia

My United States teammates, coaching staff and I capped our five-day trip to the historic city of Sarajevo with what was truly a thrilling 4-3 win against a very talented Bosnia-Herzegovina side.

Call it resilience, perseverance, resolve. Call it whatever you want. The bottom line is that we showed true American spirit and heart rallying for a win against a country poised to earn a spot in next year's World Cup.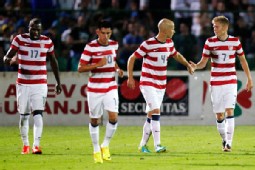 REUTERS/Dado Ruvic Jozy claimed his second international hat trick on Wednesday as the USMNT came from behind to beat Bosnia.
Personally, it was a night I won't ever forget. If you know me, you'll understand I am not one who focuses on personal accolades or accomplishments. But following the match, I thought about the late Josef Schulz -- my mentor growing up -- and how I hoped my role in our come-from-behind victory would have made him proud.

Mr. Schulz saw something in me years ago when I was just a kid and believed I could find success and achieve moments like this, and because of that, I will be forever grateful.

This trip to Sarajevo also served as a reminder of how lucky I am that my field of work has given me opportunities to visit cities like this across the world.

Sarajevo is loaded with history, from when it hosted the 1984 Winter Olympics to the Bosnian War for independence that resulted in thousands losing their lives in the 1990s. Having a chance to make this trip with my American teammates leaves me humbled and grateful reflecting on these kind of moments.

But now, I must head back to my new home in England and get ready for Saturday's season opener with Sunderland.

Everything has been a whirlwind of sorts the past two months and I couldn't have asked for anything better or different in my life.

A new club. A new home. A new country. A new start. Perfect.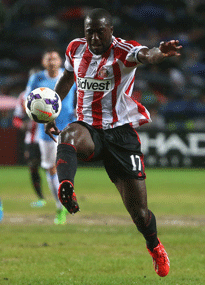 GettyImagesThis weekend, Jozy swaps the red and white hoops of the United States for the red and white stripes of Sunderland.
This is what it's all about. I am back in the Premier League with Sunderland, playing for a club mixed with new and old faces, featuring a lot of talent and keen on making its way to the top of the league table.

Getting transferred to Sunderland and having the opportunity to play under Paolo Di Canio and learn from him has been a blessing and tremendous opportunity for me. Our manager has us working hard and playing an exciting brand of soccer, all reasons that Wearside was the place I was destined and wanted to be all along.

Leaving my friends, the organization and amazing fans of AZ Alkmaar was truly the most bittersweet part of this move. I spent two of the most important years of my career with AZ and will never forget my stay there. At the time, I didn't realize my last goal at AZ would be one that helped the club win its first Dutch Cup in more than three decades. Obviously, that will be a memory that lasts a lifetime for me.

I went out on top with AZ and am ready for this exciting challenge ahead with Sunderland.

On that note, it's time to check out and head to the airport to get back to my new home, teammates and Wearside family in Sunderland.

Excited doesn't even remotely describe how I feel about our season opener against Fulham. Stepping on the Stadium of Light pitch for the first match, with 40,000-plus fans rocking the venue, is going to be an awesome experience.

Hopefully, I and the boys come flying out of the gate and deliver a positive result to start this exciting campaign.

Until next time, be safe, and you will hear from me again soon, my friends.