Pursuit of Carew is confusing
When Diego Milito was ruled out for the rest of Inter's season with a knee ligament injury, the Nerazzurri were left with precious few options for a replacement. The transfer window had firmly shut, so the club had to either rely on supposed temporary 'vice-Milito' Tomasso Rocchi or scour the lists of free agent strikers who are currently without a club and contract.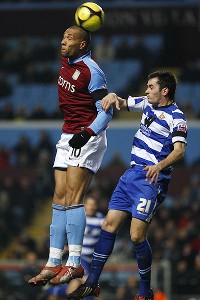 Adrian Dennis/AFP/Getty ImagesJohn Carew's goal-scoring record is worrisome, but at least the 6-foot-5 former West Ham man can provide Inter an aerial threat.
In my opinion, the fact Rocchi wasn't even been considered to fill the role he was apparently signed for speaks volumes about the Inter management's confidence in the ex-Lazio veteran. This of course has added weight to the Inter faithful's argument that Rocchi was a lazy signing by the Nerazzurri, one that wasn't thought out and is proving to be a waste of both time and money.

With the Nerazzurri's 35-year-old striker apparently out of contention for the job, who would Inter be able to sign to try and save their season and sort out their striker crisis? Could they convince 36-year-old former Real Madrid and Manchester United superstar Ruud van Nistelrooy to come out of retirement? Possibly Emile Mpenza? Or even what would have been my preference -- to see an unlikely return to the Giuseppe Meazza by the troubled Brazilian Adriano?

All of the above would have been good temporary signings, but the name that now seems almost certain to join the Nerazzurri, and rumoured to be heading to Italy for a medical, is ex-Aston Villa centre forward John Carew.

Yes, it appears La Benemata are once again showing a clear lack of ambition by bringing in a player, who to be fair has been fairly mediocre throughout his career despite early promise. Carew, 33, is nowhere near as prolific as Milito. The Norwegian's highest scoring season came in 2009-10 when he scored 17 goals in 41 appearances across all competitions for Villa.

In his 15-year career before leaving West Ham United at the end of the 2011-12 season, Carew made 444 club appearances scoring 155 goals, which equates to about one goal every three games. This is identical to the production of Rocchi, meaning both are significantly short of Milito's average of a goal every two games.

Don't get me wrong -- there is nothing wrong with Carew's average considering the level at which he is used to playing. But Inter are a huge step up from what he has been used to, especially in the last seven years.

Fitness will be an issue for the striker too, as he hasn't played or even trained since leaving West Ham last summer. This is an issue the player himself is all too aware of, when linked with a return to Aston Villa in January he tweeted to a fan "He won't be match fit until May". With this in mind, I am finding it extremely difficult to understand what Carew can offer to the Inter attacking line that Rocchi can't!

In fact if you compare both Carew and Rocchi since the beginning of the 2010-11 season you will see both have made a similar number of appearances, 45 and 43 respectively. During that time Rocchi scored 12 goals, which isn't great for a striker, but Carew was even more ineffective only managing four! The only thing I can see Carew having as an advantage is his towering height, at nearly 6 foot 5, he is a giant compared to the 5-9 Rocchi.

I realise Inter management have been limited in their choices to cover Milito for the remainder of the season, but I was under the impression that Rocchi was brought into the team last month to fill this exact role. Maybe the Nerazzurri bosses are now finally agreeing with fans that Rocchi was the wrong player to purchase, but I am still at a loss to explain the logic of signing another player of an even lower standard, especially someone who needs to do a lot of work to be anywhere near match-fit.

I didn't think I'd ever find myself defending Rocchi's place in the team, but from everything I've seen about Carew, I think trusting in the Venetian would have been a better option for Inter, if a higher-quality alternative wasn't available.

As mentioned earlier, my choice would have been to bring back Adriano for the remaining few months. He is a player who knows how the club works, and regardless of his personal issues he has a wonderful eye for goal as well as being a couple of years younger than Carew.

This of course is just wishful thinking on my part, as the signing of Carew is reportedly close to a done deal. If Inter completes this move, all fans can do is hope that he can prove my scepticism wrong, and provide the goal-scoring spark which the club desperately needs for the season run-in. This will be especially vital if Inter are to have any chance of achieving all the targets that have been set for Andrea Stramaccioni and the squad.