Julio Cesar: Always in Interista hearts
It was approaching half time in a thrilling Derby Della Madoninna and Inter were leading their cross town rivals AC Milan 1-0 in front of a Stadio Giuseppe Meazza full of cheering Interista, when Kevin-Prince Boateng was allegedly taken down in the box by the on rushing Julio Cesar, the Nerazzurri goalkeeper received an unjust yellow card on his 300th appearance as replays showed that he reached the ball first.


Milan's Zlatan Ibrahimovic stepped up to take the awarded penalty but Julio Cesar was in no rush to let him take it, taking a slow drink of water before strolling over to the Swede trying to psyche him out and getting right up into the ex-Inter striker's face then walking slowly backwards to his goal line sticking his tongue out like he was performing the New Zealand rugby team's Haka.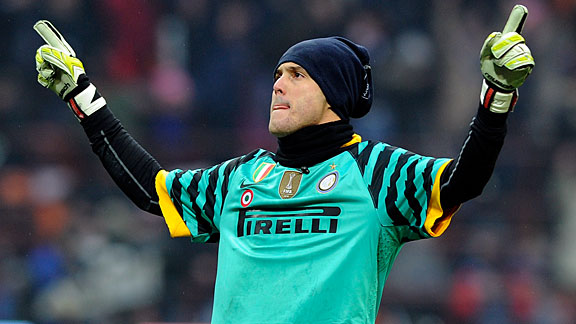 Julio Cesar: Inter legend looking forward to London challenge

© Getty Images



Ibrahimovic went on to convert the spot kick but this for me will be my fondest and a lasting memory of Julio Cesar's time at Inter. As it turned out this great 4-2 derby win was to be his last game for the Nerazzurri, ending a fantastic seven year relationship with the club.

The Brazilian shotstopper has now of course left Inter and signed for the English Premier League side QPR but he will always be remembered fondly by the Nerazzurri faithful and I would even go as far as to say he's right up there with the legendary Inter goalkeeper Walter Zenga as one of the greatest to ever grace the Inter goal.

Julio Cesar signed for Inter in the summer of 2005 as a backup for Francesco Toldo, who was then the first choice goalkeeper, but despite this he soon became a common sight between the posts leaving the aging Italian legend to play as his backup.

Before joining Inter, Julio Cesar spent six months at Chievo after signing from Brazilian giants Flamengo, he never made an appearance for the Flying Donkeys though, as it was considered only a temporary move because he was always destined for Inter. But as the Nerazzurri couldn't sign another non EU player in the previous season he needed a stop gap club, due to the good relations between Inter and Chievo they stepped up and signed the Brazilian on a free transfer.

In his seven years at Inter, Julio Cesar made an impressive 300 appearances and time and again proved to be hugely loyal to the club, even breaking down in tears on several occasions when things weren't going well for the team. But of course there were many good times for him too at the club with him achieving plenty of honours including five Scudetti (Italian league titles), three Coppa Italia trophies, four Italian Supercoppa, UEFA Champions League trophy and a Club World Cup trophy.

On a personal level he was the Serie A goalkeeper of the year for two seasons running - in both 2008/09 and 2009/10. In Inter's treble-winning season of 2009/10 he was also awarded the honour of being the UEFA Club Goalkeeper of the Year and was dubbed as the best goalkeeper in the world.

For me and many football fans around the world Julio Cesar will always be considered as one of the all time great goalkeepers in football history. Through his talent, his hardwork and his dedication to Inter over the last seven years he will forever hold a very special place in the hearts of Interista all over the world and we all wish him all the best for his future. His replacement at Inter, Samir Handanovic, has big gloves to fill and we all hope he can acheive the success with Inter that his Brazilian predeccessor enjoyed.

Grazie e addio grande Julione!