Reports suggest Icardi will be Inter's 'vice-Milito'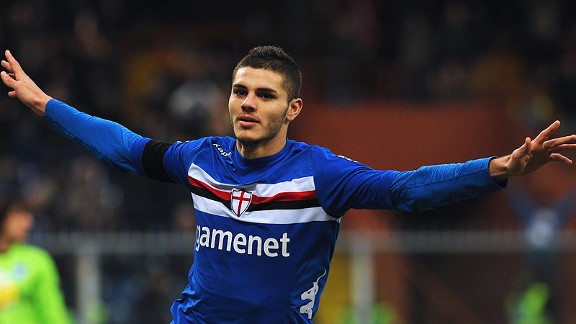 Valerio Pennicino/Getty ImagesNerazzurri supporters are eagerly awaiting the arrival of Sampdoria's Mauro Icardi for next season.
In recent months there's been much talk about who Inter will turn to as their 'vice-Milito', and as we saw in the Nerazzurri's 3-1 win over Chievo Sunday, Diego Milito has big boots to fill for La Beneamata.

In the January transfer window, the closest fans came to seeing Inter making any attempt find a backup for the Argentine was with the arrival of Tommaso Rocchi from Lazio.

This, as we know, was met with widespread disapproval from the fans who, like myself, could not see how signing a 35-year-old who has been unable to get a regular starting spot at Lazio could possibly cover for the prolific Milito. In fairness to the club, with a lack of funds it was impossible for them to fill all the required spaces in the Inter squad during the course of one transfer window, and it soon became apparent that Milito's long-term replacement would arrive in the summer instead.

Some big-name strikers have been mentioned as targets for a summer swoop by the Nerazzurri, including a 25-million-euro bid for Manchester City's Edin Dzeko. Of course this could only have ever been a rumour as the price tag, not to mention the probable wage demands of the 26 year-old Bosnian, are obviously far out of reach for cash-strapped Inter.

It seems however, that now an ideal replacement has been found in the form of Sampdoria's 19-year-old sensation Mauro Icardi. The young Argentinean striker ticks all the boxes of what the Inter management have been looking for to fit in with the youth project the Nerazzurri are implementing, while also being a natural goal scorer.

The deal for Icardi, according to reports coming from Italy, has all but been completed. The youngster won't come cheap for Inter though, with the deal reportedly worth 12-15 million euro plus bonuses, depending on how he performs the remainder of the season. This may seem a lot of money for a player who will be just 20 when he arrives, but like the Nerazzurri's other new wonder kid, Mateo Kovacic, the club are certain his value will only rise over time, meaning the player represents a sensible investment for the future.

The most encouraging thing from the perspective of fans is that despite interest from Napoli, Juventus and AC Milan, as well as other major European clubs, Inter is the club Icardi wanted to join. This was mainly due to his desire to grow as a player amongst the legendary Argentinean colony at Appiano Gentile.

Icardi signed at Sampdoria for a miniscule 400,000 euros from the famous Barcelona youth academy. The dynamic central forward joined the Catalonian outfit after being persuaded to leave Argentina for Spain by his good friend Lionel Messi back in 2008 when he was 15.

This deal signifies a huge payday for his current Genoese club, but is he really so good as to command such a high value from Inter?

In short, yes. he is! Or at least so far he appears to be. In 12 Serie A appearances he already has eight goals. This goal ratio becomes even more impressive when you realise four came against Pescara, and a brace against the Italian champions Juventus, a feat that brought about a shock away victory for Sampdoria.

After watching Icardi from the Sampdoria stands last weekend in their 3-1 win over Roma, even legendary ex-Inter Bandiera Luis Suarez was excited at the young lad's potential: "He impressed me a lot in the game last Sunday. He's a central striker who attacks the spaces very well and who moves a lot."

Even in the Argentine U-20 team, he has three goals in just five matches. As it stands at the moment however, Icardi's international career is under some debate, because although he was born in Argentina and has played in their U-20 team, he has the relevant paperwork that would enable him to play for Italy if he so chooses.

It is said Icardi has yet to decide which country he wants to play for, and in my opinion it is a hard choice considering the talented strikers both countries already possess, and he has to decide which option will give him the most playing time and opportunities to grow on the world stage.

Just like Kovacic, it also looks likely the youngster will have a place in the team from day one I am sure he will benefit hugely from the competitive experience he will gain with the Nerazzurri, plus with better quality service from his Inter teammates next season compared to what he currently has at Sampdoria, this kid could be scoring for fun next season.

So what will happen to Milito if Icardi does become first choice to lead the Inter line? With his contract to expire in 2014 it was likely 'El Principe' could leave Inter in the summer, but with this latest signing it is thought the Nerazzurri will let him run out his contract, allowing him to stay to mentor his young protégé.

In fact, if Mauro proves to be as good as he looks he could be, I'd say it could be highly likely that Milito will become the 'vice-Icardi' next season.