Zanetti eyes Maldini's longevity record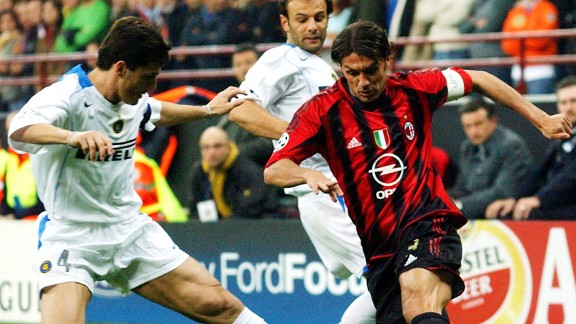 AP Photo/Antonio CalanniJavier Zanetti, left, tried to take the ball from Paolo Maldini in 2005. Two seasons from now, Zanetti could take Maldini's record for most Serie A appearances.
With Inter's much-discussed recent poor performances, one man has remained as consistent as ever. Javier Zanetti, the 39-year-old Nerazzurri captain, is still outplaying opponents more than a decade younger than he.

Overshadowed by his team's slump in form, Zanetti recently achieved another landmark in his long, illustrious career. He tied ex-Inter goalkeeper Gianluca Pagliuca for the second-most career Serie A appearances (592). He will have second all to himself after Inter's game Sunday against Chievo.

The only player to appear more times is AC Milan legend Paolo Maldini, who secured a massive 647 appearances before retiring in 2009. Zanetti is likely to hold his second place for some time. The closest active player is Roma's Francesco Totti, but at 36 and with 522 appearances he is unlikely to match Pupi's tally. Despite his age, Javier isn't happy to settle for second place and for many years now has had his sights firmly set on overtaking Maldini.

Zanetti is so focused on this target that at the beginning of January he announced he will play at least another season. "My intention is to play one more season, and I think that it's the same for Inter: everything goes in the same direction," he told La Gazzetta dello Sport.

My personal feeling is we will see Zanetti playing at Inter for another two seasons after this one. The main reason why I believe this is simple - he appears to be determined to take the record for most appearances in Serie A, but with 53 matches between now and the end of next season he would have to appear in every game before then to beat Maldini by one.

I can't see Andrea Stramaccioni ensuring the 39-year-old appears in every game without fail so it stands to reason there will be a few cameos from the legendary captain in the following season just to make sure the title is his.

What makes Zanetti's achievement even more amazing is apart from Sebastian Frey in 30th, the Inter veteran is the only other non-Italian in the top 30. Nearly every other player in the chart spent their entire career in Italy and even spread around several clubs. Zanetti didn't arrive until he was 22, stayed loyal to FC Internazionale and reached second place two years sooner than Pagliuca.

Inter's captain fantastic is the epitome of a model professional footballer, at nearly 40 possessing stamina that would make players 20 years younger jealous. Even after all these years, it is still common to see Zanetti running up and down the length of the pitch the entire 90 minutes.

Amazingly, in the recent Coppa Italia game against Bologna decided in extra time, after 120 minutes of intense play, it was the Inter captain who looked the least exhausted of all the players; even the referee looked more tired than Zanetti. The man really is a machine.

Despite having the versatility to be able to play most defensive and midfield positions, an ability to perform accurate passes, not to mention a high work rate that allows him to perform excellent dribbling runs up the right wing, and strength that allows him to keep possession against most challenges, I feel Zanetti is underrated by the majority of the football world.

Admittedly, he lacks the flair and panache of some of the more popular players, but his loyalty to Inter is unquestionable, and he has a list of honours most players should be envious of. He has accumulated five league titles, four Coppa Italia titles, and four Supercoppa Italianas. That is just domestically - the honours continue with a Champions League title, a UEFA Cup, and a FIFA Club World Cup title that was won following him leading his team to a historic treble in 2010. In fact the only major trophies that he has missed are the European SuperCup and the World Cup with his native Argentina.

Zanetti was named in the FIFA 100 by Pele when the Brazilian listed the 100 'greatest living footballers' in 2004. Of course, Pupi's greatness isn't only limited to the pitch - he is renowned as being a true gentleman holding dear his honest and loyal principles. For this his most recent personal honour was being presented with the 'Loyalty and Critics' Choice Award in January 2013.

Regardless of his age, it is clear that Zanetti still has an important role to play not only as the inspiring captain of his team, but also in his outstanding contributions on the pitch. I just hope he can reach his target of overtaking Maldini's record; in my opinion 'il Capitano' more than deserves the title. I do know however, that he will always be an important part of Inter and Serie A, and to Interisti he will forever be a god amongst men.