Inter should keep their faith in Stramaccioni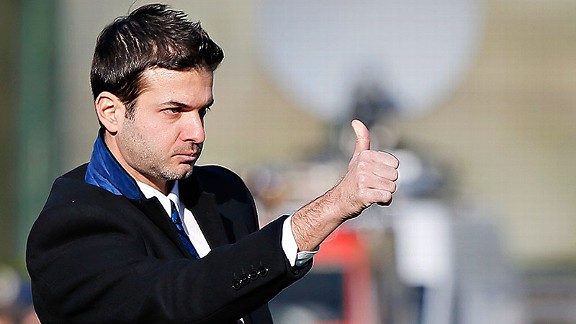 Fabio Muzzi/AFP/Getty ImagesA look at the numbers shows that Andrea Stramaccioni has this year's Inter positioned better than last season's group.
Inter's 'ugly' defeat against Siena has added pressure for Andrea Stramaccioni to find a way of returning a winning mentality to the team. The same philosophy that convinced club president Massimo Moratti to take a chance on the young Italian coach last summer has been severely lacking for the Nerazzurri in recent months.

- Stramaccioni making no excuses

Moratti has publicly shown his support for Stramaccioni by stating he has confidence in his coach, even though his team have only claimed a pitiful six points from a possible 21 in the last seven league games. Inter should think themselves very lucky that they still sit just three points behind Lazio, who currently hold third place. However, this is due to the fact that the other teams have made a lot of mistakes too costing them valuable points.

In fact, if Inter had managed to take full advantage of the mistakes made by the teams above them in the league and claimed the other fifteen points they themselves have lost, Inter would now be sitting at the top of the league a full three points ahead of Juventus.

On the other hand, if the other teams hadn't dropped all the points that they have, then Inter would have had to face the stark reality that catching up to the targeted third place finish would've been an almost impossible task.

Of course both these scenarios haven't happened, but the reality that they could have hasn't escaped Moratti's attention, and during an interview with the press he made certain that Stramaccioni realises things must change quickly: "We need to work hard, stay very alert and defend against attacks -- especially those closer to us -- in such a way that things start working again."

Stramaccioni may be safe for now, but such an embarrassing defeat against bottom of the league Siena has angered Moratti, and rumours are rife in the Italian press that the Nerazzurri supremo has given his coach an ultimatum. Reports are suggesting that he is insisting that things must be turned around by the time Inter play Milan in five games time. There are even rumours that Inter are lining up Napoli boss Walter Mazzarri to replace Stramaccioni in the summer.

With Mazzarri's contract due to expire in June and it looking unlikely that he will renew with the Napolese side, it is possible that Moratti has already decided to make a move for the experienced coach, regardless of how the season turns out for Stramaccioni. Other less likely names being linked to the Nerazzurri are Lazio's Vladimir Petkovic, Atletico Madrid boss Diego Simeone and possibly even a return of the 'Special One' himself Jose Mourinho.

To be honest, I would be saddened to see the club lose faith in Stramaccioni and his project after just a season or less, and the truth is he can't be held entirely responsible for Inter's failings. The players must also take some responsibility for not performing to the standard expected of them, especially in what should be fairly easy victories like the game against Siena.

In a rare interview following Sunday's game, Antonio Cassano admitted that the Inter players haven't been playing to their full potential: "There comes a time when you need to take responsibility." He also gave a rallying cry to his teammates to up their game, "We're not playing well at the moment, we need to show great character to get back on track. We all need to give more, especially our best players."

As well as admitting that the players hold some responsibility for Inter's misfortunes, the outspoken forward also made a point of stating that he thinks Stramaccioni's tactics are an issue as well: "There's something wrong with the balance of the side and we need to try and find solutions to resolve this." He does, however, seem confident that the coach is capable of turning things around as he concluded,"I'm sure the coach knows better than us what we need to do to get through this."

In Stramaccioni's defence, if you look at the stats of this season so far with Inter compared to the league standings after 23 games last season, you can see a marked improvement. Last season at this point Inter sat in fifth place five points behind fourth, whereas this season they are again in the fifth place spot, but with four points more than last year and on equal points with Milan in fourth. Not to mention the fact that this season Inter are just three points behind the last Champions League spot, but last year were six points behind Lazio in third.

Both the goals scored and goals conceded stat has improved marginally too with this year's goal difference currently standing at plus-eight compared to last seasons of plus-four. All of these stats equate to a win percentage of 52.17% in 23 games this season which stands at a considerable improvement from the 47.8% achieved by this point last season under Claudio Ranieri.

Another factor that has to be taken into consideration is the fact that Stramaccioni has achieved this improvement with a squad that, unlike last season's, have only been playing together for six months, so imagine what he could do when the team has fully gelled together?

We all know these bad results are hard to take, but these stats show why I believe the fans and the directors of the club need to show a bit more patience for Strama, and in my humble opinion give him until at least next January to prove he can take Inter back to fighting for the top spot.