Is Stramaccioni running out of time to save Inter's season?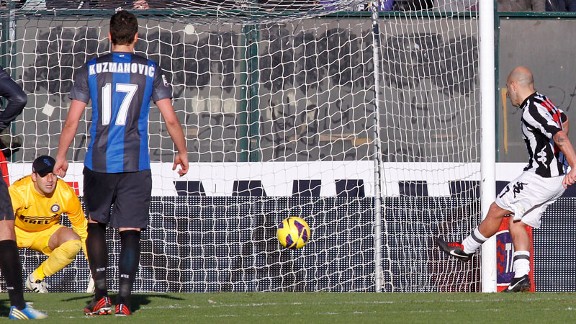 APAlessandro Rosina slots home for Siena against Inter Milan
Prior to the current season, Siena had never beaten Inter. Now however, the team at the foot of the Serie A table, with only six wins to their name have claimed two of those victories against the Nerazzurri. To add insult to their prestigious opponents, in those two games they have now scored five times and only conceded just once.

- Highlights: Siena 3-1 Inter Milan (UK and Ireland)

With this latest defeat to the Robur, Inter have now lost seven out of 23 games this season. More worryingly they have failed to secure a win away from home since they ended Juventus' unbeaten run back at the beginning of November.

So where is it going wrong for the Nerazzurri?

Is it a weakness in defence? An inability to hold possession in midfield? Or an ineffective attack? The truth is that all these things hold some responsibility for Inter's poor performances, but it is becoming more than evident that the biggest cause is inconsistent tactics.

So far this season I have championed Andrea Stramaccioni, stating on more than one occasion that both the Inter management and the fans should be patient with the young coach while he rebuilds the club's ageing squad and finds the right balance across the pitch.

However, with the last couple of bad results for the Nerazzurri, murmurs of discontent are starting to spread amongst fans that are quickly losing faith in Stramaccioni. The feeling that his lack of top level experience is starting to have a negative effect on the club's fortunes has some fans questioning whether he really is the right man for the job.

This view comes from the fact that in almost every game Stramaccioni changes his formation and switches around the position players such as Yuto Nagatomo, Fredy Guarin and Javier Zanetti. This isn't even an issue that is occurring in separate matches, but often the Nerazzurri coach is changing his formation several times during the same game. For example, in the defeat against Siena, he started the game with his team lined up in a 3-5-2 formation, then during the half time break, with the substitution of Ezequiel Schelotto, he switched to a four-man defence with Nagatomo changing from the left of the pitch to the right.

Then to add to further confuse the Japanese wingback, with the dismissal of Cristian Chivu he found himself back in the left-back position. Ok, so Stramaccioni was left with little choice following the red card, but he has been known to make similar changes like this without having his hand forced.

It is no secret I am a fan of Stramaccioni and I still hold the faith that he can succeed with Inter, but all these constant changes to his tactics are restricting his players' ability to excel in a specific role and play to their full potential. This lack of consistency also means that the confidence the players have in their own abilities drops considerably. We saw during the Jose Mourinho era that allowing the players to build a sense of self belief is key to success.

All too often we see the Inter players almost visibly give up on a match when they go a goal down, this too has a huge effect on how well the team can play. In this latest game in Tuscany we saw the Nerazzurri instantly reply to Siena's first goal, but as soon as their second hit the back of the net, all of the Nerazzurri's passion disappeared from their play. Unlike Siena, whose desire and drive produced an unexpected winning performance on the pitch.

When Stramaccioni took over from Claudio Ranieri last season he secured a stunning run of form using a 4-3-2-1 formation. This season he has opted to experiment with different tactics that so far have had limited success. If the Inter coach can return to his original tactics, he could possibly save his season.

Even with Inter's new players, the formation is still ideal. With a back four consisting of Schelotto, Ranocchia, Juan Jesus and Alvaro Pereira/Nagatomo the defence could become incredibly solid. A midfield three of Zdravko Kuzmanovic, Javier Zanetti/Cambiasso and Joel Obi/Ricky Alvarez would cover the defence while connecting to an attacking third consisting of Mateo Kovacic/Antonio Cassano and Fredy Guarin behind a lone striker of Diego Milito or Rodrigo Palacio. Of course with the club's squad depth there would also be plenty of cover in all areas too. This would create a strong line-up that could perform week in and week out.

With Stramaccioni's choice of central defenders being severely limited next week against Chievo, following Chivu's suspension and Walter Samuel being injured, I see this as the ideal time for the Inter coach to switch back to his original formation and attempt to save his Inter career before the slight impatience emerging from the fans spreads to Massimo Moratti, who as we all know will replace him without a second thought.

Regardless of the result there were a few positives to draw from the game: all three debutants had a good game considering the result. Schelotto didn't get too much opportunity to shine, but he did well with the chances on the ball he received. Kuzmanovic, although he wasn't great defensively in the middle of the pitch, he did play an important part in nearly every Inter foray forward, showing some neat passing and great vision.

Finally, of course, there was the 18-year-old Kovacic who didn't get the chance to start the game, but came on in difficult circumstances and still managed to show some incredible skill on the ball, as well as a work rate any player would be proud to possess. I predict that this kid is going to become a huge part of Inter's future success and I am really excited to see Moratti proved right for giving him the coveted No.10 shirt.

With yet another international break following this defeat it will be vital that the Nerazzurri coach works his players hard ahead of next weekend's game against Chievo. If Inter stand any chance of finishing in their targeted top three place, or even in a Europa League spot, it is critical that they turn their fortunes around as soon as possible and regain their lost form.

The alternative is unthinkable - no European competition for Inter, and a return to Moratti's never-ending management merry-go-round.