Inter's winter mercato roundup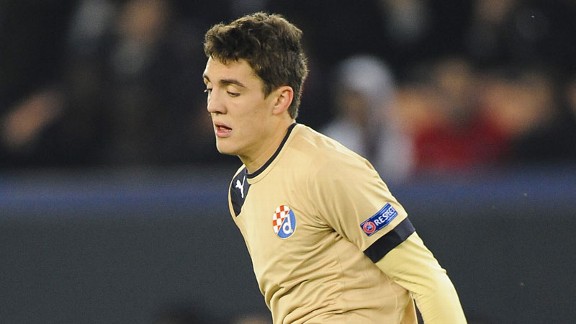 PA PhotosMateo Kovacic: Highly rated and a perfect purchase for Inter
For Inter, the 2013 winter mercato began with a mountain to climb. The squad's form had dropped dramatically over the first half of the season and with an ever increasing injury list it was evident that the Nerazzurri would need new players in at least four or five positions.

With so many reinforcements needed and a severe lack of funds, it was hard to see how Marco Branca and the transfer team could possibly fulfil the requirements of the club. The biggest issue facing Inter in this transfer window was the lack of forthcoming offers for the players the club wanted to offload, the biggest of these names was the want away trequartista Wesley Sneijder, whose large wage demands were putting off any of the Premier League clubs he wanted to move to. In the end Sneijder was unable to tempt any of the English teams to make a bid and instead accepted an offer from Galatasaray, who paid a reported €7.5 million for the 28-year-old.

The shock sale of the window for Inter was however able to attract attention from England and in the final week of the mercato Philippe Coutinho was signed by Liverpool FC for €10.2 million. For me this transfer was disappointing, as I have always admired Coutinho and I was sure he would become a big star for the club but obviously the Nerazzurri management didn't agree.

Also on the way out for Inter, but this time on loan were five of the clubs promising youngsters and MacDonald Mariga, who despite all his early promise had failed to make an impact at Inter. At 25, Mariga's chance to become a regular at the club has passed, and with this loan he makes a return to Parma - where he spent half of last season. The Kenyan could become a permanent fixture at the Stadio Ennio Tardini in the summer.

The other outgoing loans have all been arranged with the express purpose of providing the three 19-year-olds with valuable first team experience to help them grow as players, ready to become a part of the Inter squad upon their returns. The highly rated defensive midfielder Alfred Duncan has signed for AS Livorno, while defender Matteo Bianchetti to Hellas Verona, and finally Andrea Romano has joined another Serie B side in the form of AC Prato. Inter's promising 20-year-olds have also been sent on loan with Lorenzo Crisetig switching from Spezia to Crotone, and Daniel Bessa joining Vicenza. I just hope Inter appreciate the talents of these youngsters and makes sure they return to play in the Nerazzurri shirt in the future.

So with a minimal number of Inter players leaving the club to provide the much needed funds, did the club perform miracles and strengthen their squad sufficiently? Well up until the final few days of the transfer window it was looking like the only incoming player for Inter would be the veteran 35-year-old Tomasso Rocchi, a move that I have to say I am still none too pleased about considering he is meant to play the role of providing cover for the younger and more prolific Diego Milito. Combine this signing with the fact that Inter seemed to spend the month chasing their long term target Paulinho only to get rejected by him, and the general feeling amongst Interisti was that instead of strengthening their squad Inter wasted the window, and made their team weaker in the process.

Of course, as is nearly always the case for Inter, they had a backup plan which they brought into effect just days before the deadline day cut off. Amazingly Branca and co managed to secure three new signatures for Inter within 24 hours of each other, this in turn has revolutionised the Nerazzurri midfield, and brought about a new feeling of optimism for the remainder of the season.

Firstly, to take over Jonathan's position in the right wingback/winger position the Nerazzurri have signed Atalanta's Ezequiel Schelotto on a four year contract. Initially Atalanta were asking for €7 million for the winger, but the Inter team did a fantastic job of negotiating the price down to &euro3.5 million. The only downside to this deal is that it also includes half of what was Inter's only young striker Marko Livaja, which means the youngster is now playing for Italy's other Nerazzurri team. With all four of Inter's strikers now being over 30-years-old, let's hope the club doesn't regret losing the 19-year-old Livaja, who has scored four goals this season in Inter's Europa League campaign.

Next for Inter came another player with Serie A experience, Zdravko Kuzmanovic, who played for Fiorentina before moving to Stuttgart in 2009. The 25-year-old arrives at Inter for a reported fee of just over €1 million, the bargain price is mainly due to his contract with Stuttgart only running until the end of the season. The Swiss-Serbian is a strong player who can play either in a central midfield role or even a defensive midfield position, his recent form at Stuttgart has been impressive where he has shown off his passing skill and concentration to keep his mind on the job at hand. Bearing all this in mind he should become a very useful player for Inter when combining with the club's other midfielders.

In a second January deal with Lazio, Inter have acquired the services of goalkeeper Juan Pablo Carrizo, whose contract was due to expire in the summer. He had already agreed to sign at the end of the season but Inter felt the need to bring him in immediately and paid a reported €250,000 to sign him early. As I've said before in articles I don't see the point of signing a backup for Samir Handanovic when in my opinion Vid Belec would be more than capable on the few occasions he would be called upon. In terms of the 28-year-old Argentinean's career, this move doesn't make sense either. Why would he willingly become a second string keeper in the prime of his career? Maybe I'm looking at the whole thing wrong and Inter might intend to use him far more often than I anticipate, it will be interesting to see what happens.

Finally, and in my opinion possibly the most exciting of Inter's new signings is a player the Nerazzurri as well as some of the biggest clubs in Europe have been tracking for a couple of years now. The desire to sign Mateo Kovacic was evident with clubs like Chelsea tried to outbid Inter for him, even Juventus, Real Madrid and the two Manchester clubs were tracking him. Kovacic is still only 18 but is already proving to be one of Europe's emerging midfield talents, fitting into Stramaccioni's need for a regista, but is also capable of playing the more advanced trequartista role left vacant by the departure of Sneijder and Coutinho.

His technique is already of a high-level, his repertoire of passes and shots are of the highest quality considering his age and with a magical technical skill and a preference to play balls on the ground his playing style is similar to his idols Xavi and Iniesta. The only area he is lacking is in his physicality, which he will need to work on for playing in Serie A, but even so I am more than excited to see Inter sign this youngster who a real talent.

Even if he has cost the Nerazzurri €11 million with another potential €4 million in bonuses, Inter have made a great signing from Dinamo Zagreb with their new Croatian No.10 and have sent a message to their rivals of the direction their project is taking.

The legendary player Zvonimir Boban made a statement claiming that Inter had made a great purchase in Kovacic, even claiming the youngster could become better than himself: "He is an enormous talent, with qualities way above mine and a huge professionalism in his play, certainly for his age. He is an all-around talent that can grow to be a world class player. I didn't know anything until this morning, a great surprise and Inter has done very well in signing Kovacic."

On top of these signings it is reported that Inter have also secured a pre contract agreement with the talented Uruguayan left winger Diego Laxalt who should arrive in June. All in all I am satisfied with Inter's winter transfer window dealings, my only criticisms are the clubs choice of backup for Milito, the lack of strengthening for the defensive line, and of course the huge mistake I feel they've made by selling Coutinho. They have managed to repair the squad by bringing in the right reinforcements for the midfield at a minimal cost, and with the promise of some important signings in the summer I feel confident that Inter's project is well and truly back on track.