Inter will regret selling Coutinho to Liverpool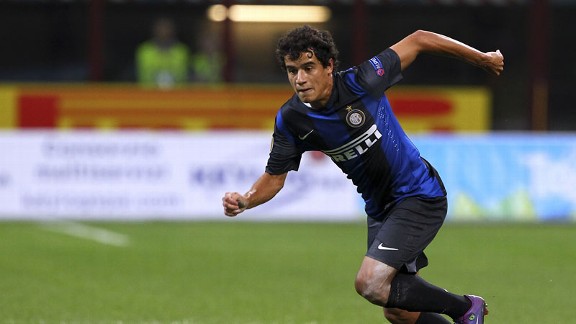 GettyImagesInter Milan bought Philippe Coutinhowhen he was just 16-years-old.
"Things get done for a reason and selling Coutinho is not done with the idea of cashing in but because, looking at the way things have developed recently, we have a greater need in different areas than Coutinho's position, regardless of his age."


This is how Inter's president Massimo Moratti defended the decision to sell promising youngster Phillipe Coutinho.

Rumours of Inter being willing to accept offers for the Brazilian wunderkind started a few days before Wesley Sneijder agreed his move to Galatasaray, and I, like most, presumed this would be a backup measure if by some strange twist of fate Sneijder decided to stay in Milano. However, Sneijder left for Turkey and the offers for Coutinho continued to arrive with Premier League sides Southampton and Liverpool looking to find the magic figure that would tempt the Inter management to part ways with the 20-year-old.

Liverpool confirm Coutinho capture

On January 26 reports surfaced that Inter had accepted an £8.5 million deal from Liverpool for Coutinho, much to the shock, disbelief and anger of Interisti everywhere. I hoped that the report was one of the usual made up rumours during the transfer window, but the youngsters arrival in England for his medical, along with leaked pictures of Coutinho holding up a Liverpool shirt brought home the reality that Inter have possibly made one of the biggest mistakes in their history.

When questioned about the decision to sell Coutinho, Moratti made a point of suggesting the move was more for the benefit of the player than that of the club: "There are certain opportunities that should be taken, sometimes players are able to get more playing time, and so I think it could be a great opportunity for Coutinho and a deal that might work out well for us."

I personally don't buy this excuse. If the deal was done just to give him more playing time then surely this could've been achieved with another loan move. I'm at a loss to explain how the Inter management's opinion of the player has change so much in such a short space of time, you see Coutinho was purchase by Inter from Vasco da Gama's youth system in 2008 at the very young age of 16 for an astounding €4 million, though he was allowed to stay in Brazil to develop until 2010, when he made his much publicised and hyped up move to the Italian giants. At the time, Moratti said: "Coutinho is the future of Inter".

For me this move should've sparked the youth revolution that is only now slowly being put into effect, but despite his huge promise and obvious talent Coutinho has spent the last two seasons as a fringe player for Inter.

This lack of playing time for the Nerazzurri led to a six month loan move to Spanish side Espanyol last season, where Coutinho finally received the consistent playing time he needed to show the world his potential. When he returned from this loan spell to rejoin his Inter team-mates at the start of this season, I was convinced Stramaccioni's youth project would be built around Coutinho, who claimed the No.7 shirt, and it has to be said was considered to be one of the most promising and talented youngsters in the Nerazzurri squad.

How is it then, especially with Sneijder's lack of playing time, that Coutinho was still overlooked time and again by Stramaccioni in his starting line-ups? His critics would say a lack of fitness and numerous injuries were major contributing factors, but in my opinion, if he was given more playing time then naturally his fitness levels would increase and in turn he would suffer fewer injuries.

Maybe it was that his preferred role as an attacking midfielder did not fit in with Stramaccioni's tactics, much in the same way as Sneijder didn't. I don't believe this to be the case. As we've seen recently, there is still space for an attacking midfielder in the role Fredy Guarin has been occupying. Even if that was not the case, Coutinho isn't restricted to just playing a trequartista role. The Brazilian can also play just as well as a left forward, or winger role, much like the position we've seen Antonio Cassano play this season. In fact, I would go as far as to say that in the long term Coutinho would be of more use to Inter than Cassano, who struggles to play the full 90 minutes of a match.

Whatever the reasons are for Inter offloading what I considered to be their most exciting prospect, it's almost certain that the club will do so in the future when he becomes the immense talent he is threatening to be.

You'd think Inter would have learnt about making this type mistake, it's not as though it's the first time the club have sold a talented youngster, just to regret it in the future. Recently there has been Mattia Destro and Mario Balotelli (I realise Mario has his issues but you can't deny his talent) and now they both play for Inter's rivals. Even in the past the club made the same mistake, they let go of Andrea Pirlo and Clarence Seedorf, who went on to become legends for cross-town rival AC Milan instead of becoming the important players they could've been for Inter.

Of course I wish Coutinho the best of luck at Liverpool and for his future career, but with this sale I am really starting to worry that Inter have lost sight of their plan for the future in terms of their youth project, along with the ambition for the club's success on the pitch. Only time will tell if this was a great deal for Inter in the long run, so all us Interisti can do is keep faith in Moratti and Co to do what's best for the club.