Inter's 'frustrating players' show major failings vs. Torino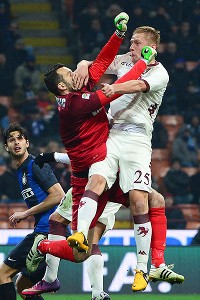 Olivier Morin/AFP/Getty ImagesInter goalie Samir Handanovic, left, was the victim of poor support on several occasions in the Nerazzurri's 2-2 draw with Torino.
With Juventus, Lazio and Fiorentina all dropping important points this weekend, Inter were yet again handed a golden opportunity to close the gap on the third place spot that they desperately want to finish in, but as we've seen so many times in similar situations this season the Nerazzurri just threw it away Sunday in a 2-2 home draw with Torino.

"A game that we cannot and do not want to get wrong. It's hugely important for us as we chase the top spots," was how manager Andrea Stramaccioni saw the match in his pre-match press conference. But somewhere between then and the kickoff his message seemed to evade his players' attention.

The Inter team we saw play against Torino, especially in the first half, looked nothing like a squad which considered winning the game as important. To put Inter's performance into the nicest possible description I would say they are disorganised and generally shambolic. Obviously it pains me to use words such as these about the club I'm devoted to supporting, but apart from a few players this is by far the weakest Nerazzurri squad I have witnessed since becoming a fan back in 1995 - many of them deserve much harsher descriptions.

As I seem to be in the habit of pointing out lately, Inter are rebuilding, but there is no excuse for the type of performance we witnessed against Torino. Truth be told the Nerazzurri were lucky to come away with any points. I'm still at a loss as to why the team has dropped it's form so badly since the Juventus victory, but since then complacency and mistakes have become all too common on the pitch for the Nerazzurri.

In my opinion, one of the biggest mistakes came from Stramaccioni when he started with Walter Gargano and Gaby Mudingayi in the centre of midfield, leaving Esteban Cambiasso on the bench. Gargano and Mudingayi both play the same role in midfield, but neither are particularly good at bringing the ball out to the attacking third, a role that very much lacking for Inter until Cambiasso finally replaced Mudingayi, who had to go off after an injury.

Cambiasso's impact was almost instantaneous, with the Argentine veteran bringing a spark to Inter's play that had been severely missing. It didn't take long for that spark to pay off and after combining with his fellow veteran Javier Zanetti, Cambiasso claimed Inter's second goal to again level the score.

Inter's many mistakes were their downfall against a Torino side that with disciplined and patient play managed to trouble the home side over and over again. Two mistakes in particular led to both of the visitor's goals. First, for some unknown reason, Fredy Guarin dropped right back into the Inter box to receive the ball from Samir Handanovic and in doing so immediately lost out to Riccardo Meggiorini, who played a one-two with his teammate before slotting home their equiliser.

Just what Guarin was thinking dropping so far back into the box from his trequartista role is anyone's guess, but the main issue here is he should have anticipated an incoming Torino player with such a short clearance from the Inter keeper. Also, both Andrea Ranocchia and Juan Jesus should have done more to cover him when they saw the incoming player.

Torino's second goal was the result of a series of disappointing and ridiculous decisions by numerous Inter players. it all started deep in the Torino half when Alessio Cerci received the ball out on the right wing. From Cerci taking control of the ball until he reached the final third, he was given yards of space to bring the ball forward without a single Inter player making any attempt to dispossess him, even when he reached Alvaro Pereira in the left back position.

Cerci managed to bypass the Uruguayan with little trouble. Once past Pereira he sent a low cross into the box that Juan Jesus made hardly any effort to intercept leaving Meggiorini to tap home with Ranocchia failing to mark the incoming player. If I saw a lower league team concede a goal this easily I'd be disappointed, but for Inter to play so amateurishly is nothing short of embarrassing.

With just under 20 minutes to go Inter did have a penalty claim denied when Ranocchia was brought down in the box following a corner kick. To be fair it was a case of six of one and half-dozen of the other - the Torino defender did leave his leg trailing an the penalty could have quite easily have been given. Inter themselves were lucky to not concede a free kick on the edge of the area in the dying minutes which could hhve handed Torino the victory. Pereira raised his boot high to clear an incoming ball, catching Torino's Rolando Bianchi in the face with his studs when the two collided.

Inter's recent lapse in form has me worried about their claim for a top-three finish. The truth of the matter is that despite their great run of form earlier in the season, the only thing that has kept them from slipping into mid-table obscurity are the points the other teams around them in the table have dropped. Even Inter's neighbour AC Milan are now just three behind the Nerazzurri following their shocking start to the season.

As Stramaccioni said last week, Inter need to make some important signings in these final days of the winter transfer window, because as we've seen all too often the players he is working with fall into three categories - too young and inexperienced, too old and in declining form, or in the case of some players such as Periera and Jonathan just too mediocre to be playing for Inter at all.

To borrow a phrase from ESPN commentators, Inter are a team of 'frustrating players' lacking any sort of cohesion or consistency. This is a major issue for Stramaccioni as even though he's been promised patience from the fans and CEO Massimo Moratti, it's only a matter of time before they will want to hold someone accountable for Inter's major failings in these games they should easily win.