Draw with Roma forgettable for all involved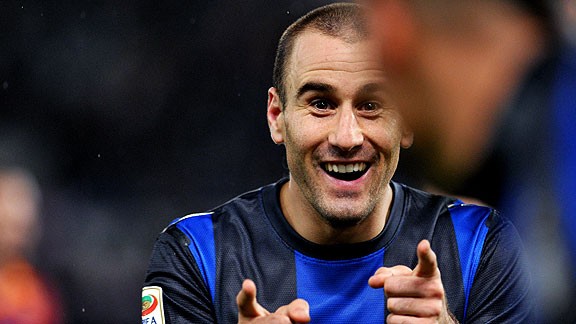 Tiziana Fabi/AFP/Getty ImagesRodrigo Palacio scored the equaliser for Inter in 1st-half stoppage time
With Lazio, Napoli and Fiorentina all dropping vital points this weekend, Sunday was another perfect opportunity for Inter to close the gap on second and third place to two points with a win over Zdenek Zeman's Roma.

As I predicted in my preview though, both sides lacked the clinical finishing needed to claim all three points over their rival, instead giving the spectators a forgettable 1-1 draw to watch.

Andrea Stramaccioni surprised the Nerazzurri faithful by partnering Rodrigo Palacio up front with Marko Livaja, who was making his first senior league start due to Stramaccioni having little cover for Inter's injury-ravaged attacking line. Livaja did play well however, when he managed to find the ball up in the Nerazzurri attacking third, showing an amazing balance as he took several strikes with both feet that could have proved dangerous for Roma keeper Mauro Goicoechea.

This included a sublime volley on the turn that looked destined for the back of the net, until it ricocheted off the post and back into play. Unfortunately, with Inter severely lacking a player who could effectively connect the midfield to the forwards, the talented youngster lacked the service needed to secure his first senior league goal.

Another surprise for me, but not in a good way, was Inter's defence, where Cristian Chivu played in the centre of the back three. In my opinion the Romanian hasn't been in good form since his head injury a few seasons ago, and he is always liable to make the sort of little mistakes that usually cost the Nerazzurri dearly.

His tendency to perform this way was highlighted as Inter spent large parts of the game playing their three centre backs against the attacking prowess of Erik Lamela, Pablo Osvaldo and Roma talisman Francesco Totti, who scored his team's goal after a controversial penalty in the 22nd minute.

Especially in the first 20 minutes, when the Giallorossi strikers ran riot. With Lamela and Totti drawing both Andrea Ranocchia and Juan Jesus out wide, Osvaldo almost had a free run past Chivu on numerous occasions. This problem was increased as Alvaro Pereira and Yuto Nagatomo were often playing too far up field to track back in time when Roma broke on the counter.

This left an obvious weakness in Inter's backline that the Nerazzurri should feel fortunate Roma was unable to capitalise on. Towards the end of the opening half the visitors managed to regroup enough to start to take advantage of the huge amount of space being left by the Roman defence, but still Inter lacked the service and clinical finishing needed to fully capitalise.

That was until the usual suspect of Fredy Guarin made a storming forward run that bulldozed past the Giallorossi centre backs leaving him to send a low cross into Rodrigo Palacio waiting on the goal line in first-half stoppage time.

I have to admit I am starting to seriously worry what will happen to Inter if either of these players end up injured. As we've seen in recent performances the Colombian and Argentine have pretty much single-handedly earned all of the Nerazzurri's recent positive results.

During halftime the news Inter fans around the world had been waiting for surfaced on the Galatasaray website and Twitter feed, announcing the Wesley Sneijder deal had been agreed to. Hopefully with this piece of news Inter will now be able to strengthen their squad with some new arrivals.

Before this, though, the big talking point from the game came from a controversial decision by referee Daniele Orsato to give Roma a penalty that put the home side ahead in the first half.

This decision seems to have split opinions, but I personally don't think it deserved a spot kick and yellow card for Ranocchia.

It started as Javier Zanetti uncharacteristically was caught in possession in the midfield, giving Roma's Michael Bradley a chance to take the ball into the Inter box. This is where it went wrong for Inter. With Ranocchia running in to challenge for the ball, Lamela offering support distracted Bradley enough for the American to let the ball run away from him. Already committed to the challenge, Ranocchia went to ground, leaving Bradley to vault his sliding body and catch Ranocchia in the head with his boot.

This was the only contact I witnessed between the two, but the decision went the way of the home side. OK, so I admit it was a bad choice for Ranocchia to slide in on Bradley in the box, but Inter that paid for it with an unnecessary yellow card and a spot kick that to be fair was taken superbly by Totti past Inter's Samir Handanovic.

Inter themselves got lucky with a refereeing decision later in the game when Juan Jesus, who performed admirably in general, was given a yellow for a cynical foul in the second half, then continued to play!

Many observers - including myself and the ESPN commentators - were convinced the young Brazilian had received a card for a similar challenge in the first half. But Orsato had decided to not book Juan for the first foul, so Inter managed to hold on for their point that now sees them fourth in the table with 39 points, four behind both Napoli and Lazio.

Not the best result all in all for Inter, but at least they held on against the odds in a game that at one point looked as though Roma would embarrass them again. Now the Nerazzurri must look forward to a rematch in the Coppa Italia semifinal first leg on Wednesday.

Hopefully with the added firepower of Antonio Cassano back in the starting lineup, the away goals he could bring may prove vital if Inter are to have a successful cup run.