'El Principe' shines in season opener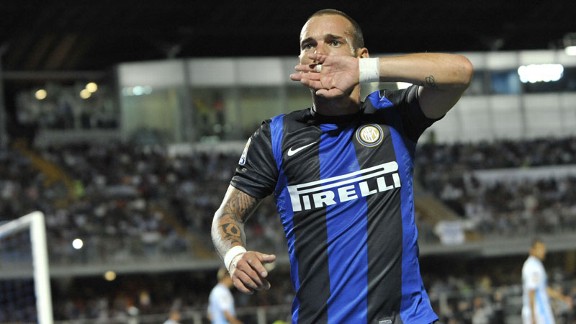 PA Photos

Wesley Sneijder celebrates after giving Inter the lead at Pescara.


The first game of the 2012-13 Serie A season for Inter was a 3-0 victory away from home at the Stadio Adriatico, home of newly promoted Pescara. Inter boss Andrea Stramaccioni decided to line up his squad in a 4-3-2-1 to try to counter the home side's attacking 4-3-3 formation that they persist with, despite no longer having Zdenek Zeman as coach, who used the tactic to get them promoted from Serie B last season.

Luca Castellazzi in goal was excellent throughout the game making several crucial saves as the Pescara attack tested him all through the first half, in the second half he didn't have quite as much to do as the home side only managed to get their shots on target once in the latter 45 minutes and that was from a long-range free kick that didn't trouble Inter's number two keeper at all.

I have commented almost constantly in the last 12 months about Inter's defence being their weak point but on Sunday the whole backline of Javier Zanetti, Matias Silvestre, Andrea Ranocchia and Yuto Nagatomo did their jobs very well. There were a couple of lucky escapes as both Silvestre and Ranocchia made occasional blunders but other than that they performed well together. Could this be the new generation of strong Nerazzurri centre-backs? Of that I'm not entirely convinced yet, but I've no complaints about this game. In the wider defensive positions both Zanetti and Nagatomo played their wingback roles perfectly not only running the wings to provide width in Inter's play but they also were always back in position to perform their defensive duties when called upon.

The three man defensive midfield of Fredy Guarin, Esteban Cambiasso and debutant Walter Gargano covered the defence well and also linked up with the forward players well too. Gargano especially had a fantastic first game in the Nerazzurri colours and if he can play this well after just a few days at the club I'm excited to see what he'll be like when he settles in properly. My one criticism of the entire match would be Guarin's performance, don't get me wrong he was as strong on the ball as always and I still think he's going to be a great player for us, but after having a few incidents with the Pescara youngster Weiss in the first half he lost his cool a bit and mentally he seemed distracted for the rest of the game. Add to this the several wild long shots he took in the second half and you can see why for me he was Inter's worst player in this match.

The 85th minute saw Stramaccioni take off the excellent Gargano and give a Serie A debut to the talented youngster Alfred Duncan. As he was only on the pitch for the last five minutes or so of the match he didn't really have time to make a great impression and he even gave away the free kick that led to Pescara's only shot on target of the second half, but I feel it's important to give youngsters like him competitive match experience to help them mature as players.

The creative attacking midfield two consisted of Inter's star trequartista Wesley Sneijder, who scored the first goal after Diego Milito sent the ball across the box for him to run on to and put into the back of the net. As usual Sneijder was pulling the strings in the Inter midfield for most of the night and it gives me great pleasure to see him enjoy playing for the Nerazzurri again after last year's dismal season.

Partnering Wesley was another debutant - the newly signed Antonio Cassano, who despite stating in the prematch press conference that he was only 50-60% fit, still managed to assist Milito's first goal after a great run into the box. He chased down the ball constantly in the 67 minutes he was on the pitch before being subbed for Phillipe Coutinho.

The 20-year-old sub Coutinho once again proved his talent as he scored Inter's third goal, in the 80th minute, assisted by Diego Milito. This lad is going to be a major force in world football and I believe Inter should do whatever it takes to keep him in their squad for as long as possible, even for his entire career. Yes he is that good!

Finally up front we find the man who, for me, was the man of the match - 'El Principe' himself, Diego Milito. It never ceases to amaze me how important our Argentine striker is for Inter's fortunes and again he had a hand in all three of the goals, assisting two and scoring one. What more do I need to say? On the 83rd minute he left the pitch to be replaced by 19-year-old birthday boy Marko Livaja but as he walked off, and for a few minutes after, you could hear the travelling Inter fans in the stands chanting Milito's name! Livaja like Duncan didn't have a lot of time on the pitch but gained useful experience, he even had a couple of good shots on the Pescara goal.

With the first game of the season under their belts Inter have finally broken the six-year curse of not winning their opening game and I have to say I'm very happy with what I saw. Their performance still wasn't perfect by any means but when you consider that we had a couple of brand new players in the line up and the squad is still getting used to all the changes to their playing systems they have done really well. I believe if we can play this well against the bigger teams, starting with Roma next week, then we have a real chance of competing for Scudetti number 19 at the end of the season.