The Sneijder transfer saga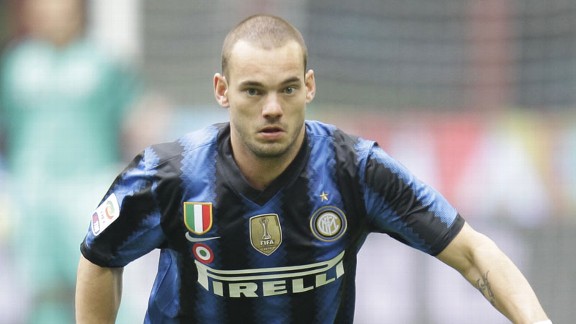 AssociatedWesley Sneijder: Galatasaray say they have done a deal for the Inter man
On Tuesday, Turkish giants Galatasaray announced on their official website that they had begun negotiations with Inter's Wesley Sneijder, following the Nerazzurri's acceptance of their reported €10 million offer for the star trequartista.

This of course, came as a surprise considering Sneijder's much reported high wage demands, but the Turkish side seem confident they can offer the Netherlands captain a contract that would be beneficial to both the club and the player.

On Thursday afternoon reports began to surface that Sneijder had been given 24 hours to decide his future, whether that was to be a move to Istanbul or to stay in Milano for the time being. Sneijder and his representatives appeared to be in no hurry to sign the deal, preferring instead to hold onto the offer while waiting to see if any deal would be forthcoming from a Premier League side, Sneijder himself has on more than one occasion stated his desire to play in England.

As far as the media were concerned, the Sneijder camp seemed happy to oblige with the deadline for a decision imposed by both Inter and Galatasaray, with both clubs looking to wrap up the deal as quickly as possible so they can decide their next moves in the transfer market.

Inter are awaiting the deal so they can make a move for their long-time target Paulinho, and Galatasaray want to ensure they get their new star player. By late afternoon on the Friday the world was waiting with baited breath for some news on Sneijder's decision and the appearance of his agent, Soren Lerby, indicated that news would be forthcoming very soon.

He told a Turkish newspaper: "The talks started yesterday and today, a delegate from the club has come to meet him. His brother plays an active role in the talks with the Turkish club. Now the decision up to him, in football anything is possible, but Turkey will become a hot destination. If all goes well, the deal can even be finalized."

With this statement it look increasingly likely the Dutchman was just hours away from finalising the deal, even the clubs were convinced it was a done deal, and so began faxing the relevant paperwork to each other to tie up the transfer between the clubs, just leaving Galatasaray to await the OK from Sneijder himself.

Then in a bizarre twist later on Friday evening reports started to surface that Sneijder's agent had told the Dutch press that: "We have not talked about a contract with Galatasaray, an impending transfer seems impossible to me. Anything is possible, for God's sake, it is Wesley and Yolanthe who determines as well as there will be other contacts. Until then Wesley has the freedom to decide what he wants. Recently I have received several calls from Turkey, but I have seen the country prefix and rejected the calls. An agreement between Inter and Galatasaray? Honestly, I know nothing. Inter have not given me any notice. I do not expect anything to happen in the short term."

Like the rest of the world's football community I was baffled by this statement considering that all the involved parties had confirmed that negotiations were taking place earlier and then was suddenly off.

Now, nearly 48 hours after the deadline was set, Galatasaray made a somewhat contradictory announcement on their website: "Wesley Sneijder has agreed on the transfer from FC Internazionale. Discussions are on-going with the player. We bring this to the attention of the public."

But, if 'discussions are on-going with the player' how can Sneijder have 'agreed on the transfer'. Either it's agreed or it is not.

I personally think Wesley is still trying to stall for an offer from England. However, the general consensus is that Sneijder will accept the offer from Turkey, but only time will tell if the two and a half year transfer saga surrounding Sneijder may actually be coming to an end.