Arrivederci Sneijder, Inter's No.10 heads to Galatasaray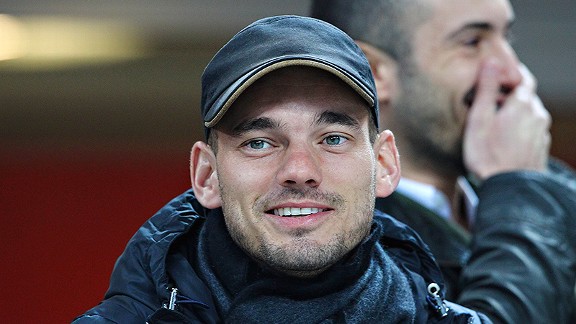 Marco Luzzani/Getty ImagesWesley Sneijder is finally off the wage bill at Inter Milan
Finally, the two-and-a-half-year transfer saga surrounding Wesley Sneijder has come to an end, and Inter are free of the €6 million a year salary that has been draining their finances for nearly as long. Two years ago the trequartista was pivotal to Inter's 2010 success and was considered one of the best in the world for his position, carrying a price tag of over €30 million. Such was his value to the Inter squad that clubs such as Manchester United were seriously considering investing in the Dutch man.

- Whittaker: The Sneijder transfer saga
- Gerrard wants Sneijder to join Reds

Two seasons later, his form has slumped and the teams playing style has evolved without him - possibly due to the numerous injuries he has suffered - leaving the powers that be at Inter to realise their mistake in giving their star player such a large contract that just wasn't financially sustainable. The ensuing situation caused by the much publicised terrible handling by the club in their attempts to lower his wage to an affordable level has caused Sneijder's value to plummet in the last six months. The player's reported stubbornness in refusing to renegotiate his contract left Inter with no option other than to put the Netherlands captain up for sale at a bargain basement price.

Regardless of his recent slump in form, hitting the peak of his career in the historic 'Triplete' season of 2010 has ensured he will always hold a special place in the hearts of all Interisti. However, recent events have dictated that it's the right time for the club and player to part ways, hopefully leaving both parties with fond memories of their three and a half seasons together.

Sneijder has never made any secret of his desire to play in the English Premier League, but due to his high wage demands even mega-money clubs like Manchester City have not been willing to take advantage of his cut price transfer fee. However, early in the transfer window an offer of a reported €10 million was accepted from the Turkish giants Galatasaray.

The following Thursday, Sneijder was given 24 hours to decide whether to accept Galatasaray's offer of a contract, which is rumoured to involve €3.5 million-a-year until 2017, with an appearance bonus of €25,000-per-match he appears in. Other bonus' reportedly included in the Turkish deal are €500,000 if Galatasaray win the league (which is likely), and also another €500,000 if they reach the semi-finals of the Champions League (I'm not so sure this bonus will ever be activated if truth be told). On top of that he will pick up a €6 million signing on fee from the Turkish club.

By late afternoon on the day of this imposed deadline Sneijder's agent, Soren Lerby, confirmed that Sneijder, his representatives and his family were in advanced talks with the Turkish club, and just needed to iron out the details of the proposed contract. "If all goes well, the deal can even be finalized," he said.

However, by Saturday morning there was still no decision from Sneijder himself, obviously Sneijder was taking his time making the decision in the hope that Inter would receive a last minute offer from what he'd consider a more desirable club in England. Unsurprisingly the offer did not arrive, and he was left with just two options, either start afresh with Galatasaray or stay with Inter.

Despite several ultimatums given by both clubs, Sneijder still spent the following week stalling his decision, with rumours of Liverpool willing to bid for the star playmaker, but due to his large wage demands the offer never arrived. Instead the Reds preferred to test the waters for Sneijder's talented team-mate Phillipe Coutinho. Luckily for us Interisti, Inter rejected the offer for their Brazilian wunderkind, and by Sunday the 20th January both Inter and Galatasaray were losing patience with Sneijder.

Running out of options Sneijder agreed to a meeting with Inter chief Massimo Moratti and stated that he may accept their offer of a reduced wage, but the Inter supremo had had enough and told him in no uncertain terms that the option to stay with Inter had been revoked. A decision I fully agree with as the club should now be concentrating on the talents of Coutinho and Daniel Bessa instead.

If he didn't accept Galatasaray it wouldn't have even beyond the realm of possibility that Moratti could have maybe cut his losses with Sneijder and just cancelled his contract, leaving the Dutchman without a club or any wage at all. That scenario may sound a little farfetched, but it wouldn't be the first time Inter have taken such drastic action to reduce their wage bill.

Now Sneijder has signed on the Galatasaray dotted line, both the player and Inter can focus on their respective futures. Hopefully giving Inter the opportunity to give Coutinho and Bessa the playing time they deserve to become great players for the club. It also means they can now return to their transfer targets in an attempt to strengthen their squad.

Sneijder on the other hand can focus on getting back to being the world class player he proved he could be back in 2010. I have to admit though, I'm not sure a move to the Turkish league is the best career move Sneijder could've made, with no disrespect meant, it is hardly one of Europe's most prestigious competitions. Who knows? Maybe without the pressure of a big league he can return to greatness - either that or he will disappear into obscurity - only time will tell.

What do you all think? Is Galatasaray a good move for Sneijder?