Inter target affordable options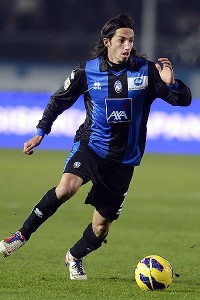 Claudio Villa/Getty ImagesHow much is Inter willing to pay to get Atalanta's Ezequiel Schelotto?
After a 'tough to take' defeat at Udinese Sunday, Inter are left in a difficult predicament of needing several players to 'fix' problem areas in the squad. But with a severe lack of funds finding the right players at affordable prices may prove a little tricky for the Nerazzurri.

Inter president Massimo Moratti himself confirmed more reinforcements are needed by his team to challenge for his targeted top-three finish: "I can confirm that it will essentially be like that, where the names being discussed are good players, but also a window where - just like at other clubs - we certainly don't intend to spend too much."

Realistic names being linked to the Nerazzurri include Atalanta's winger Ezequiel Schelotto, Catania playmaker Francesco Lodi, and Chievo goalkeeper Stefano Sorrentino.

After seeing another terrible performance by Jonathan on the right wing against Udinese, it is obvious that Inter are severely lacking useful options down their right flank. Jonathan isn't a player of Inter's standard, and 39-year-old Javier Zanetti - as much as he will play his heart out in any position for Inter - can't be expected to run up and down the wing for 90 minutes every game at his age.

Schelotto could prove to be a good addition for the money involved in this area. OK, so he's no Cristiano Ronaldo or David Beckham, and defensively he can't match Maicon at his prime, but let's face it - Inter have to build a team they can afford to finance, not the dream team we would all like to see.

The Argentinean, 23, has plenty of pace, and fits in with Inter's project of building on youth. I just worry that for a winger his crossing ability isn't his strongest. But he's still young and can improve in this area, plus, if he could link up with Fredy Guarin down the right flank his crossing ability wouldn't be much of an issue.

Reports emerging from Italy suggest this deal has hit a stumbling block over price, with Atalanta demanding 8 million euros for their player, while Inter are offering 2 million plus half of Marko Livaja. Alternatively, Inter may be willing to pay a fee to loan Schelotto until the end of the season with a clause to buy him outright in the summer, much like they did with Porto for Guarin. But as Atalanta know, there is much interest for their winger from clubs in both Italy and England, and they are refusing to lower their price.

Hopefully the rumours of interest for Jonathan from Brazil are true, and Inter can sell the wingback quickly to give themselves a little more capital to negotiate with Atalanta for Schelotto before he becomes yet another target the Nerazzurri miss on.

Catania's Lodi has also recently been strongly linked with the Nerazzurri, the talented deep-lying playmaker considered a more affordable alternative to the Brazilian Paulinho. Like the Brazilian, Lodi can dictate the tempo of a game from deep in the midfield, and is more than capable of spotting key passes to unlock opponents' defences, something Inter are sorely lacking this season especially when playing Andrea Stramaccioni's three-man defence.

He also is a set-piece specialist, an ability that is only really available in the out-of-favour Wesley Sneijder, and so if the Dutch trequartista leaves Inter as expected, Lodi's dead-ball ability would be a much-appreciated asset.

As I've said many times, if Sneijder does leave I would prefer to see the Nerazzurri push to bring Paulinho to Italy instead of moving for Lodi. Especially if recent reports of Paulinho having a 15-million euro release clause in his contract are true, it would make him a realistic target for a price the Nerazzurri might just about be able to afford. Of course there are no guarantees Sneijder will be sold this month so the compromise of Lodi could be Inter's only real option.

Lastly there have been rumours of Inter tracking Sorrentino, who is reported to be wanting a move away from Chievo to a 'big' club. Personally I don't think this will happen with Inter as Sorrentino is said to want guarantees on first-team appearances, which I can't see him getting ahead of Samir Handanovic, to be honest. If anything Inter will be looking to bring him in as a backup considering Luca Castellazzi is unlikely to feature again due to his latest injury.

In my opinion, Inter should forget this deal, and just show some faith in youngster Vid Belec to play as Handanovic's understudy. After all, the 22-year-old has shown some good promise in the Nerazzurri net in the Europa League this season.

Of course, there is still a long way to go to the end of this transfer window, and even this early in the year there are already rumours concerning Inter's potential summer signings - including Manchester City's Edin Dzeko - who knows?; maybe Inter will make a big signing in the next preseason.

One thing is certain, though. Unless they buy sensibly this month and improve the team enough to secure a top-three finish and Champions League qualification no big-name player will even consider a move to the Nerazzurri.