Tomasso Rocchi - Is he really suitable for Inter?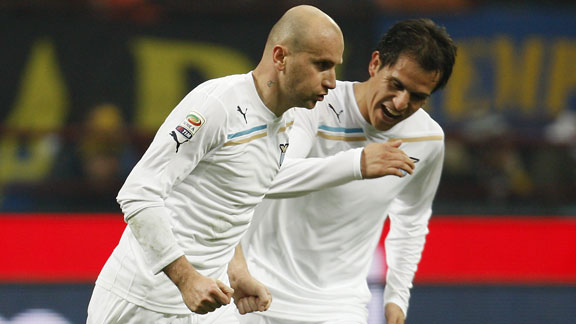 APInter-bound Tomasso Rocchi, 35, is not a signing for the future
Inter's Massimo Moratti and Lazio president Claudio Lotito finally agreed a deal on Wednesday that will see the veteran striker, Tomasso Rocchi, move to Inter on loan until the end of the season. Although the official presentation is yet to happen, Rocchi arrived at Appiano Gentile on Thursday morning to complete his medical with the Nerazzurri before meeting up with his new team-mates to start his first training session under Andrea Stramaccioni.

- Landreau rejected Inter Milan

Although the 35-year-old is likely to spend most of the second half of the season on the bench, only making an appearance when Diego Milito is in need of a rest, I have heard that Rocchi will take the vacant number 9 shirt - a shirt that has been worn by some truly legendary players for the Nerazzurri - Ronaldo, Ivan Zamorano and Samuel Eto'o to name just a few.

Is he really a player worthy of wearing such a special shirt? I'm not convinced and as I wrote in my previous article I understand Inter are working with tight financial restraints, but is loaning a player who is likely to retire in the summer a sign of the club committing to the project of building for the future?

I'm sure the €300,000 fee and the €800,000 wages for six months could've been better spent on loaning an up and coming youngster who could possibly have had a future with the club, if the loan went well. The truth is Inter didn't have to spend that at all, they could have just recalled Samuele Longo from loan, and given the youngster some playing time alongside the experience of Milito, Cassano and Palacio. Longo is after all meant to be one of the most promising young strikers on the Nerazzurri books.

Anyway, back to the Nerazzurri's new number 9, with him coming to the end of his career he obviously has a wealth of experience to share with his team-mates, but what honours has the Venetian amassed since his days as a youth player for Juventus? In short very few, in fact it was none until late in his career when he was part of the Lazio team that won the 2009 Coppa Italia final, a game in which Rocchi himself missed his penalty during the decisive shootout against Sampdoria.

He did however score what was to be the winning goal against Jose Mourinho's Inter in Lazio's Super Coppa Italiana victory in Beijing that year. These two trophies are all Rocchi has to show for his 17-year professional career, eight years of which were played with Lazio. Since the 2009/10 season he has become a bit part player for the Biancocelesti making just 53 appearances between then and now.

His career has seen the striker make a total of 566 appearances for his various clubs, 302 of which have been in Italy's top tier. During his time at Juventus he didn't make a single appearance for the club, but between 1996 and 1998 he spent time on loan in Italy's lowest leagues before being sold to Como in Serie C1. To be fair to Rocchi he has managed to climb the leagues playing in Serie B with Treviso, then eventually getting a taste of Serie A football with Empoli before moving to the Italian capital in 2004.

His club career goal count currently stands at 183 goals, 105 of which were scored for Lazio, which means Rocchi averages a goal every three games he plays. These stats hardly put him in the class of the prolific scorer that Inter are in need of, especially when you compare him with Milito who averages a goal every two games.

In my opinion any player signed as 'vice-Milito' should surely have a similar goalscoring record or at least have the potential to score more than 'El Principe'. Since the start of the 2010/11 season Milito has scored 42 goals for Inter compared to the 12 scored by Rocchi in the same period. Ok so Milito has appeared in 45 more games than Rocchi in that time, but that in itself speaks volumes about Rocchi's ability and the point he is at in his career.

For Inter to find the 'vice-Milito' they need, surely they should be looking for a younger player capable of raising the bar set by Diego in recent years to help drive the Nerazzurri forward. I'm under no illusions, Inter aren't in anywhere near the position to be signing a world-class striker, but a club of their stature should at least be signing a good one, and unfortunately I'd say Rocchi is mediocre at best and completely the wrong signing for Inter.

Of course this is just my opinion on the matter. Rocchi is now an Inter player so it is up to us Interisti to welcome him in to the team, and show him the support that any Inter player deserves. We also have to keep the faith that the Inter management have a plan, have made a good choice for the short term, and have not let the club slip back to their old ways. Hopefully Rocchi can prove me wrong by becoming a useful asset to the club for the remainder of the season, but at the moment I'm reserving my judgement on him.