Could finances restrict Inter's project?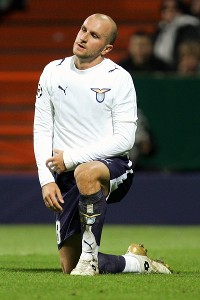 Martin Rose/Bongarts/Getty ImagesLazio's Tomasso Rocchi, 35, is hardly a long-term option for Inter
Here we are on the eve of 2013 and the opening of the winter transfer window, which the Nerazzurri have been patently waiting for to bolster the team and find the much-discussed 'vice-Milito'.

Inter's poor financial situation again will dictate how they can improve their squad - after a summer of reducing wage bills but still managing to spend somewhere around 50 million Euros, the pot for this window is pretty much empty.

As always there have been rumours of who Moratti & Co. will be chasing in the coming month, but the truth is the stars likely to leave Inter will be much more prestigious than the ones who arrive.

For example, it has long been known that Wesley Sneijder is almost certain to finally leave the Nerazzurri in the coming month as wage-cut talks have seemingly broken down completely. Rumours are rife of several English Premier League sides ready to submit bids of around 10-12 million Euros for the Netherlands captain. This is a terrible situation for Inter as even just six months ago their star trequenista was worth double that, but injuries and the much publicised 'Sneijder Situation' has seen his value plummet.

Another Inter attacking midfielder who has apparently become disenchanted with life with the Nerazzurri is Ricky Alvarez. After being jeered as he left the pitch in Inter's last game against Genoa, Alvarez publicly admitted he was ready to exit the club. I am an Alvarez fan, but even I'm starting to wonder if he can raise his game to Inter's standards consistently, so maybe cashing in on the young Argentinean isn't such a bad idea after all.

Money from those two sales could give Inter the finances to secure a midfielder who has been linked to the Nerazzurri for some time now, the talented Brazilian Paulinho. I have to say I am more than a little excited at the prospect of seeing him play in my beloved Black and Blue shirt. Playing alongside his compatriots Phillipe Coutinho and Juan Jesus would help Paulinho settle fairly quickly into life in Italy.

For me, Paulinho should be Inter's number 1 target for this window, as he fits the Nerazzurri's project of building a young, talented squad. However, in the last few days certain rumours and moves by Inter have got me worried that the club is slipping back into paying good money for players who don't fit this ideal.

I've been hearing Inter are ready to give up the Paulinho chase in favour of Fenerbahçe's 29- year-old midfielder Raul Meireles. Even though he is a quality player and not exactly past his prime, the former Porto, Liverpool and Chelsea player has a short fuse and hot temper which could ultimately disrupt the rest of the squad.

What troubles me the most however, is that Lazio's 35-year-old striker Tommaso Rocchi has been signed by Inter on a six-month-loan deal to become the 'vice-Milito'. Even with Inter's tight finances and the relatively inexpensive deal for Rocchi - signing a player on the verge of retiring? It seems insane to me. Considering he's not been a regular starter for a few seasons now, and has only made three appearances, scoring no goals for the Biancocelesti this term, makes this seem like a bizarre decision by Inter management, regardless of the financial restraints.

I just hope that by summer, Inter look seriously into finding a younger quality striker to replace Diego Milito; otherwise Inter may again struggle to find the goals needed to win. I realise finances have a huge bearing on what can be done in the transfer window. But I would rather see Inter's youth promoted to the first team, and have them spend a couple of seasons doing their best and fighting for a top-three finish, than return to having a team full of players in their 30s who will struggle against younger, more talented teams.