Standing out from the Nerazzurri crowd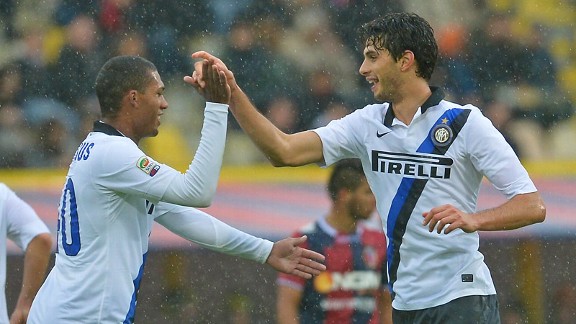 Vincenzo Pinto/AFP/Getty ImagesInter's Juan Jesus, left, and Andrea Ranocchia have formed one of Serie A's top back-line partnerships
In the midst of the Serie A winter break, I thought it would be a good time to look back at the first half of Inter's season, and explain why I think four of the regular starting XI have stood out from the crowd for the Nerazzurri and impressed me the most.

Starting at the back, Inter's No. 1 Samir Handanovic has been phenomenal in the Nerazzurri net, making impressive and often important saves game after game. It's not hard to see why he is considered the best shot-stopper in Serie A, and after two mediocre seasons from his predecessor Julio Cesar, it is a welcome relief to have confidence in an Inter goalkeeper to stop most shots without too much trouble.

In 20 appearances for Inter this season Handanovic has six clean sheets and I'm expecting that number to rise by the end of the campaign. I realise it is too early to officially make this comparison, but watching Samir in the Nerazzurri goal reminds me a lot of the videos I've seen of the legendary Inter keeper, Walter Zenga.

Hopefully Samir can match Zenga's feats and become the new Spiderman for this new generation, while also preparing his fellow countryman and Inter youngster Vid Belec to replace him when the time comes for him to either move on or retire, hopefully after the 28-year-old has won plenty of silverware for the Nerazzurri.

Inter's defensive line last season was widely regarded as the weak point in the Nerazzurri lineup, leaking a huge number of goals, but this season I consider the club's centre backs as one of their strongest areas. This is emphasised by the fact two are included in my top four players of the season so far.

First is Inter legend Marco Materazzi's heir, Andrea Ranocchia. When he arrived at Inter in January 2011, he was being hailed as one of the most exciting young Italian prospects in the game, but after 18 months of disappointing performances it was looking likely the 24-year-old would never reach his assumed potential.

This season, his confidence has grown massively. Playing alongside Walter Samuel and Juan Jesus, he is starting to blossom into a player worthy of wearing Materazzi's old number. During his 19 Nerazurri startsthis season he has improved game upon game. With his preference for committing to tackles, passing short and dribbling the ball he is showing more than just a hint of the style that made 'Matrix' an Inter legend.

Despite being widely considered as the most improved player in Serie A this season he is still, inexplicably, not considered a regular member of the Italian national team and since his national debut in 2010 he has only managed eight caps with the Azzurri. Hopefully this will change for him soon, as I for one would like to see him become an important part of the Italian national team for the 2014 World Cup.

Inter's other young centre back who has proved invaluable so far this season is the 21-year-old Brazilian, Juan Jesus, whose performances have been outstanding so far this term, earning himself the award of being my player of the season at the midway point.

Juan joined the Nerazzurri almost a year ago in last season's winter mercato, but for reasons I could not understand his only appearance for Inter in 2011-12 was for approximately two minutes at the end of the last game of the season in the loss against Lazio. With his lack of playing time most people thought he was on his way out, possibly as a bargaining chip for another player in the summer transfer window.

However, an excellent run of performances in the Olympics saw Brazil claim a silver medal, and Stramaccioni decided he wanted the youngster in his new-look squad. This was by far one of Stramaccioni's best decisions as in 18 appearances Juan has proved himself a worthy replacement for his idol Lucio. Like Lucio in his prime, Juan possesses a strong tackling ability as well as an eye for reading the game to anticipate what the opponent is likely to try against him.

He also shares the trait of making forward runs with the ball that Lucio loved so much. Luckily, Juan possesses good pace and ball control meaning that one minute he can be found trying to set up shots in the attacking third, but moments later he'll be back in the Inter area making a crucial tackle.

I also believe that when they are on the pitch together Juan and Ranocchia bring out the best in each other, creating a formidable defensive pairing much like that of Walter Samuel and Lucio back in 2010. With a bit more experience under their belts I believe they will become just as good as the aforementioned legends.

Finally, the last of Inter's most important players of the season so far is midfielder Fredy Guarin. Fredy has become a hugely influential part of the Nerazzurri midfield, especially when Wesley Sneijder has been unavailable. The Columbian has provided the greatest creative spark in the team.

Guarin plays a sort of regista role in the squad, providing cover for the defence with his strong tackling ability, but also his powerful forward runs and key passes have worked wonders connecting the Inter midfield to their attack - something severely lacking from other Inter players.

Guarin has made 13 starts for the Nerazzurri and has come on from the bench six times, scoring four goals and assisting five others. He is a passionate player who has a tendency to commit fouls or argue with officials, but he has also become a great influence to his teammates, as seen recently when he joined the Coppa Italia game against Hellas Verona. In the first half, the Nerazzurri were struggling against the Serie B side, but with Fredy's inclusion for the second it was a completely different story. Guarin set up the first goal by Antonio Cassano before claiming one for himself.

The only thing that stopped Guarin being my player of the first half of the season is he has a tendency to take some wild long-range shots which nearly always end up high in the stands, similar to the ones Dejan Stankovic was fond of trying. If he hit the target with these shots more often, or took his time to look for a more productive pass instead, he would be Inter's most complete player by far.

By highlighting just these four players I'm not saying the others have been terrible - though a few have been pretty disappointing, to be honest. In general, most of the Inter squad have been working hard to piece together a consistent run of good results. But for me, these four are the main reason the Nerazzurri find themselves in the thick of things, battling with Napoli, Lazio and Fiorentina for second place. All four of these top players will be crucial in the second half if Inter hope to finish in their targeted top three position.