Inter youngsters impress against Neftchi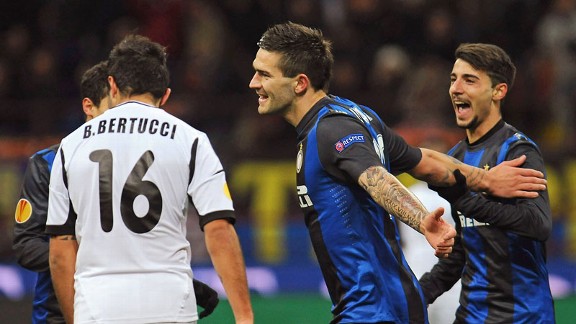 Valerio Pennicino/Getty ImagesMarko Livaja, center, improved his Inter stock with two goals Thursday
Europa League knockout stage qualification was clinched, so Inter manager Andrea Stramaccioni once again used the opportunity to give some of the Primavera youngsters a chance to gain valuable European experience Thursday at home against Neftchi.

Playing against Inter at the Giuseppe Meazza will go down as one of the greatest achievements in the Azerbaijani side's history, along with their players Rashad Sadygov and Nicolas Canales, who managed to score against the mighty Nerazzurri with superb goals, the latter in the 89th minute to force a 2-2 draw.

Not a bad feat considering Neftchi are playing in their first European group stage this season.

- Inter gets 2 from Livaja in draw

When they saw the Inter lineup, they would haveve been forgiven for feeling let down, not being able to test themselves against some of the strongest Nerazzurri players. But if they were expecting an easy ride against the Inter youngsters, they were most definitely in for a huge shock.

With five teenagers featuring for the Nerazzurri, Stramaccioni once again proved he knows how to effectively rotate his squad. He gave his first-choice players some valuable resting time in preparation for Sunday's crucial game against Napoli while also giving the youngsters important experience of playing European-level football in the first team.

Using the younger players this way, Stramaccioni is showing wisdom beyond his coaching years. With Financial Fair Play rules coming into effect, promoting youngsters from their youth team is going to be the main source of acquiring new talent for the first team squad in upcoming seasons. This, of course, isn't a simple transition for the players as there is a huge difference between top-flight football and that of youth teams.

With this in mind, Stramaccioni utilizing his youngsters in these European matches is a vital part of ensuring that when their time comes, they will have a sufficient amount of experience to make the adjustment as easy as possible.

My one criticism is three of Inter's most talented youngsters seem to get overlooked every time - Ibrahima Mbaye, Joseph Duncan and the hugely talented Daniel Bessa, though the Brazilian forward is still recovering from injury. I just hope we see them gaining the first-team experience they deserve sometime soon.

The youngsters that did make it to the pitch in this last group stage game actually surprised me, if I'm honest. Against the full strength of Neftchi, I was expecting a tough game for Inter, but the young Nerazzurri proved their ability by giving their opponents a challenge for the entire 90 minutes.

Phillipe Coutinho showed off his fantastic skill on the ball once again in the first half, but several times his flaw of being wasteful with his final pass, and rushing his shot let him down. But we have to remember he is only 20, and this is just a sign of his youth - with more experience under his belt I'm sure he can improve these areas to become one of the best.

Sadly, Coutinho went almost unnoticed in the second half, as his influence from the first seemed to disappear with the formation change during the break.

Vid Belec was looking much more confident in goal than in his last appearance, making several good saves. To be honest, both the shots that went past him were excellent goals any keeper would've struggled to save. Working alongside Samir Handanovic in training seems to be having a good effect on his progress.

If Inter loan him either in January or next summer so he can gain consistent first-team experience, I'm sure he will make an excellent backup to the club's Slovenian number 1.

The star of the night was the scorer of both of Inter's goals - Marko Livaja. The Croatian striker now has four European goals this season. Truth be told, Livaja actually scored a hat trick, but his third wasn't recognised by officials even though the ball completely crossed the line before the Neftchi defender cleared it.

I've been very impressed with Livaja in his European appearances this season. If it were up to me I would even consider playing him Sunday against Napoli alongside Diego Milito instead of Antonio Cassano.

'FantAntonio' came on as a substitute in the second half, and to be honest he failed to make any real impression. In the final 10 minutes he was wrongly denied a penalty claim when he was brought down in the area, but the referee only awarded Inter a corner.

Lastly, I must applaud the hard work and vision Yuto Nagatomo brought, making intelligent runs up the pitch time and again. It was a phenomenal play by Nagatomo that created the assist for Livaja's second goal, playing a wonderful 1-2 before getting into the position to make the cross the striker headed home.

The Japanese wingback was unlucky to have not got his name on the scoresheet too, firing a long-range thunderous shot towards goal, only to see it ricochet off the crossbar and back into play.

Even though it ended with a draw against one of the weakest sides in the competition, I'm very happy with the performance I witnessed from Inter. The Nerazzurri youngsters have given us Interisti hope that with the wealth of young talent available, the future is looking bright for Inter. These kids are why Inter are considered to have one of the best youth systems in the world.

The reality is, if it wasn't for two terrible decisions by the officials and an unlucky bounce off the crossbar, Inter could have won, 5-2.