The 'Sneijder Situation' rumbles on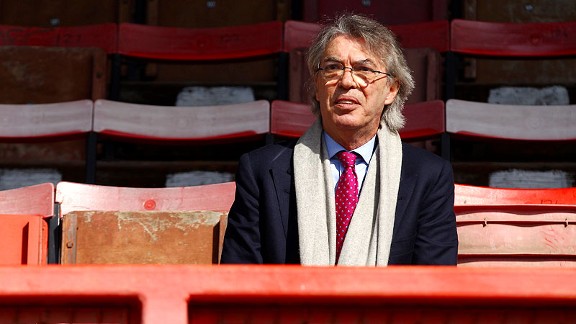 Julian Finney/Getty ImagesWesley Sneijder's contract dispute has been a headache for Inter Milan president Massimo Moratti.
The 'Sneijder Situation' has now been dominating most of Inter's headlines for some time with the Nerazzurri requesting the Dutchman take a paycut in a revised contract. It's no secret that Sneijder seems to have taken offence to this and refused to sign. On Monday a meeting took place between Sneijder and his representatives along with Massimo Moratti and Inter that was supposed to have resolved the situation and ended this ridiculous saga with the idea of returning focus to the most important thing -- Inter as a team!

- Marcotti: Sneijder situation shows Inter's self-destructive side

"I don't want to talk. Something will come out in the afternoon," Sneijder said upon leaving the meeting with his agent, which the media considered to be a bad tempered response to the questioning.

The real question is was it an angered reply because the meeting went badly, or simply because the press have blown the whole situation out of proportion? Inter president Massimo Moratti seems to think it's the latter, when asked about the incident he said, "So you're a psychologist now? I also appear angry at times when I see you lot, but it's not always the case!"

To be honest, I would probably agree with Moratti's sentiment on this one. We all know how journalists like to make things look worse than they are to create a story. So will Sneijder re-sign and remain at Inter? Only time will tell, but Moratti seems confident stating, "I have an excellent relationship with the lad and when he returns he'll provide added value."

So here's hoping he's right. A lot has been said of the way Inter have handled this situation, and Marco Branca's recent comment about Sneijder not playing again until he signs a new contract just added fuel to the fire, with claims that Inter are 'blackmailing' the Dutchman. This was an absurd comment by the Nerazzurri director, who, when this is all resolved should face stiff questioning from Moratti and company about making such unprofessional comments in public.

Whether this is the case or if it's as Andrea Stramaccioni claims, that Sneijder's not playing because he's not ready to come back after two months on the sidelines, is anyone's guess. Unfortunately though it's not the first time Inter have handled a situation involving a player unprofessionally -- you only have to go back to this summer and remember how Julio Cesar was forced out of the squad -- to see that the club are prone to making bad man management decisions.

The lack of playing time seems to be one of the major issues that is stopping Sneijder's signing, "In this way, there is little reason for me to sign," a statement released by Sneijder's management team read. "How can I get in this position in which I do not play?"

There are also rumours that FIFPro may even allow Sneijder to void his contract and leave the club for free, because of the alleged 'blackmailing' tactics used by Inter. If this was to happen, it would be a major blow to the Nerazzurri who can't afford to write off their star players' value without a return.

In my opinion, Inter have acted disgracefully in this matter, but I have to admit I'm hugely disappointed in Sneijder too. It has been common knowledge for some time now that Inter aren't exactly in the best financial position possible, and have had to recently sell a lot of their star players just to balance the books -- Samuel Eto'o for example. Therefore, it was inevitable that with these financial worries there was going to be an effect on Inter's highest earner, Sneijder who is reportedly on six million Euros a year, which is a considerable amount more than anyone else in the squad.

My issue with Sneijder on this is the fact that when he signed this huge contract back in 2010 and many times since, he has declared his loyalty and love for Inter, yet when the club approached him with the request to take a pay cut because they can no longer afford to continue paying such a large amount he, in my opinion, turned into a bit of a diva. When you consider the lengthy injuries he's suffered in the last 18 months, it's not hard to see why Inter are struggling to justify paying him so much. It's not even as though they have said they want him to leave, I think we would all agree that Inter would like him to stay.

So why would a player that supposedly has such a huge affection for the club not willingly accept a lower wage to help resolve their financial difficulties? It is completely beyond me. I will admit that although I don't agree with how they've handled things, I understand why Inter need to cut Sneijder's wage, and I do believe they've done the right thing by attempting to renegotiate his contract and lower his pay to help out the financial future of the club.

Like most Interisti I hope to see the situation resolved soon, preferably with Sneijder staying, but whatever happens, lessons will hopefully have been learned. I hope to see Inter learn how to improve their man management skills in these tricky situations, and I have learned that no matter how much a player claims to love a club, most will always love money more.

Which leaves me with one question -- why can't all players be as unselfish and as loyal as the legendary Javier Zanetti?