Palermo own goal ends Inter's winless run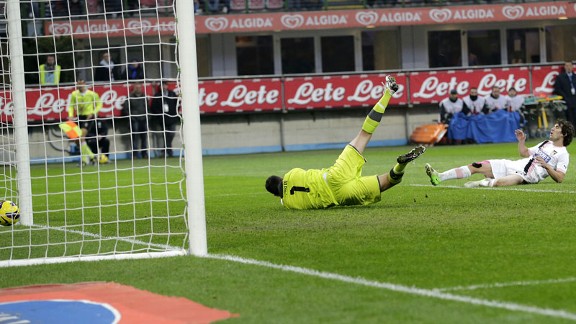 PA PhotosSantiago Garcia's own goal handed Inter Milan victory over Palermo
After the previous three disappointing league game results, Inter must be thrilled to be back to winning ways following their 1-0 home win against Palermo. The Nerazzurri once again were looking like the strong team we know they are.

- Report: Own goal gifts Inter victory

Throughout the game, Palermo struggled to make any sort of impression against a focused and driven Nerazzurri, with the home side constantly probing the Rosaneri defence, trying to find weaknesses to exploit through Coutinho, Rodrigo Palacio and Diego Milito.

As much as the performance in this match was much improved from recent weeks, us fans must still have a few concerns about our attacking line being unable to consistently test the opposition goalkeepers.

The problem isn't the amount of shots Inter are making, for example in this match they managed to strike for goal a reasonable 16 times, but there is no excuse for the Nerazzurri players to only hit the target four times, all of which were fired straight at the keeper. If it wasn't for the fortunate deflection off a Rosaneri defender from Andrea Ranocchia's cross, finally beating the Palermo keeper, I'm not convinced that Inter could've achieved anything better than a goalless draw.

On a positive note, every other aspect of Inter's play was great. The defence was solid throughout, the trio of Ranocchia, Walter Samuel and Juan Jesus are proving to be a stroke of genius by Stramaccioni, giving the Nerazzurri a formidable defensive line the like of which hasn't been seen at Inter since Jose Mourinho's treble winning side.

The central midfield of Esteban Cambiasso and Walter Gargano also did their part in ensuring that possession was regained before the Palermo players could put together anything particularly dangerous in attack, meaning the visitors were limited to just eight shots, nearly all of which came from distance.

Even when they were called upon to link up the defensive and offensive thirds Cambiasso and Gargano were faultless, making intelligent passes and moving forward up the pitch to provide other options for the attack. Gargano especially was one of the more outstanding Inter players in this game, and I feel he is firmly securing his place as a vital component in Stramaccioni's new look Inter.

Even in the build-up play the Inter squad looked confident and exciting, with Alvaro Pereira and Javier Zanetti providing good width to Stramaccioni's formation. Later in the game when they came on to replace Zanetti and Milito both Fredy Guarin and Yuto Nagatomo were seen to combine fantastically to create several chances.

Phillipe Coutinho also deserves a special mention for his outstanding performance in this game. His dribbling was sublime, combining his pace with control and trickery to get past the opponents, for me he is deservedly man of the match. If the 20-year-old Brazilian can consistently perform like this, I have no doubts that he can realistically give Wesley Sneijder competition for a starting position if the Dutchman decides to stay with the club, and if Sneijder does leave Inter then I'm confident Coutinho will be a worthy successor.

On the subject of Coutinho, I feel he should've been awarded a penalty when he was barged in the back just as he was taking a shot five minutes after the restart. There wasn't much appeal from the Inter players for the incident, but in my mind if a player is halfway through taking a shot and the opposition defender pushes him in an attempt to thwart the shot, then surely that should be considered a foul, shouldn't it?

Regardless of this, I'm overjoyed to see the Nerazzurri claim a much needed three points, even if it didn't come from an Inter player scoring, and on the run of the game Inter absolutely deserved the win. It's encouraging to finally see Inter playing confident attacking football in their home ground, instead of the nervous counter attacking style that has been evident far too often in the Meazza this season.

Looking ahead to next week's visit from Napoli, I have to admit I'm slightly concerned that Inter are to be without Samuel in defence, after him receiving a suspension for his fourth yellow card this season. I'm hoping Stramaccioni decides to play Cambiasso at the back instead of relying on the inconsistent Matias Silvestre to counteract the in-form Edison Cavani. I will however be relieved to see the return of Antonio Cassano, who I'm desperately hoping can bring back some goalscoring genius to Inter's faltering forward line, and hopefully allow Inter to regain second place with another win.