Are Inter better without Wesley Sneijder?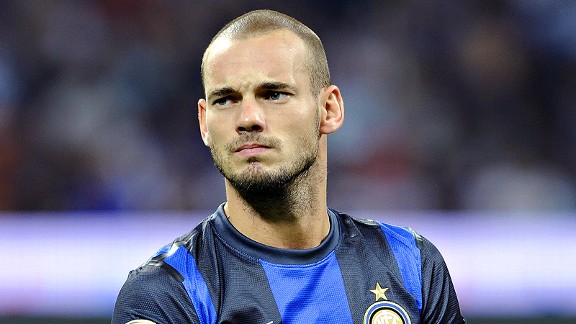 Claudio Villa/Getty ImagesInter have asked Wesley Sneijder to take a 30 percent wage cut or else the club will sell him.
Recently asked by La Gazzetta dello Sport if he had ever got a 10 out of 10 for anything at school, Wesley Sneijder replied: "Yes, in mathematics." That's probably just as well because Inter Milan have presented their playmaker with a difficult equation.


They'd like Sneijder to take a 30% wage cut.

He is currently Inter and Serie A's highest earner with an annual salary worth 6 million euros a year after tax. It's a colossal amount. Inter are prepared to honor his existing deal but they would like to restructure it, paying him what he is due between now and 2015 in 2017 instead. So, in short, Sneijder would be committing to longer for less.

It explains a lot. Suspicions that not everything was right between club and player had been aroused earlier in the month.

Before Inter's trip to Partizan Belgrade in the Europa League, Sneijder's wife Yolanthe Cabau tweeted: "My husband can no longer write on Twitter. It's the club's choice. [It's] strange. But we're ready for this evening's game."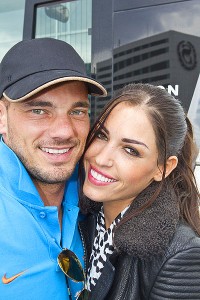 Getty ImagesBefore Inter's trip to Partizan Belgrade, Sneijder's wife Yolanthe Cabau tweeted: "My husband can no longer write on Twitter. It's the club's choice. [It's] strange."
The official line out of Inter was that by revealing he was to fly to Los Angeles for treatment on a muscle tear before the news had been made public by the club, Sneijder had violated their social media policy. That didn't wash with everyone. Teammate Gaby Mudingayi had also tweeted he was to undergo a scan after suffering an injury in Belgrade and then later revealed the outcome to his followers. Was it really one rule for Sneijder and another for Mudingayi? And why hadn't he made his comeback as expected against Cagliari a week ago? There had to be more to it.

Confirmation came at the weekend when Inter's technical director Marco Branca spoke to Sky Italia. "The situation with Wes, who is part of the history of this club and a player we all care about," he said, "is that we've been discussing a possible -- and for us necessary -- adjustment to his contract for a while.

"We want to give the player and his entourage all the time they need to consider the terms of our proposal carefully," Branca continued, "so the coach and the club have decided not to use the player in this period until things are clearer. This also allows our coach to more playing time to the other players."

The action taken by Inter appears harsh on Sneijder. It's legality is questionable, too. Should things deteriorate any further and Sneijder find himself ostracized, then an accusation of mobbing could be brought against Inter. But for now, it hasn't got to that stage.

"I talk to [President Massimo] Moratti and Sneijder every day," coach Andrea Stramaccioni said, "and the situation is simpler than you think. I hope we can all sit around a table and resolve this situation, conscious that this summer Inter took a clear and precise line that I respect and share."

The line Stramaccioni alluded to was that of slashing the wage bill by almost 50 million euros. Julio Cesar, Lucio and Maicon, all of whom were members of Inter's treble-winning team, either had their contracts rescinded or were sold. Sneijder is only too aware of the predicament Inter are in. Back in 2011, he was told up front by the club that, because of his status as a lucrative asset (and his wages) they had to consider offers for him.

"I had never thought about leaving. I don't know about other people. As a matter of fact, I do know," Sneijder insisted to La Gazzetta dello Sport. "I had left my holidays [that summer] with the idea that I'd be coming back, then my agent called and said: 'Come, we have to talk with Inter' and Inter told me that if there was a possibility they might sell me.

"It wasn't a technical question," Sneijder added. "I really don't believe that …. It was a question of money. Something had changed, then I changed my mind, too. I arrived at [Inter's pre-season training camp] Pinzolo. I found more or less the same team again. I spoke with Moratti, who for me is a very important person, with Branca and with [Inter's director of sport Piero] Ausilio and they all said that I would be very important for Inter."

Samuel Eto'o was sold to Anzhi Makhachkala instead. "One of us two had to leave," Sneijder revealed. "I understood on the day of Eto'o's goodbye that I would be staying and was very happy to do so." That he did, however, was in no small part because interested parties, said to be both Manchester clubs, balked at matching his wages. They have become a millstone around Inter's neck and that's their own fault.

Moratti shouldn't have offered to nearly double Sneijder's wages from 3.5 million euros a year to 6 million euros after his first season at the club. True, Inter had just won an unprecedented treble, Sneijder went on to reach the World Cup final with the Netherlands, he was thought to be among the principal contenders for the Ballon d'Or and his club wanted to reward him.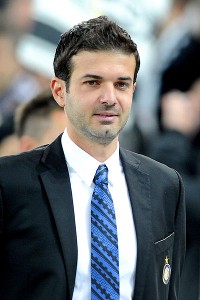 Claudio Villa/Getty ImagesAndrea Stramaccioni would like to see a quick resolution to the contract dispute, but the fact is, Inter are a more balanced and effective team without Sneijder on the pitch.
The problem is that, since then, they have got so little value for their money. For close to two and a half years now, Sneijder has flickered without ever really recapturing the form he showed under Jose Mourinho. Laying to one side their differences in position, it's a slump that calls to mind Fernando Torres at Chelsea.

In fairness, a lot of it is down to niggling injuries. Sneijder has missed 43% of Inter's games since 2010. His last appearance was against Chievo two months ago when, as mentioned above, he tore a muscle.

Inter have learned to play successfully without him. When Sneijder was out last season, rather than suffer in his absence they won seven games in a row. His return to the starting line-up against Lecce coincided with the end of that run. Inter then only won one of their next 10 and Claudio Ranieri got the sack.

A similar trend has occurred this season. When Sneijder came off injured in the 26th minute of Inter's trip to Chievo, the score was 0-0. His replacement Antonio Cassano was among the goalscorers in a 2-0 win and it was the beginning of another streak as Inter racked up 10 straight victories in all competitions.

Although Inter have lost three of their last four, few believe Sneijder would be the answer to their problems. He is a luxury. Since 2010, Inter have won 66.7% of games without him. Their average possession and pass completion rate is lower, yet they also average more goals per game (1.97 compared to 1.52), have a greater percentage of shots on target (47.11% to 43.61%) and see more of their shots converted into goals (17.11% to 11.84%) than with him in the team. In short, they're more balanced and effective. Guys like Cassano, Rodrigo Palacio, Philippe Coutinho and Ricky Alvarez are happy rotate. They won't throw a strop like Sneijder did when he was hauled off against Torino in mid-September.

"I'd sum it up in one phrase," the 1960 Ballon d'Or winner and Inter great Luisito Suarez said. "Wesley is definitely important, but he is not indispensable."

That much has dawned on Inter. They'd like Sneijder to stay, but on their terms. Six million euro a year is a lot to pay any player never mind one that your team has proven over time it can cope without. And Sneijder doesn't need a 10 out of 10 in mathematics to work that one out.