Wesley Sneijder faces Inter career crossroads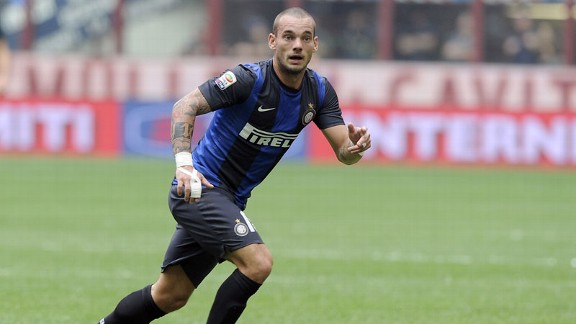 GettyImagesWesley Sneijder is facing an uncertain future with Inter Milan
Inter will be relieved by the news that Andrea Stramaccioni's one-match ban has been lifted, ahead of Monday evening's game at Parma. Inter appealed the suspension that was handed to Stramaccioni after his sending off in the dying minutes of the game last week against Cagliari.

This is fantastic news for everyone involved with Inter. I have faith that his assistant Beppe Baresi would have been able do well as the 'stand-in' coach, but Stramaccioni's charisma and presence on the bench seems to give the players on the pitch an added boost, much in the same way Jose Mourinho did during his time at the club.

After the last two disappointing results, Stramaccioni will be looking to reinstall the belief in his squad that they are on the right track, and to ensure that Inter secure the much needed win at the Stadio Ennio Tardini against Parma.

Antonio Cassano also received a two-match ban for his outburst during the Cagliari match, 'FantAntonio' once again letting his heart rule his head as he passionately argued about the controversial 'play-on' decision when Ranocchia was brought down in the box.

As with Stramaccioni, Inter also stood behind the striker and lodged an appeal against his two-match ban, but whereas the coach had his suspension lifted, Cassano's still stands. I have to say, I'm at a bit of a loss as to why Antonio received a two game ban when Stramaccioni only had one? From what I saw, Cassano did nothing different to the Inter coach, both complained to the officials in the same sort of way, and when Stramaccioni was sent off, Cassano remained on the bench so surely his indiscretion wasn't deemed as bad considering he wasn't given his marching orders too?

One positive has come from Cassano's ban, with the rumoured return of Wesley Sneijder for the Parma game, Stramaccioni's problem of who should make way for the Dutchman seems to have solved itself.

I'm expecting Sneijder to slot back into his favoured trequartista position just behind the strike pairing of Diego Milito and Rodrigo Palacio in a 3-4-1-2 formation. We all know what Wes is capable of in this position, but for the first time in his Inter career his place in the starting line-up is anything but guaranteed.

Previously there has been no question as to whether or not he should play. However, in Sneijder's absence to injury, some impressive alternatives have emerged within the Inter squad. The 'Tridente' of Cassano, Milito and Palacio has been very successful up front for the Nerazzurri, and the emergence of Phillipe Coutinho as an awesome young talent in the trequartista position means that Sneijder is going to have to really up his game and adapt to ensure a spot in the starting XI.

Other alternatives for the use of Sneijder have been banded about in the last few weeks, including him playing a deeper regista role. Unfortunately though I don't believe he has the right skillset to succeed so deep in midfield. He may have a fantastic eye for a pass, long or short, and is capable of dictating the tempo of a game, but his tackling, pressing and covering play leaves a lot to be desired.

With this in mind, I believe Fredy Guarin and Walter Gargano offer much more able options to play in the centre of midfield. This of course, means Sneijder isn't even ensured a start deeper in the formation.

So with the return of Inter's Dutch midfielder, the question that has to be asked is, can he reinvent himself, bringing new qualities that we previously haven't seen from him in a bid to secure his place in the Nerazzurri line-up? I for one am not convinced he can, and although there is no denying his talent and usefulness to the squad, Stramaccioni's tactics require all his players to be fairly versatile to ensure a starting position.

Stramaccioni isn't the sort of coach that will include a player just based on reputation either, only the players he feels will give Inter the best advantage are used, as we've seen in the numerous matches this season where he has dropped captain Javier Zanetti from his line-up.

So now Sneijder finds himself at a turning point in his Inter career, either he uses this time with Cassano suspended to prove there are other levels to his play, and adapt to what is needed in the squad, in turn giving Stramaccioni valuable options on the pitch which can be used game after game.

If not, he can carry on how he has been for the past few seasons, and faces potentially spending more time on the bench with the likes of Cassano and Coutinho starting ahead of him. Only time will tell what the future holds for Sneijder at Inter, but I really believe that his next few games for the Nerazzurri will prove decisive for him.