Young Inter frozen out at Rubin Kazan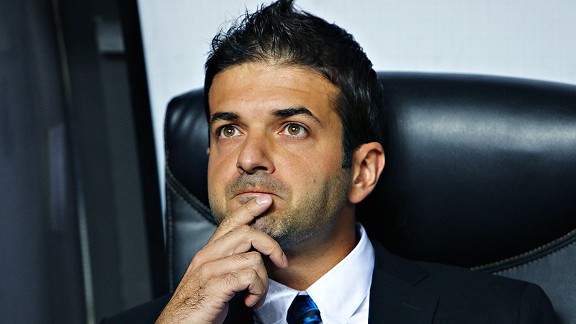 Marco Luzzani/Getty ImagesAndrea Stramaccioni's inexperienced lineup struggled Thursday
Two weeks ago when Inter secured qualification to the Europa League knockout round in Belgrade, I hoped Andrea Stramaccioni would use the remaining group games to give the Nerazzurri youngsters playing time and experience.

When I saw the squad list and starting lineup for Thursday's match at Rubin Kazan contained much of Inter's youth, I was delighted. However, when I said about giving young players a chance to gain experience, I had Alfred Duncan, Ibrahima Mbaye and Daniel Bessa in mind.

- Rondon brace seals it for Rubin Kazan

They are on the cusp of breaking into the first team and need experience the most. Regardless of who was on the pitch, I did not anticipate the disappointing performance that would transpire in a 3-0 loss on a freezing night in Russia.

Maybe I'm being a little too cynical, and I mean no offence to substitutes such as Issac Donkor (who entered in the 73rd minute) and Simeone Pasa but until Thursday night I only vaguely knew their names and was not expecting to see them anywhere near a first-team start any time soon.

Inter started with something that hasn't been seen by the Nerazzurri for a long time - an average squad age of just 22.9! Let's face it, using inexperienced players in this match was never going to lead to a spectacular show of footballing prowess, especially coming to a tough ground and playing a difficult opponent in Rubin Kazan. The lack of cohesion between the youth and established players was obvious throughout, and this affected how the match played out.

For the majority of the match, I felt as if I was watching a pre-season friendly instead of a competitive Europa League game. There was severe lack of pace and urgency to Inter's play throughout, and the passing at times could only be described as wild and rushed.

I'm maybe being a bit harsh here, after all considering the youth of the starting XI, everyone played fairly well individually. That was the problem, though - they just couldn't seem to combine well enough with each other to cause Rubin any real problems. Even adding the experience of Javier Zanetti and Rodrigo Palacio at half-time only marginally improved Inter's performance.

Despite everything I've said so far, I do strongly agree with Stramaccioni's comment about Inter not deserving to lose by that sort of margin. Up until the 85th minute when Rubin scored their second goal, I was convinced the Nerazzurri were only moments away from equalising. Judging the game as a whole I would say a draw would have been a fair result.

I would even go as far it should have ended 0-0, with neither side being particularly impressive. All Rubin's goals were fortunate from their perspective, especially the first which saw Juan Jesus unintentionally set up Gokdeniz Karadeniz from the post in the first minute

Even for the two goals by Salomon Rondon, both of which were the result of catching Inter off guard with counter attacks, you have to wonder if it would have happened if the full-strength Nerazzurri on the pitch, or even if Samir Handanovic was in goal instead of Vid Belec.

While we're on the subject of who didn't play, I'm struggling to understand Stramaccioni's thinking in leaving out Antonio Cassano, who is facing suspension from two league games. Surely with that in mind he should have been a definite starter in Russia. His creativity and scoring capabilities could have tipped the odds in Inter's favour.

But Rubin won fair and square and we have to accept it and move on. Inter is certain to finish second in the group with one game of this stage left. They must return the focus to the league and the Monday night fixture away to Parma, when Stramaccioni and Cassano are likely to be in the stands. On a positive note, it could also be the long-awaited return of Wesley Sneijder to the starting line-up.

Mike Whittaker is the ESPN FC contributor who blogs on Inter Milan. He also writes under the pen name Don Nerazzurri and is the founder of Nerazzurri World. You can follow him on twitter at @Don_Nerazzurri.