Inter outraged by biased refereeing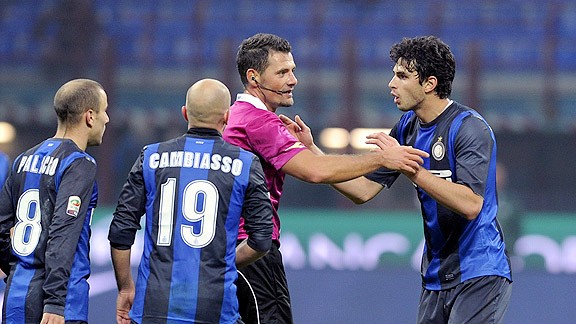 Claudio Villa/Getty ImagesInter Milan have had plenty of beef with referees in Serie A this season.
After Sunday's controversial game against Cagliari, Inter imposed a media silence in protest to recent refereeing decisions that have gone against the club. President Massimo Moratti could not stay silent though, feeling outraged that during the last three matches, referees have undoubtedly seemed to hold some sort of grudge against the Nerazzurri.

"It is a great shame and I would hate to return to certain situations of the past," Moratti said. "Let's not joke around here. The penalty was clear as day. You journalists need to analyse these incidents."

This opinion wasn't helped by the response given to Nerazzurri management from the officials on Sunday. When asked why a penalty wasn't given, the officials replied with, "You from Inter should keep quiet."

To be honest I'm shocked by how unprofessional and outrageous this was, combine this with the events of the previous two matches and anyone with a bit of common sense would agree that Inter are being victimised.

I'm not saying these decisions are entirely responsible for last week's defeat to Atalanta or the draw against Cagliari, but I can almost certainly say that the denied penalty on Sunday would most likely have been scored, so it really cost Inter two vital points. As I stated in my previous article, Inter should never have been in that situation in the first place. It was a match they should've easily dominated.

The penalty given to Atalanta the week before was far too easily given, and with the score already at 2-1, the resulting spot kick finished off any chance Inter had of securing at least a point. This issue started two weeks ago with the derby d'Italia which saw a goal granted to Juventus within 20 seconds that was scored following a build-up play from an offside position. It's not even the first time this season that we've seen the league leader score goals this way.

The fact that Stephan Lichtsteiner managed to avoid a second yellow card and a sending off after a blatant foul only added weight to the claims the referee was biased towards Juventus. Luckily for Inter, they managed to keep their composure and claim a win against their undefeated rival. However, it was the beginning of what is turning into a difficult period for the Nerazzurri.

It's not just those associated with the Nerazzurri that believe Inter are being targeted by the referees. Even a legend of the club's crosstown rival, Stefano Eranio, was quoted as saying, "So far I think you can generally state that Inter have been penalized by the referees. The foul on Ranocchia inside the penalty area was as a clear a penalty as I've seen. There have been several decisions that have gone against the Nerazzurri."

The AC Milan favorite went on to say, "However, I think come the end of the season these decisions for, and against Inter will even themselves out." I have to say I hope that he is right, otherwise it may just mean that Moratti's fears are justified and the days of Calciopoli are still alive and well.

Like all fans of Italian football, I would prefer to think that it is simply a case of Italian referees being incompetent and failing to do their job to the highest standards that are expected in top flight football. The alternative could lead to yet another scandal and further damage the already fragile situation in Italian football, something that fans do not want to see.

It's not just Inter who are falling foul to these incorrect decisions by officials. Clubs like AC Milan and Catania have seen perfectly valid goals disallowed for phantom offside calls and claims the ball didn't cross the line when they clearly did as seen in replays.

Personally I'm not one to listen to the conspiracy theorists, and I hope that the numerous bad calls by officials in Serie A this season are just a coincidence. But you have to ask yourself, when was the last time you saw a referee penalise Juventus? I'm not making any accusations here, just stating that I see all these bad decisions against Inter and other Serie A teams, but not them.

Regardless of the reasons for all these bad decisions by officials, I agree with Moratti that something needs to be done about the situation. The FIGC needs to look at improving the standard of officials in Italy, and if that means bringing in more qualified personnel from abroad to do the job more professionally, then so be it.

Italy has a glorious history in world football with some of the greatest clubs in the game based there, but the events during the last decade have seen its reputation in tatters. Everyone involved with the league should be doing everything possible to ensure a brighter future for Calcio, and if for that to happen, clubs like Inter have to take an extreme stand by enforcing a media silence, then so be it.