Mario Balotelli - Should Inter bring him home?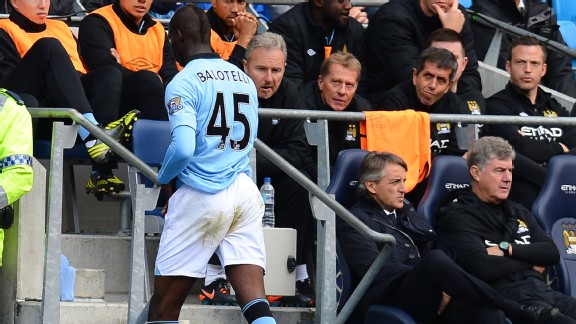 GettyImagesMario Balotelli is rumoured to be on his way out of Manchester City
"The problem is because of his age, he can make some mistakes. He's Mario. He's crazy - but I love him because he's a good guy."

This is what Roberto Mancini said about Mario Balotelli back in October 2011. If anyone knows Balotelli well it's the Manchester City manager, continuing to support the troubled striker in the Premier league, and also gave him his break when he was head coach at Inter.

- City could say goodbye to Balotelli

That being said, there are reports that Mancini and Manchester City are losing patience with Mario, who tends to make more headlines off the pitch than on it. This has once again sparked rumours that he is heading for a return to Italy, more specifically Milano, with both AC Milan and Inter allegedly considering a bid for the Italian International.

The big question for us Interisti - do we really want Mario back in the Inter squad? Balotelli has always had a hot head and it could be argued that some of his actions verge on insanity. Making the possibility of him returning, a tricky question to answer!

I shall get to the positives of signing Balotelli shortly, but first let's look at the issues that arise with having him in the changing room. During his time at Inter, Mancini had a knack at keeping Mario under control due to the huge respect Balotelli has for the Italian coach. However, when Jose Mourinho joined Inter, Balotelli clashed with him and his disciplinary record suffered, often behaving like a spoilt child if left out of starting XI.

Personally I think the biggest problem Mourinho had with 'Super Mario' was the youngster's lack of motivation to push himself. This must have frustrated the 'Special One' who would've been able to see the youngster's enormous potential. In an attempt to motivate Mario he even publicly criticised 'his lack of effort' during training, but the coach who is famous for making his players believe in him and themselves could not make things work with the unpredictable Balotelli. The tensions continued and Mourinho even went as far as suspending him from the team in January 2009.

Mario also managed to create tension in the squad itself, arguing with team-mates and Mourinho, but even so Balotelli still remained in the squad and even made it to the Champions League final in Madrid. The writing was on the wall for Balotelli's time at Inter though, when in March 2010 he angered Interisti around the world by appearing on Italian TV wearing an AC Milan shirt. He publicly apologised via Inter's website but the damage was done and that summer he re-joined his mentor Mancini at Man City.

To be fair to Balotelli, his time in Italy must've been difficult for him. He was often the target of racist abuse from the stands and this, in my opinion, had a bearing on his behaviour during the time. These incidences have also spurred him on over the years to stand up against racism in football in an attempt to save other players from having to face the abuse he has witnessed - which is something that everyone in football should be encouraged to do.

The biggest issue on the pitch is his temperament. All too often he is easily lured into making rash challenges that aren't necessary. Giving away needless free-kicks and collecting countless cards from the referees. In his two years at City alone he has racked up four red cards and numerous yellows.

His off-field exploits since moving to the UK have been well documented and have made him famous around the world, so I'm not going to go into the wild world of Balotelli's darts and firework issues. I will say though, these issues I've explained so far are the reasons why a majority of Interisti are against Inter trying to re-sign him, but I can also see why the Nerazzurri management are reportedly considering it.

As Mancini said, he's not all bad. He's done some great things off-pitch, like giving money to a homeless man and helping out a boy being bullied at school. Above all he is a fantastic footballing talent regardless of all his faults and unpredictable behaviour, this was demonstrated during Euro 2012 where he was one of the most outstanding players at the tournament. In his international career for the Azzurri he has scored a credible five goals in 15 appearances.

Balotelli possesses a fantastic technical ability on the ball, as well as being just as unpredictable on the pitch as he is off it. Combine this with his agility, pace and strength, it's clear to see why he has the ability to strike fear in to the opposition defence.

His powerful shot enables him to be a set-piece specialist which will be useful to Inter if they do sell Wesley Sneijder. His piece de resistance is his penalty taking skill, having not missed a single spot kick since joining City, he is widely regarded as one of the best penalty takers in the world.

So would he fit into the new Inter? I'm personally not convinced that his immature nature is right for the club considering the harmony that seems to be evident in the squad, but I can't deny his footballing skills would be a welcome addition to an aging but lethal Inter forward line.

The other question is would Mario want to come back? He's always had a fairly good relationship with president Massimo Moratti and his unexpected appearance at Andrea Stramaccioni's unveiling as Inter coach shows that the Milanese club are still in his mind, so it seems a possibility. Yet despite being one of the most promising young strikers in the world, the jury is still out on whether crazy Balotelli should come home to Inter.

What do you think?