Silvestre's lapses cost Inter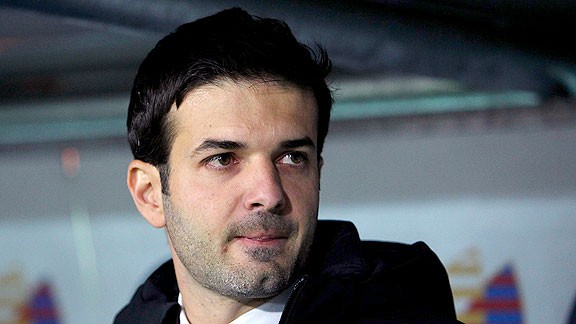 Marco Luzzani/Getty ImagesBarely a week after masterminding a historic win at Juventus, it's clear that Andrea Stramaccioni still has work to do.
"We were never going to win every game..." This was Andrea Stramaccioni's reaction to his team's loss at Atalanta Sunday. "We were a little careless at the back at times but Inter always looked dangerous and we played at a high tempo. This defeat won't douse our enthusiasm, we'll push on with our heads held high."

This statement from the Nerazzurri boss shows he is aware of the issues Inter faced, but also made it clear Inter are still in the fight for the Scudetto.

Following last weekend's national derby victory over Juventus, this week it was the Lombardia regional derby as Italy's two Nerazzurri teams met. To make matters more interesting, both Inter and Atalanta along with Fiorentina were the most in-form teams in Serie A coming into the match.

Inter travelled to Bergamo on a 10-match unbeaten run, and started full of confidence and in complete control. The domination soon came to an abrupt end within 10 minutes when Atalanta caught Inter out and broke the deadlock.

From that moment on, the sense Inter's winning spree was coming to an end started nagging in the back of my mind. For the remainder of the first half, the best word to describe Inter's game would be sloppy. By the end of the 90 minutes, the home side had claimed three points against an Inter team that showed great character and superior skill in defeat.

As Stramaccioni said, it was inevitable that Inter would lose at some point. They are, after all, a team in the early stages of a new project, but I feel there was several obvious factors that contributed to Inter's first away defeat.

More: Lazio secures derby win, Milan also loses

The first was the increasing pressure on both the team and Stramaccioni to continue winning, with the world football media comparing Stramaccioni to the likes of Jose Mourinho (something I admit I'm just as guilty of!), and its insistence to make a huge thing about the unbeaten records he's broken so far this season, making it likely to have an effect somewhere along the line. However, I don't think this was a major bearing on the Atalanta result but the expectations from the media must be a huge distraction in Stramaccioni's fledgling management career.

The second factor is the recent schedule being so busy. Inter have now played seven matches in three weeks, including a journey halfway across Europe three days ago for their Europa League game against Partizan. It's no wonder half he squad looked tired - Javier Zanetti especially looked more exhausted than I've ever seen him. Couple this with Inter recently losing from an already limited choice of defenders the hugely important Andrea Ranocchia and Walter Samuel to injury, and you could sense a loss was likely to be in the cards at some point.

The third factor, and the one I hold most responsible for this defeat, is Matias Silvestre. The Argentine defender was appallingly bad throughout, making terrible decisions and bad tackles time after time. I'm at a loss as to why Stramaccioni didn't substitute him for either Ibrahima Mbaye or Matteo Bianchetti who I'm sure would have done a better job in Inter's defence.

In my opinion, all three Atalanta goals are on Silvestre, not to mention a few chances for the home side the Nerazzurri were lucky to get away without conceding.

For the first goal, Silvestre did make a half-hearted attempt to head the incoming cross, but he was oblivious to Giacomo Bonaventura running in behind him to connect with the ball he missed. Juan Jesus can't take any of the blame for this goal as he was marking his own Atalanta player in the box, and I don't feel Silvestre did as much as he could have to cut out the cross.

For Atalanta's second goal, Silvestre was again entirely to blame. After not reading the play, he left German Denis clear in the box to connect with a great low cross in front of the Inter goal. This happened while Silvestre was still tracking back, attempting to catch up with the run of play. If he had been doing his job properly he would've been tightly marking Denis and not giving him the opportunity to connect with any ball. This was a running theme throughout the 90 minutes and several times Denis was seen running rings around the 28 year old.

Atalanta's third goal came from a penalty conceded by, you guessed it, Silvestre. I have to admit the Atalanta player went down far too easily when he realised he couldn't keep the ball in play, and I suppose it shouldn't have been a penalty at all. But the ball was on the verge of going over the line for a goal kick. Silvestre could have just let it to go out without going in for the tackle, and that's why I hold him responsible for this one too.

Silvestre is turning into a liability in the Inter backline. Even though he was great at Palermo, he just isn't showing any worth to Inter. With this in mind, I feel Stramaccioni should give his younger players a chance.

It wasn't all bad for Inter, though. They held a dominant 62 percent possession against the home side and for the most part did look the stronger team. Other positives were Fredy Guarin's thunderbolt free kick that equalised for Inter in the second half, and Rodrigo Palacio's seventh goal in seven games. Both are proving to be key to the Nerazzurri's success and I hope to see much more from both of them as this season's competitions progress.

What impressed me most about Inter was their determination and character to do everything they could to deny Atalanta a win. This was especially evident in the final five minutes when Inter went on an all-out offensive to find that elusive goal trying to even up the score.

It's unfortunate Inter couldn't do enough for at least a draw, and it saddens me to see the team four points behind league leaders Juventus once again. But the positives far outweigh the negatives and I still hold the faith that Inter can challenge Juventus for the Scudetto.