Inter win brightens up a cold, wet day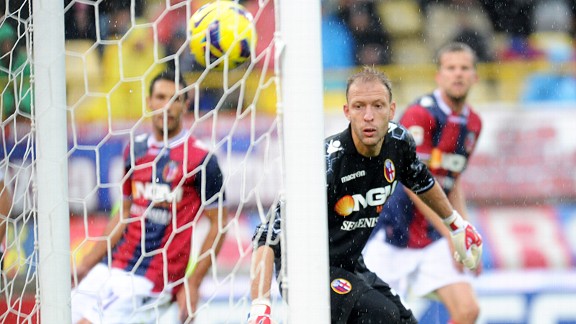 GettyImagesBologna are powerless to stop Andrea Ranocchia's effort from going in
Switching on to watch Inter's visit to Bologna, I was greeted by scenes of a cold, grey and wet afternoon at the Stadio Dall'Ara. This was quite fitting considering my dark mood after witnessing Catania having their perfectly legit goal against Juventus disallowed, which meant the Turin side managed to claim a full three points when it should've only been one. This, however is a tale that isn't mine to tell so I'll just concentrate on the Inter match.

As you can probably imagine with Bologna taking control at the beginning of the game, and Inter looking completely disorganised on the pitch, I was starting to expect Inter to fall to their first away defeat of the season. This wasn't meant to be, and by the end of the 90 minutes Inter had secured their 8th victory on the road this season. Leaving me smiling from ear to ear, celebrating not only this 3-1 win, but also the fact that if Napoli fail to beat Cheivo Inter will be sitting in 2nd place just four points (should be 2 points) behind league leaders Juventus.

- Cambiasso seals win for Inter

Throughout the game, Bologna kept hold of the majority of possession, but Inter managed to create plenty of goalscoring opportunities from their counter attacks, kick-started mainly by the excellent defending duo of Andrea Ranocchia and Juan Jesus. Once again the Nerazzurri's young centre backs showed why they are two of Inter's strongest players this term. As well as standing strong against a barrage of Bologna attacks they were seen several times making their way up to the attacking third of the pitch, doing whatever they could to help their team secure a vital three points.

These counter attacks and intelligent play from the likes of Esteban Cambiasso, Yuto Nagatomo and Javier Zanetti in midfield, brought about the chances on goals by taking full advantage of Bologna's defensive weaknesses, using long range shots and controlled through balls into the home side's penalty area. Inter have obviously been working on their indirect free kicks as time and time again Bologna looked incapable of dealing with the Nerazzurri's set pieces.

The big surprise of the game was Stramaccioni's decision to start the in-form Cassano on the bench. It was clear however to see the Italian has already made a big impression on his team-mates as it was him that captain Zanetti ran to and celebrated with when Ranocchia broke the deadlock in the first half.

Diego Milito hit a landmark in this game and celebrated his 100th league appearance in the Nerazzurri colours, with his 55th league goal for the club since signing for Inter in the summer of 2009. Despite scoring his fourth goal of the season, he failed to make much of an impact on the game and was eventually replaced by the man of the moment, Cassano. Antonio, it has to be said wasn't spectacular when he came on but he did what was asked of him and he helped to ensure that the club held on to their lead.

Milito's strike partner and fellow countryman, Rodrigo Palacio had a fantastic game. After scoring in his previous two games the Argentine was one of Inter's hardest working players on the day. Tracking back to cover the midfield as well as fulfilling his duties up front, he secured his place as my man of the match by being the creative spark for two out of Inter's three goals.

A moment of madness occurred in the second half when shortly after Bologna scored their goal it was noticed that the scoreboard in the stadium was showing that Inter were winning 3-0 instead of 2-1. This incensed the Bologna coach Stefano Pioli and his club doctor who both started shouting at everyone around them and generally making a scene on the sidelines. They even resorted to hurling insults at the officials, Inter's vice coach Beppe Baresi and club manager Ivan Cordoba as the tensions rose.

The ensuing argument led to Pioli and his club doctor, as well as Inter's Baresi, being sent off by the referee. Personally I think the incident was blown completely out of proportion and should never have reached the point where anyone was sent to the stands, but I have to admit it did make Bologna's goal worthwhile for me as it provided an unexpected source of entertainment.

With yet another win under Inter's belt, they are now really starting to look as though they could possibly challenge Juventus to this season's Scudetto. If 'il Biscione' can at least hold the old lady to a draw next Saturday the title is definitely within Inter's reach. Before then though, the Nerazzurri host newly-promoted Sampdoria in the midweek fixture and I'm hoping to see 'FantAntonio' continue his great start to this season by scoring against his former club.