Inter: Laying the midfield foundations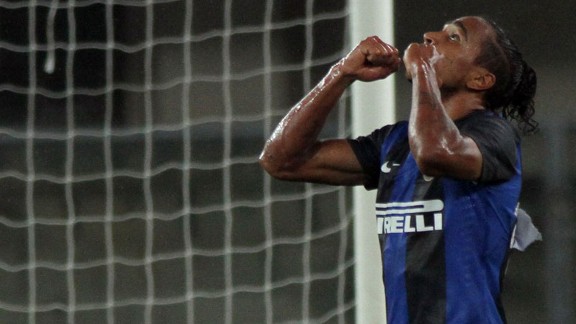 PA PhotosAlvaro Pereira has impressed for Inter


Continuing on from my last article, Inter: Rebuilding their defence, I'm now going to look at how the Nerazzurri midfield is shaping up. Unlike the defence, the midfield is very much still a work in progress, and although Inter have fantastic squad depth it still contains a number of players who, in my opinion, are in the process of being phased out. With this in mind I've included a few suggestions on what I'd like to see for the future of Stramaccioni's recently introduced 3-4-1-2 formation, which gives the squad superior balance across the entire pitch.

Generally, the left wing is Inter's favoured line of attack, and here we have two different options. Yuto Nagatomo, with his blistering forward runs, is always looking to find space that will break down the opponents' defence on the left flank. He's also capable of tracking back to cover the defence when Inter are without the ball, even though he's not the strongest tackler. Adding to his usefulness is his ability to also play on the right flank when called upon, giving Stramaccioni an extra option for using this dynamic player in his squad.

The stronger option, for me, is Alvaro Pereira, who although not as fast as Nagatomo is capable of running the entire left flank, with greater accuracy in his crossing and passing ability than his Japanese team-mate. Pereira is also a much more accomplished defensive player; with more physicality to his play, he is able to use this to his advantage when playing deeper in defence. This is something that Nagatomo, with his smaller stature, cannot match. In the future, I see Pereira becoming Stramaccioni's first choice with Nagatomo becoming more of a fringe player.

The first choice on the right flank is the Nerazzurri captain Javier Zanetti and when he's playing here the position is relatively strong. Despite his age, he is still a workhorse of a player, but with "il Capitano " coming to the end of his playing career at 39 years old, Inter have to look towards life without "Pupi" on the pitch.

Inter's obvious alternative is Jonathan, the mediocre Brazilian. I had high hopes for Jonathan when he signed for the Nerazzurri in 2011, but in his appearances so far this season he looks completely out of his depth in a team of Inter's stature. He constantly wanders out of position and, when taking on opponents, instead of getting stuck in with a tackle, he spends his time trying to draw a foul. Because of this I just can't see a future for him within the club.

What is the solution for the future? If it were up to me, I would play the Colombian Fredy Guarin on the right wing, a position he is more than capable of making his own. Although he isn't as much of a defender as the other players I've mentioned, he has the ability to track back and cover the defensive line when needed, as well as being able to bring creativity to the forward lines with crosses from the right.

The other reason I'd like to see Guarin out on the right side is to make room in the centre of midfield for a player who has been strongly linked with a move to Inter in the near future - Paulinho. Inter's central midfield should make use of a deep-lying playmaker and I can see Paulinho really fitting into the squad in this role. He is a fantastic box-to-box midfielder and has the skill and ability to really control the game for Inter. Alternatively, as a back-up for this role, I think it could also suit Ricky Alvarez. Although he's not quite as talented as Paulinho, both share qualities that are needed to fulfil the regista role superbly.

Another current player capable of playing this role is Esteban Cambiasso. However, so far this season, he's looked nowhere near as athletic as he has in previous seasons. I feel that his time as a regular in Inter's starting line up is coming to an end and Stramaccioni should look at phasing the Argentinean out.

The last midfield position should be used as an anchorman to give the defensive side of the squad added security. Judging from performances so far this season, the first choice for this position should be Walter Gargano, who is renowned for his abilities in this role, as well as possessing fantastic tackling skill. Gargano can also pass accurately, which is crucial to Inter being able to counter-attack effectively.

Gaby Mudingayi, although in his 30s, is also proving to be a fantastic deep midfielder. His larger build and exceptional defensive skills make him the perfect back-up for Gargano, and should be called upon by Stramaccioni when up against some of the stronger opponents that require a little bit of extra tackling ability.

For the future, Inter are fortunate to already have two promising defensive midfielders in their ranks in the form of Joseph Alfred Duncan and the highly-rated Kenyan Macdonald Mariga. Both these players would benefit from being given some time on the pitch to gain experience with the squad and hone their talents, though in my opinion, as much as I admire Mariga's skill, I feel Duncan is the one that will become an important player for Inter in the future.

As I've previously said, Inter's midfield isn't yet perfect but the foundations are now set, and if the club can secure the signature of Paulinho, and veterans like Zanetti and Cambiasso can educate the younger members of the squad, drawing on their vast experience, it won't be long until Inter's midfield becomes a solid unit, capable of controlling the tempo and flow of their games.