Inter: Rebuilding their defence
In 2011-12 Inter suffered one of their worst seasons in history, and in response to this Massimo Moratti set Andrea Stramaccioni the task of rebuilding his squad to make them competitive again.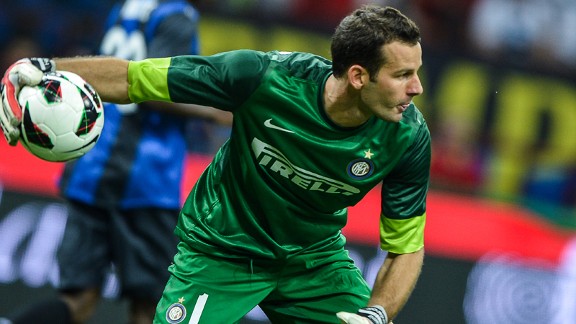 GettyImagesSamir Handanovic has replaced Julio Cesar as Inter Milan's No. 1

So how is he doing? Generally, I'd say he's doing very well, and in this series of articles I'm going to look at how the project is shaping up so far. Firstly I'm going to look at how he's rebuilt his last line of defence ensuring that unlike last season Inter don't concede too many goals.

At one time Julio Cesar was considered to be the best shot-stopper in the game. In the last two seasons, however, his concentration seemed to slip on many occasions, and these lapses in focus led to mistakes being made and goals being conceded where he should've easily made the saves instead. His large wage, inconsistent performances and age were all against him, so it was inevitable that his time with Inter was going to come to an end. As he bid a tearful farewell to Inter he was replaced by the outstanding Slovenian 'keeper Samir Handanovic.

Already this season the 28 year old is proving his worth, and in the five league matches he's appeared in so far, he's held three clean sheets and made a total of 19 key saves for the Nerazzurri. Not bad stats when you consider that he missed the start of the season after having surgery on a knee injury.

It's safe to say that Handanovic has settled into the group and has proved beyond doubt that Inter made the right decision to sign him. For the future, I'm hoping Handanovic stays with Inter for years to come and becomes one of our all-time great keepers like the legendary Zenga, Toldo and Cesar.

As for the centre backs, one of the biggest problems last season, in my opinion, was that the ageing defenders just didn't have the pace to chase the ball back and deny the opposition a one-on-one situation with the goalkeeper. On top of that, Lucio's habit of making forward runs and joining Inter's attack meant that Samuel was often all alone to defend against counter attacks.

Walter Samuel signed an extension on his contract in the summer, at the time I thought he would only be suitable to play as a backup. Stramaccioni made the decision recently to switch to a three-man defence in an attempt to bring a bit of solidity to his backline. In order to take advantage of his defenders greatest strengths he's positioned the defensive line quite deep, so far this system is working remarkably well and Samuel's experience and hard tackling are being used to full effect. By minimising the amount of ball chasing Samuel has to do during a match, Stramaccioni has given him the opportunity to once again demonstrate his fantastic ability to stop the opposition in their tracks and remind the world why he is known as 'The Wall'.

For Lucio it was ultimately his huge wage that saw him removed from the Inter squad in the summer and now Stramaccioni has replaced the acclaimed Brazilian defender with two of the most promising and talented centre backs in Italy.

Andrea Ranocchia joined Inter from Genoa in January 2011 and was hailed as one of the most exciting prospects of recent years, the young Italian failed to live up to his huge potential and there were even rumours in the summer that Inter had lost patience and were willing to accept any offers that came for him. That didn't happen and he is now blossoming under Stramaccioni's guidance, his recent solid performances have even earned him a recall to Cesare Prandelli's Azzurri squad.

On the left side plays another Inter youngster, and despite Juan Jesus only signing for the Nerazzurri last January he too looked to be on his way out of the club in the summer, however after he showed some good performances in the Brazilian Olympic team, Stramaccioni decided to give him a chance to shine in the Inter squad.

Stramaccioni's faith was soon repaid with Juan Jesus being outstanding for Inter in his appearances so far. The young Brazilian is defensively aware and solid in his tackling. For me, he has been Inter's best player this season so far. A couple of months ago he stated that he wanted to become as good as PSG's Thiago Silva and I think it's safe to say that the young Brazilian is well on his way to achieving that goal.

With both Ranocchia and Juan Jesus drawing plaudits for their excellent performances the future is looking bright for Inter's defence and one day, once he's gained more experience and grown as a player I would love to see Ranocchia take over as the captain of not just Inter but also the Italian national team as well.

As for Samuel, obviously Inter need to find a younger replacement for him in the near future. Mattia Silvestre was brought into the club this summer and may be the player to replace the Argentinean but if Silvestre's performances so far for the Nerazzurri are anything to go by he is more likely to find himself out of the door instead.

Time will tell and Silvestre may prove me wrong before the end of the season, one thing is certain though - the rebuilding of Inter's defence looks to be almost complete with the team now possessing a back line that will put fear into the opposition's attack for years to come.