Another comfortable away win for Inter in Turin
Under the fiery gaze of a huge angry looking bull, created by the Torino Ultras, and a packed Stadio Olympico stadium the Inter squad lined up. The atmosphere was electrifying, but if the fans' efforts were meant to unnerve the travelling Nerazzurri I think it's fair to say it failed miserably.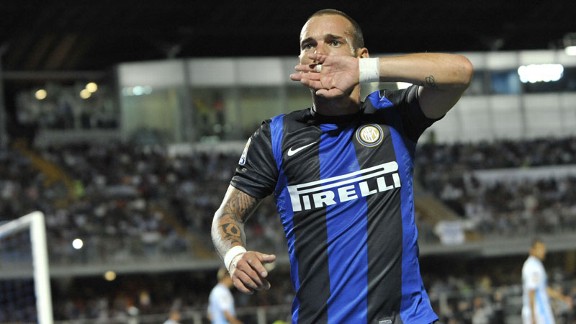 To counter Torino's 4-4-2 formation and to limit their attack on the wings Andrea Stramaccioni lined up Inter in a 4-4-1-1 formation with both flanks run by attacking wingbacks that would be able to cover when the other made their forward runs. At left-back was Yuto Nagatomo with Alvaro Pereira on the left wing and on the right Javier Zanetti, sat in front of Jonathan in the right-back position.

Jonathan was terrible in this game, going to ground more often than he tackled and always seemed to be playing to draw a foul rather just retrieving the ball for his team. I have to say the more I watch him the more I think he isn't cut out to play for a team of Inter's stature and in future games I'd like to see a return of youngster M'Baye who was superb as right-back in the pre-season matches.

Samir Handanovic returned from injury for this game and in his league debut for Inter he proved invaluable, making several great saves, including a stunning diving stop when Torino defender Ogbonna blasted a powerful shot from the edge of the area. He also organised the two young centre-backs Andrea Ranocchia and Juan Jesus very well, while we're on the subject of the centre backs, both were superb throughout this match and although in the first half hour they struggled to hold their line for the offside trap they soon found a good understanding and were able to thwart most Torino's attacks. For me, Juan was the man of the match in this game with his strong tackling and defensive awareness he is really starting to grow into his role at the club.

In the centre of the midfield four, Esteban Cambiasso had a good game not only linking up the play from midfield to the attacking third but on several occasions he dropped back to help cover the defensive line when Torino pushed men forward in an attempt to overcrowd the defenders. Fredy Guarin on the other hand played a mediocre game by his standards and was missing the fire in his belly that is usually present when he's on the pitch.

The main creativity came, as always, from Wesley Sneijder who sat in the hole behind Diego Milito up front. Sneijder played well in general when Inter had the ball but I noticed several times he made no attempt to chase it and regain possession. This is something that has been noticed in Sneijder's style. But in recent games he has made more of an effort defensively, which has been great to see so I'm hoping this isn't him returning to old ways. His attitude when substituted for Antonio Cassano was disappointing too, the change was obviously with Thursday's Europa League game in mind, but Sneijder threw his wristbands to the floor and stormed off down the tunnel. This is an example of the side of Sneijder the fans don't like.

Diego Milito's goal in the 13th minute showed what a world-class striker he is, taking full advantage of Gazzi's bad ball control on the edge of the area he ran in and blasted it right footed past the keeper into the corner of the net.

In general during the match Milito didn't get many chances on goal but Inter showed great patience by bringing the ball back into midfield when no way through to the striker could be found. This kind of patience is great to see from the team and also meant that they held on to their possession while trying to find an alternative route through to the striker.

Inter's second goal put the result beyond doubt and also showed Stramaccioni's tactical changes worked very well with two of his substitutes being involved. Ricky Alvarez (Who was returning from a knee injury) sent a low cross into the box for Cassano to receive and with a defender on his shoulder he calmly controlled the ball and slotted it home while spinning around the bewildered defender.

There was a touch of controversy too when Bianchi received just a yellow card for sliding in on Pereira very late and with his studs up, this in my opinion should've been a straight red but it was just an example of the frustration shown by Torino at being unable to break down Inter's defence.

After another convincing clean sheet win away from home Inter are just three points behind the leaders but to stand a chance of challenging for the Scudetto this season the Nerazzurri must carry this composure and patience back to games at home where they are suffering from the high expectations set by the fans.