Three signings to consider for Inter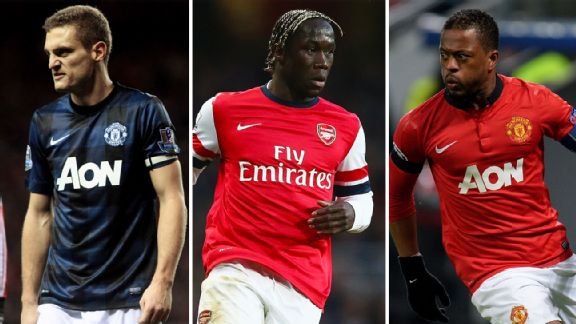 Getty ImagesNemanja Vidic, Bacary Sagna and Patrice Evra would all bring a wealth of experience to Inter should they join the club this summer.
There appears to be an internal battle at Inter over the future direction and make-up of the club. Erik Thohir has publically stated on several occasions that he wants Inter to get younger (and cheaper) next season and that he wants to bring the average age of the team down from 28.6 (the second oldest squad in Serie A), to between 24 and 26.

- Report: Moratti reveals Inter buyback clause

English football pundit Alan Hansen once famously said that "you can't win anything with kids," having made the remark following Manchester United's 3–1 defeat to Aston Villa on the opening day of the 1995–96 Premier League season. United proved Hansen wrong by winning a league and cup double that same season.

But I would think that Inter manager Walter Mazzarri probably agrees with Hansen's comment in some sense; that in order to win, you need a mixture of experience, but also youth in the squad.

Inter have a some exceptionally talented young players under the age of 25 like Mateo Kovacic, Saphir Taider, Mauro Icardi, Juan Jesus and Ruben Botta. It is also clear that a lot of experience will leave the Inter dressing room this summer as Javier Zanetti, Walter Samuel, Diego Milito, Cristian Chivu and Esteban Cambiasso either will retire or move to other clubs.

This is why I find the pursuit of the three Premier League stars Nemanja Vidic, Patrice Evra and Bacary Sagna so interesting. Vidic and Evra, in particular, have experience in winning trophies at the highest levels in England and Europe, and as captains of Manchester United, they have the leadership qualities that Mazzari will be looking for.

Vidic is reported to being the one closest to signing with Inter, and some media reports suggest that he has already signed with the Nerazzurri.

As I commented after the Fiorentina game at the weekend, Inter are a much better team defensively when Samuel plays. He gives the back three a more physical presence than Hugo Campagnaro, Andrea Ranocchia or Jesus. Replacing Samuel with Vidic means that Inter get leadership, a little younger, a little faster and possibly a little more physical in central defensive. I like the signing of Vidic, even though his recent injury problems do concern me. But if fit, Vidic would be the best central defender that Inter would have.

On the left, Yuto Nagatomo has adapted well to Mazzarri's 3-5-2 formation, and his play down the left has been one of Inter's bright spots this season. But with no reliable backup in the squad, it is clear that Inter need to bring in another left-sided wingback in the summer.

Playing in a wingback position would be a new challenge for Evra, but getting forward has not been a challenge for him at Manchester United in recent years. United fans would probably argue that Evra's weakness these days is the defensive side to his game, something that would not be as much an issue at Inter due to Mazzarri's system.

Evra's four assists this season are the same numbers Nagatomo's, while his 7.35 whoscored.com rating is better than Nagatomo's 7.00. Whoscored.com has Evra as the best left back in the Premier League this season.

The big difference between the two though is age. Evra is 32 (he will be 33 in May) and is clearly on the downside of his career, while at 27, Nagatomo is just entering his prime. That age difference is a concern. I think that Evra would be an upgrade over Nagatomo, at least going forward, but I cannot see Inter paying the wages that Evra wants for someone his age. I think there are other left-sided options out there that would be younger and cheaper than Evra and just as productive.

The story is similar on the right where Inter have Jonathan and Danilo D'Ambrosio, but have recently been linked with Arsenal right back Bacary Sagna.

It is pretty clear that Mazzarri is not enamored with Jonathan, which is one of the reasons why Inter went out and signed D'Ambrosio in the January transfer window. Jonathan's 6.95 average rating for the season is the lowest of any regular outfield player at Inter. So it is clear that an upgrade is required in the right wingback role. But is Sagna the answer?

The Arsenal right back has consistently been one of the best right backs in England since arriving at Arsenal, and he is much better defensively than Jonathan, while his two assists equal those of the Inter wingback.

The arrival of Sagna, who is out of contract at the end of the season, would mean the departure of Jonathan, who is valued at around 6.5m euros. You can make the case then that financially, if you take into consideration the money that Inter would make from selling Jonathan (and his wages over three years) and the money that Sagna wants, that the net amount is probably the same (remember Sagna is available on a free). This is why I think Inter should sign Sagna and sell Jonathan. The combination of Sagna and D'Ambrosio is better than the combination of Jonathan and D'Ambrosio.

So signing Vidic and Sagna will solve some needs that Inter have for next season, but I cannot make the same case for signing Evra.