Predicting Inter's 2014-15 roster
The January transfer window is closed, and with Inter's season falling apart, it is not too early to start looking at how the Nerazzurri might look next season.

This summer we should start to really see the Erick Thohir revolution take place as Inter will work to get the average age of the team down by jettisoning some of the club's older and more experienced players.

Inter have 10 players who are out of contract at the end of the season or whom Inter have options on:

• Rolando
• Esteban Cambiasso
• Wallace
• McDonald Mariga
• Diego Milito
• Gaby Mudingayi
• Javier Zanetti
• Walter Samuel
• Christian Chivu
• Luca Castellazzi

I cannot see Cambiasso and Milito returning as they would have to take massive pay cuts to get under Thohir's 2 million euro wage ceiling. I cannot see Mudingayi or Chivu been offered any sort of new contract, and Wallace will return to Chelsea

That leaves decisions on Rolando (Inter have a buying option), Samuel, Javier Zanetti and Castellazzi, who are all projected to be squad players at best next season.

Add in the expected departure of Andrea Ranocchia (and possibly Fredy Guarin?) in the summer and it is clear that Inter will take on a very different look next season.

Thohir has been pretty consistent that he will not be investing vast amounts of money in the side and that if Inter are to bring in new players this summer, they will probably have to sell to raise the funds.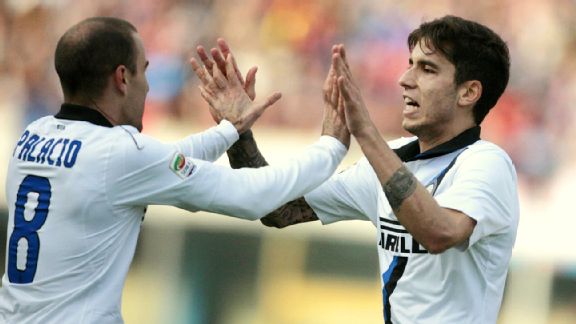 MARCELLO PATERNOSTRO/AFP/Getty ImagesAs Inter continue their youth movement, the team will rely on Ricardo Alvarez and Rodrigo Palacio to get the club's offense going.
If that happens, then expect Samir Handanovic to be sold. He has one of the highest market values on the team (around 24 million euros), and Inter have a ready-made replacement in Italy's U-21 goalkeeper, Francesco Bardi.

So assuming that Handanovic is sold, and that Mazzarri is still in charge, here is how I see Inter lining up next season:

Goalkeeper:

Bardi has been impressive at times at Livorno, but as with any young goalkeeper, he has had his ups and downs. He is the future No. 1 at Inter, and if Handanovic is sold, I expect Bardi to replace him.

Defence
Sticking with Mazzarri's three-man central defence formation, and assuming that Inter take up the option on Rolando, and they would be crazy not too, Inter's defence next season could look like this:

Right side: Hugo Campagnaro or new signing
Middle: Rolando
Left side: Jesus or new signing

When fit, Campagnaro has played well this season, but keeping him fit had been a challenge. That is why I would not be surprised to see Inter sign a right-sided defender in the summer. Inter have been linked with Manchester United defender Nemanja Vidić this week, and he would fit perfectly into the Inter back line.

Jesus' form has been up and down this season, and the jury is still out on whether that left-sided defense position is something that Inter need to address in the summer.

Wing backs

The right wing-back position has been an issue all season as Mazzarri has not been sold on Jonathan. The addition of Danilo D'Ambrosio in January is certainly an upgrade in that position, while on the left side, Mazzarri seems happy with the play of Yuto Nagatomo.

Central midfield

One of the big questions looking ahead to 2014-15 was who will replace Cambiasso in the lineup. The answer will be Hernanes, who was a great January transfer-window purchase.

Inter have invested a lot in Saphir Taider and Mateo Kovacic and they fit the profile that Thohir likes. They are young, talented players with potential. And in 2014-15 it might be time to see if either Taider and Kovacic can realize that potential.

If Inter could somehow hold onto Fredy Guarin (unlikely, I know), and add him to a midfield with Kovacic and Hernanes, suddenly Inter have a midfield trio that can compete with the best in Serie A.


Attack

Recently Mazzarri has favored a three-man attack with Ricky Alvarez and Rodrigo Palacio supporting Milito.

Alvarez and Palacio have been two of Inter's best players this season, and I don't expect them to be sold. That leaves the question of who will replace Milito?

Inter have a group of young strikers on their books like Ishak Belfodil and Mauro Icardi (plus Samuele Longo, who is on). One of them has to step up and show that they have to ability to lead the line and score goals on a consistent basis.

If none of them can, then signing a top striker has to be Inter's biggest priority in the summer.

One variation of what Inter would like next season (courtesy of www.footyformation.com):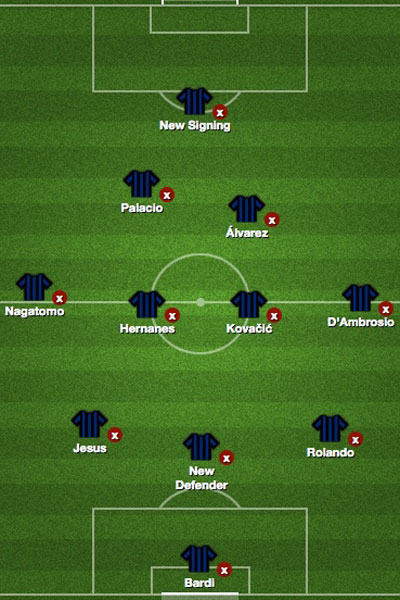 Footyformation.com


It is not quite the 2010 Inter squad, but it promises to be a more dynamic and creative side than what we are seeing this year, and has the potential to challenge for a top-three place.