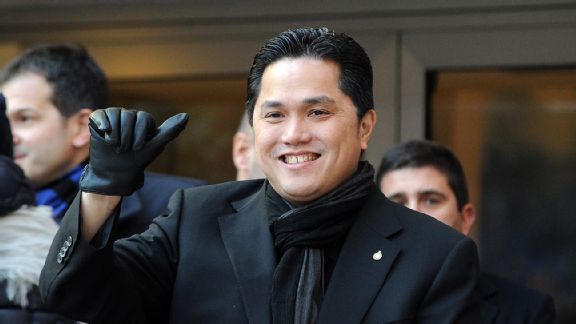 Pier Marco Tacca/Getty ImagesNew Inter Milan President Erick Thohir's relationship with the club's supporters has gotten off to a rocky start.
There must be total chaos at Inter's headquarters in Milan these days as one of Europe's great clubs is looking more and more like a rudderless ship on a daily basis.

The cancellation of the Fredy Guarin for Mirko Vucinic swap by Inter is something that will have repercussions for a long time.

So what happened?

As I wrote last week, it is obvious that Inter need to upgrade their squad during the January transfer window, with a striker and right-sided wing back the team's two most glaring needs.

- Horncastle: Old wounds opened between Juve and Inter
- Report: Mazzarri not blaming changes for slump

Inter president Erick Thohir has stated on numerous occasions that no new money was available for transfers, and that in order for Inter to bring in new players, they would need to sell first.

Inter decided that Guarin was the most saleable player they had, and quickly agreed to a price with Jose Mourinho and Chelsea for the midfielder of around 15 million euros. But that deal fell apart when Guarin and his agent's wage demands were too high, so Chelsea went out and signed Nemanja Matic from Benfica for 25 million euros.

After Sunday's flat 1-0 defeat at Genoa, it was clear to all Nerazzurri fans that the team needed more scoring power. Inter have scored one or fewer goals in 11 of its last 19 matches, including the last five.

So the club then reached out to Juventus and offered them Guarin for Vucinic in a straight swap. Juve have been trying to get rid of Vucinic for months, now that has fallen behind fellow strikers Fernando Llorente and Carlos Tevez in Juve boss Antonio Conte's pecking order, but nobody was willing to meet Juve's 15 million euro valuation.

But Inter were so desperate to give Walter Mazzarri some firepower that they met Juve's valuation of the 30-year-old Vucinic and proposed a straight swap for the 27-year-old Guarin.

Both players took medicals with their prospective new teams and the deal looked set to happen. Then the public outcry from Inter fans began.

The Curva Nord, Inter's hardcore fanbase issued a statement on Monday, not only criticizing the deal, but also criticizing Inter's new owner. The statement said:

"The move [that] is taking place at this time of one of the most important players at Inter to another Italian side," the statement read.

"That is the straw that broke the camel's back.

"We pose questions to President Moratti, to turn the spotlight on a company that is being run without any common sense.

"We are fed up of too many rotten apples at Inter.

"We just threw away a year (if not more) thanks to a forward-looking strategy. This could be a second.

"Inter plays in Serie A and deserves a company fit for Serie A.

"To Mr. Thohir -- we recommend you forget baseball, NFL, NBA or other things that are light-years away from our reality.

"We want concrete acts -- less of the 'business'. We are in Italy, not Indonesia or the United States.

"But you are warmly invited to stay in this house.

"It's just Guarin to Juve is not acceptable at this current moment."

It is clear from that statement that the Inter faithful have not been impressed by the public comments from Thohir in recent weeks, and the lack of investment that he has made in the club since buying the team from Massimo Moratti.

Faced with an unhappy fan base, Inter's management pulled the deal at the last moment saying:

"FC Internazionale has decided not to continue negotiations with Juventus regarding the transfer of Fredy Guarin and Mirko Vucinic. President Thohir, having conferred with Massimo Moratti and the club's management team, did not feel that the necessary technical and financial conditions were in place to come to a satisfactory agreement. The president has already instructed the club's sporting directors to assess other transfer opportunities, with the aim of strengthening the team while respecting the parameters imposed by the Financial Fair Play rules."

A plain capitulation by Inter. As you would expect, Guarin was not amused by this and failed to show up for training on Wednesday. Media reports suggest that Inter have given Guarin two days off to clear his head, but it is clear that the Colombia international is furious at the club and will do everything he can to force through a transfer in the next week.

So we have a really messy situation at Inter now. Inter's most saleable player wants out and every club in Europe knows that. This means that Guarin will go for less than 15 million euros now, probably closer to 10 million, thus giving Mazzarri less money to invest in new players.

As an aside, Inter's second most saleable player is defender Andrea Ranocchia and the team is close to selling him to Borussia Dortmund for a bargain price of 11 million euros.

You also have a break between the team's most hardcore fans and the owner of the club -- building trust between Curva Nord and Thohir will be difficult. The Curva Nord want Thohir to invest in new players and the infrastructure of the club, something that Thohir seems unwilling or unable to do.

It leaves this proud club like a rudderless ship without a captain. With Thohir in Asia, who is running Inter on a day-to-day basis? Who is making the decisions during this transfer window? It appears at the moment that Inter is holding a fire sale and some of its best talent is leaving for a fraction of their worth.

There are nine days left until the January transfer window closes, nine days for Thohir to regain the trust and support of the Curva Nord. Will he or will the Guarin for Vucinic non-deal go down as the watershed moment when the Inter president lost the backing of the club's most passionate supporters?