Inter losing that winning feeling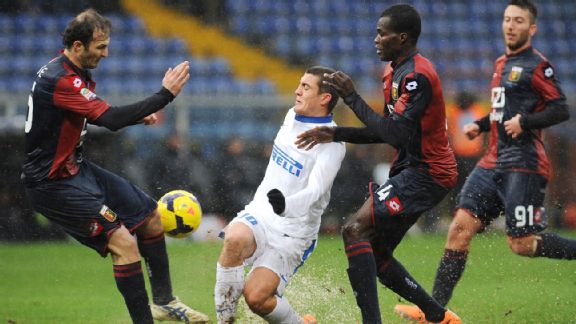 Valerio Pennicino/Getty ImagesMateo Kovacic and Inter Milan were halted in their tracks by Genoa.
Inter's 2014 continues to go from bad to worst as they lost 1-0 at Genoa on Sunday. Luca Antonelli scored the winner for Genoa in the 83rd minute from a corner.

How many times have we seen Inter concede late in matches this season? If the game is tied heading into the last ten minutes, I am expecting Inter to concede rather than force a winner.

- Report: Genoa 1-0 Inter

The rain has been heavy in Genoa all week and the pitch was waterlogged, especially the end that Inter attacked in the second half. The conditions made it extremely difficult to play any sort of passing game, and unfortunately Inter did not appear to have a plan B to deal with the conditions.

The best mode of attack would have been to use the drier part of the pitch out on the wings and put high cross into the box, but Inter rarely resorted to those tactics. One of few crosses that Inter did put in, came in the last five minutes from Fredy Guarin and Ruben Botta brought a really good save from Genoa goalkeeper Mattia Perin. Why did Walter Mazzarri not try that tactic earlier?

Coming into this game, Inter had only scored two goals in their last four games in all competitions and for the first time this season Mazzarri went away from his now familiar 3-5-1-1 formation by starting both Diego Milito and Rodrigo Palacio, with Ricky Alvarez playing in the hole behind them. It was a very bold tactical move by Mazzarri, especially away from home, and in the early minutes of the game the move almost paid off as Palacio had two good chances to score, but unfortunately could not hit the target with either effort.

But the tactical move only lasted 21 minutes as Alvarez had to go off injured after a clash of knees in midfield and was replaced by Mateo Kovacic -- and Inter's attacking guile and creativity also left with Alvarez.

While Kovacic played ok, would Mazzarri not have been better off bringing on Guarin for Alvarez? If Mazzarri's goal by starting the trio of Milito, Palacio and Alvarez was to create more chances, then isn't Guarin a much more logical replacement for Alvarez than Kovacic?

When Guarin did finally come in for Zdravko Kuzmanovic in the 63rd minute, he had one shot well saved by Perin and laid on the chance for Boffa. That was far more production in 30 minutes than what Kovacic had created in 70 minutes.

Two of Inter's next four games are away to Juventus and Fiorentina and I am really getting concerned about where Inter can put together any sort of winning streak. This season is starting to resemble last season's collapse where Inter looked good in the first half of the season but tailed off after the New Year. Is history starting to repeat itself?

The issue for Mazzarri is that Inter are simply not scoring goals. Since Inter put seven past Sassuolo in late September, the Nerazzurri have played 19 games in all competitions. They have scored 28 goals. You cannot win the league, or even compete for a European place by scoring 1.47 goals per game.

And even that number is inflated as in 11 of those 19 games Inter have scored one or fewer goals, including in the last five matches.

As I have written on more than one occasion, Inter's lack of goals is not down to not creating chances. Inter are fifth in Serie A with an average of 14.5 shots per game. On Sunday against Genoa, Inter had 11 shots of which five were on target, yet none of them went in.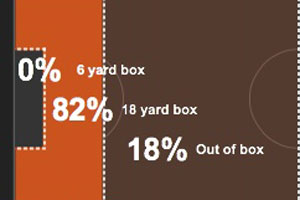 Whoscored.com


As you can see from the graphic from whoscored.com, the majority of Inter's shots against Genoa were from good opportunities as nine of the eleven shots came from inside the Genoa penalty box.

Inter's inability to covert those shots into goals is down to a lack of clinical finishing in front of goal. Palacio had four shots on Sunday, but only one was on target.

But it is not only Palacio who is lacking composure in front of goal. Guarin, for example, has taken over 55 shots this season, but has only three goals. Alvarez has taken 36 shots with four goals.

So while the focus is on Inter adding another striker in January, the stats show that the Nerazzurri need a creative midfield player who can score 10-15 goals a season. Guarin and Alverez do not appear to be those types of players.