January becoming drab and dreary for Inter fans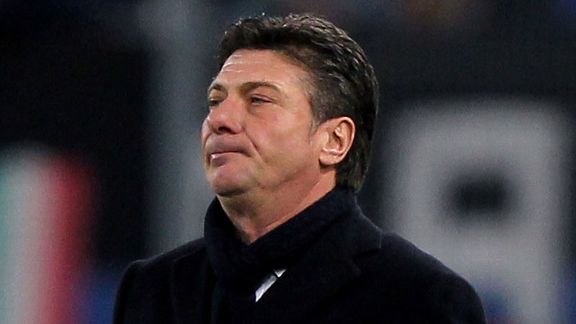 GettyImagesInter head coach Walter Mazzarri looks set to be operating with limited funds this January.
The January transfer window is turning into a month of disappointment for Inter fans as the expected reinforcements do not appear to be arriving while the club's new president continues to dampen fans' enthusiasm over the future of the club.

If you have watched Inter play this season, you will recognise that it is quite clear that the squad needs an upgrade, with a striker and right-sided wing back the two most glaring needs.

Standing still and not improving the squad should not be an option, especially as the teams above Inter in the table -- Roma, Napoli and Fiorentina -- have improved, or about to improve, their squad. Without reinforcements, the gap between Inter and the top teams in Serie A will only continue to widen.

Inter president Erick Thohir seems OK with that, telling the Indonesian news outlet Vivanews earlier this week: "The next two or three years certainly aren't going to be easy, but we need to make the club healthier. Look at all the big clubs, the English clubs -- they managed to boost their earnings and have been able to sign more quality players as a result."

We are already 18 months into this rebuilding phrase at Inter. Are Inter fans to expect another two or three years -- at least -- of not competing for the Scudetto?

In order to get better, Inter have to bring in better players. It's that simple. But Thohir is unwilling to bankroll an investment in new players, and his statements on the subject are growing familiar.

"The January transfer window comprises of a series of opportunities in the market," he has said. "Fans should not expect 'bombs,' but if we have our chances, we will do something interesting. In any case, we have to sell before making any purchase..."

The owner's declaration about not buying before selling leaves the football side of the club in a very difficult situation. How can coach Walter Mazzarri and technical director Marco Branca put together a list of potential signings if they don't know how much money they will have to spend?

Thohir's stance also weakens Inter's position when negotiating transfer fees with other clubs. These clubs know that Inter need to sell in order to finance any new signings, so they will offer below-market bids as they know Inter are desperate to sell -- which is what we saw with the Fredy Guarin-to-Chelsea transfer, a deal that is probably dead now that Jose Mourinho's side has signed Benfica midfielder Nemanja Matic.

So where does Chelsea's signing of Matic leave Inter? They are back to square one as they still need to find a buyer for Guarin or Andrea Ranocchia, who are probably Inter's two most sellable players, if they are to strengthen the squad this month. But we are a little more than halfway through the transfer window and, at the moment, neither player looks to be leaving Inter.

Which opens up the possibility that Inter could really end this transfer window with the same squad, and that is a position that has to be really frustrating to Mazzarri.

If Inter do somehow get involved in acquiring players, either outright or on loan, don't look for those players to be big names. Thohir has stated that he wants to younger (cheaper) players at the club saying in the same interview with Vivanews: "At the moment, we have too many players in certain positions and too few in others. We need to strike a balance. We need players aged between 24 and 26. That does not mean we do not appreciate the heroes of the Treble, but obviously we need to insert some younger players into the squad."

The challenge in meeting the president's declaration that the average age of the squad should be 26, down from its current 28.0, is that the average age of the top teams in Italy and across Europe is noticeably older than that, according to Transfermarket.co.uk statistics.

• Juventus: 28.8
• Roma: 27.0
• Napoli: 27.5
• Barcelona: 27.1
• Atletico Madrid: 26.4
• Real Madrid: 26.1
• Arsenal: 26.1
• Manchester City: 27.8
• Chelsea: 27.3

The other problem with adding young players is that it is a fine balancing act between giving them enough playing experience so that they develop while also winning games. This is something that Mazzarri alluded to last week when talking about young strikers Mauro Icardi and Ishak Belfodil.

"I never had Mauro Icardi at my disposal, while Ishak Belfodil has proved he still needs to find his role," he said. "Perhaps he should've played more often, but I had to earn points. Players who aren't yet at Inter level can risk losing you points"

This is a really frustrating period to be an Inter fan. They have won 30 domestic trophies, including the league 18 times. They have three European cups and a Club World Cup in the trophy case. Being a team battling for a Europa League place is new territory but, listening to the club's new owner, the current situation is the new norm and fans are going to have to get used to it.