Toothless Inter draw with Chievo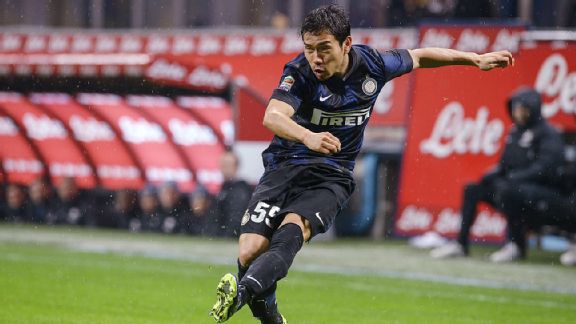 Andreas Solaro/AFP/Getty ImagesYuto Nagatomo's 12th minute strike helped Inter draw level with Chievo.
A toothless Inter side was held to a 1-1 draw by fourth from bottom Chievo at home on Monday.

- Report: Inter 1-1 Chievo

Alberto Paloschi gave Chievo a shock early lead and Yuto Nagatomo tied the game four minutes later. Then, not for the first time this season, Inter were denied a goal by a poor decision by an official.

Just a minute after scoring, Nagatomo turned in a shot from outside the box but he was incorrectly ruled offside. It was a close decision, but once again it went against Inter. When you are struggling as Inter are at the moment, these poor decisions seem to loom large in games.

But Walter Mazzarri and Inter cannot blame the referee or linesman for not beating Chievo on Monday night. Except for a twenty minute span when they scored and Rodrigo Palacio missed a sitter from a Jonathan cross, Inter were poor overall.

The result is a big missed opportunity for Inter to close the gap on the teams ahead of them in the table who are in the European spots. Verona and Fiorentina both dropped points over the weekend and Inter had a great chance to close the gap to fifth place Fiorentina to only three points, but they were unable to do so.

It has not been a good start to 2014 for Inter, with one draw from their opening three games. What has to worry Mazzarri is that Inter have only scored one goal in these three games, and have not created many chances in any of the three they played in the last week.

That is what struck me the most about Inter's performance on Monday night: Despite totally dominating possession (71% to 29%), Inter displayed a total lack of creativity and ideas to break down a Chievo side that has played well defensively this season.

Mazzarri's solution seemed to be to keep throwing on striker after striker, and although Inter ended up with three strikers on the pitch at the final whistle (Palacio, Diego Milito and Ruben Botta), they never really caused the Chievo defence much trouble.

Spotlight On Ricky Alvarez

The one Inter player that I thought showed some creativity in the final third of the pitch was Ricky Alvarez. With Fredy Guarin suspended for the game, Mazzarri put Alvarez back in the number ten role, where he had excelled earlier in the season.

Alvarez's performance showed why selling Guarin will not be a bad thing as Inter are a better side when Alvarez is pushed further up the pitch, closer to Palacio, where he can create chances.

An illustration of that is the heat map from Squawka.com. Notice how far forward Alvarez played tonight as Inter dominated possession.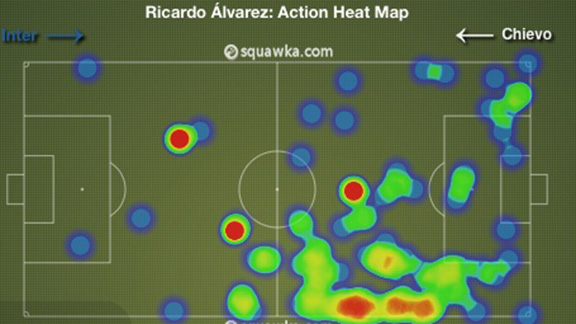 Courtesy of Squawka.com


The majority of his touches are in the Chievo half of the pitch.

And the presence of Alvarez had an impact on how Palacio played also, as the Inter striker did not find himself as isolated as he did a week ago against Lazio.

Compare Palacio's heat map from the Lazio game (via Squawka.com)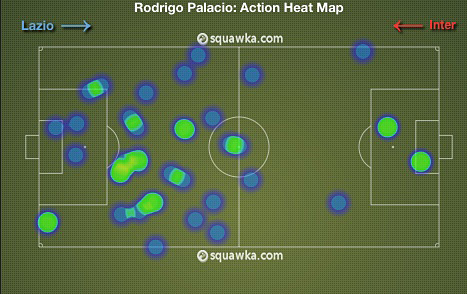 Courtesy of Squawka.com


With the one from Monday night: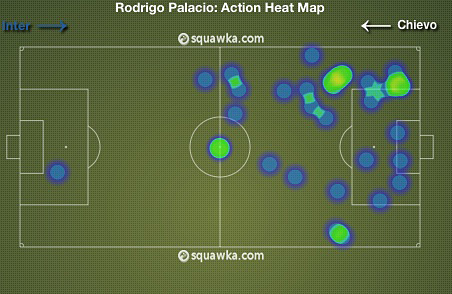 Courtesy of Squawka.com


It's a completely different game. Against Lazio, Guarin was poor; Palacio was isolated and had to keep dropping back into his own half to get the ball.

Against Chievo, Inter had more of the ball and the link play was better. As a result, the Inter striker spent the game in the Chievo half of the pitch, which is where you want him to be.

And that is the silver lining in a dark night of clouds at the Stadio Giuseppe Meazza.

Inter got players into good attacking positions on Monday; the problem was that they were unable to get them the ball in those dangerous positions.

The chart from Fourfourtwo.com illustrates how bad Inter's final pass was.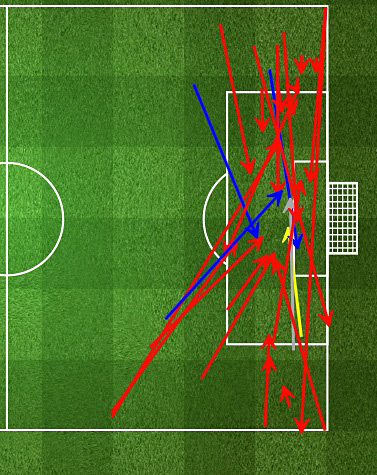 Courtesy of Squawka.com


Mazzarri's task this week on the training ground is to work on creativity in the final third of the pitch. Inter are getting opportunities to create chances, but the final pass, cross or shot keeps letting them down. This is not a new problem. I have written several times already this season about how Inter's poor finishing has cost them points.

The difference was that earlier in the season Inter were creating plenty of chances. So, if they converted one out of every five, it was not a big deal as they were creating ten chances a game. Now Inter are struggling to create five chances a game and as a result the goals have dried up.

The big question is whether Mazzarri and Inter can fix the problems in the final third of the pitch on the training ground this week. If they can, then we should start to see Inter get back to their free-scoring ways.