Inter Milan midseason grades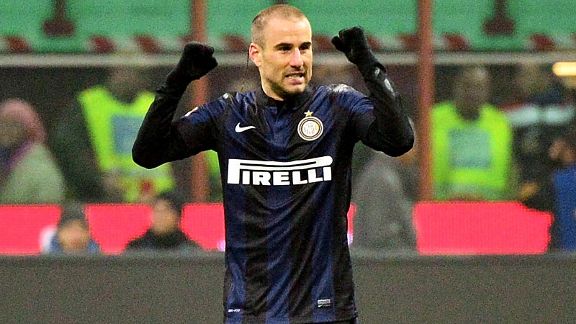 GettyImagesRodrigo Palacio celebrates after his fine finish won the Milan derby.
As we count down to the end of 2013, I thought this was a good time to look at the winners and losers so far this season for Inter Milan.

Goalkeeper: B

If I had been doing this review a month or so ago, then Samir Handanovic's grade would be an A. In mid-November Handanovic was having a great year. His 80 save percentage was the second best in Serie A and he was a big reason behind Inter's good start to the season.

But the Inter goalkeeper's form has fallen off a cliff in the last month as his save percentage dropped all the way to 74.6 -- pushing him down to sixth in Serie A. If Inter are to close the gap on Napoli in third, they need the Handanovic of the first two months of the season and not the one from the last month.

The less said about Juan Pablo Carrizo, who played three games in place of the injured Handanovic, the better. His 61.5 save percentage left Inter fans wishing that the No. 1 choice stays healthy for the rest of the season.

Defence: C-

I am still not convinced about Walter Mazzarri's three-man back line, but Inter's 22 goals conceded is only one fewer goal than Napoli and Fiorentina have let in, so he is doing something right.

The stats also show that Inter's six clean sheets so far this season ties them for third in Serie A. But while the stats show that Inter's defence is one of Serie A's best, my eyes say something different. This is not an Inter back line that inspires confidence; it is not one where you think that, at 1-0 with 10 minutes to go, Inter will see the game out. I have not felt confident with any lead this season.

While Hugo Campagnaro has been an inspired signing from Napoli, he has struggled to stay fit, appearing in only 10 of Inter's 17 league games this season. With Campagnaro out injured, Mazzarri has had to rely on a back three of Juan, Andrea Ranocchia and Rolando. That is a trio that does not exactly inspire confidence.

Adding at least one player who is experienced playing in a three-man defence has to be one of Inter's main priorities in the January transfer window.

Midfield: B+

Mazzarri has chopped and changed throughout the season as he has searched for the right combination. The fact that, heading into January, the Inter boss does not know his best midfield grouping says a lot about how they have played this season.

Mazzarri has settled on Jonathan as the right-side wing-back with Yuto Nagatomo on the left. While Nagatomo immediately took to Mazzarri's system where the wing backs are responsible to both defend and attack, it took Jonathan a while to adapt. By the time the Derby della Madonnina rolled around, Jonathan was providing the kind of two-way play that the Inter coach was demanding.

In the middle of the park, Esteban Cambiasso has had a super year marshaling the Inter midfield. He has turned back the clock this season and has been Inter's most consistent midfielder this season according to whoscored.com.

The challenge for Mazzarri has been to find someone to play alongside Cambiasso. In the last month or so he dropped Ricky Alvarez into a midfield three with Cambiasso and Saphir Taider. The problem with that formation is that it does not find Alvarez's best position; he is much more effective further up the pitch in the No. 10 role.

Taider has gained in confidence as the season has progressed and I think we will see more of the dynamic side of his game in the second half of the season.

Mateo Kovacic has been used both in central midfield and in the No. 10 role, and he has shown glimpses of his talent. Hopefully he will get more playing time as the year progresses.

Attack: A

Rodrigo Palacio has been outstanding this season and it is down to more than his 10 league goals, the third most in Serie A this season. Palacio has run himself into the ground almost every game, as he has chased everything and sacrificed himself to create chances for his teammates. I don't know if he can keep it up for a complete season, but so far, Palacio gets my vote for Most Valuable Player.

Palacio has had to play a lot (16 starts in 17 league games) because Mazzarri hasn't trusted his other forwards. Diego Milito has been injured for most of the season while Mauro Icardi and Ishak Belfodil have barely played (less than 400 minutes between them).

In their limited playing time Icardi has been the one that has surprised me, while Belfodil has been a major disappointment. Icardi has shown glimpses of his potential and I hope that when Inter bring in a veteran striker in January that it does not cut further into Icardi's playing time.

Mazzarri has tried both Alvarez and Fredy Guarin in the No. 10 (or playmaker) role this season, and statistically Inter play much better when Alvarez is pushed further up the pitch than Guarin. With Guarin expected to be sold to Chelsea in January, that should free Mazzarri to put Alvarez back in the spot where he was the best player in Serie A for the first two months of the season.

Coaching A-

As Mazzarri alluded to in an interview recently, managing Inter has not been an easy task this season, with everything that has gone on both on and off the pitch.

But through it all, Mazzarri has shown his experience and hasn't panicked or gotten flustered. He has stuck to his plan, and Inter's 31 point haul -- putting them in fifth place -- is better than most Inter fans expected.

I wish he was a little more flexible with his 3-5-1-1 formation and that he would settle on a midfield trio, but overall I think Mazzarri has done a terrific job so far this season.