Rodrigo Palacio gave Inter fans the perfect Christmas present on Sunday as his brilliant flick from Fredy Guarin's cross with just four minutes left gave the Nerazzurri a 1-0 win in the Derby della Madonnina.

The goal was Palacio's 10th of the season, marking a brilliant first half of the season for the Argentine striker. According to whoscored.com, Palacio has been Inter's third best player this season behind Ricardo Álvarez and Hugo Campagnaro.

• Paul: Derby defeat caps off bad season
• Report: Inter-AC Milan

Palacio's performance against Milan was typical of what we have seen from him all season. With Guarin pushed farther back, especially in the first half, as Milan dominated play, Palacio was left isolated, having to chase down long ball after long ball by himself.

But the Inter striker's head never went down and he kept working hard and getting himself into really good positions whenever the opportunity arose. Palacio was rewarded for his hard work and man of the match performance with a terrific goal.

The win means that Inter enter the New Year in fifth place in Serie A, five points behind Napoli and the final Champions League spot. Considering the transition that Inter is undergoing, both on and off the pitch, a top-five position has to be viewed as a successful first half of the season.

The Palacio goal saved referee Paolo Mazzoleni from having to explain a couple of his first-half decisions that could have completely changed the game.

Mazzoleni missed two big decisions in the first half. Inter, who have yet to be awarded a penalty this season, should have had one when Cristian Zapata pulled down Palacio in the box. It was a stone-cold penalty. How the referee thought that Zapata got the ball is still a mystery to me.

Then minutes later, Sulley Muntari should have been shown a straight red card for a horrific tackle on Jonathan. It was a nasty, over-the-ball kind of challenge that deserved a red card. Yet, Mazzoleni did not deem it even worthy of a foul!

Had either decision gone Inter's way, it would have totally changed the complexity of the game. Leading 1-0 or with the man advantage, Walter Mazzarri makes substitutions that change the game.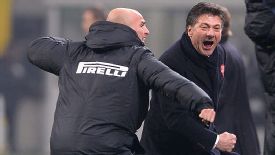 GettyImagesEsteban Cambiasso celebrates with coach Walter Mazzarri after Rodrigo Palacio's late winner in the Milan derby.
In previewing the game I wondered who Mazzarri would draft into the side to replace the suspended Ricky Alvarez. I suggested that Javier Zanetti would be the best option as he would provide some defensive cover and could sit in front of the Inter back three. Mazzarri agreed with that prognosis and I thought that Zanetti played well before he tired in the first half. He helped out the Inter back three, and blocked Milan's crosses into the Inter penalty box numerous times before springing Inter on the counterattack.

This was very much a game of two halves. Milan dominated in the first half, but could not turn that possession into goals as Samir Handanovic made a couple of good saves. Even though he kept a clean sheet, this was not one of Handanovic's better games. He flapped at crosses, and gave up some big rebounds by pushing out shots into dangerous spots. Hopefully the winter break will give Handanovic the break he needs, as he has not been at his best the past couple of games.

In the second half, Mazzarri made the type of bold moves that only the best managers do, like Mourinho used to do. Mazzarri's bold substitutions changed the game and were a big reason Inter picked up three points instead of having to settle for only one.

First he took off Saphir Sliti Taider in the 57th minute and brought on the more attacking-minded Mateo Kovacic. The 19-year-old not only gave Inter a fresh set of legs in midfield, but he was able to link up with Guarin and Palacio and, for really the first time in the game, Inter started to look a threat going forward.

Next Mazzarri took off Zanetti in the 68th minute and brought on Zdravko Kuzmanovic. The Inter captain was terrific in the first half, but the pace had started to tell and he was beginning to run out of steam. Kuzmanovic was able to slot in defensively where Zanetti had played, but he also had the energy to get forward and create chances, especially in the last 10 minutes when the game really opened up.

Then with eight minutes to go, Mazzarri took off Esteban Cambiasso, who ran himself into the ground on Sunday, clashing everything in midfield and bringing on a second striker in Mauro Icardi. Pushing Icardi up front and playing Palacio and Guarin just behind him caused the Milan defence all sorts of problems in the last 10 minutes and it was not a surprise to see Palacio and Guarin combine for the goal.

Overall a good win for Inter and a great way to head into the winter break. With a mini-preseason and the January transfer window, it will be interesting to see what changes Mazzarri makes before the Lazio match on Jan. 6.