Zanetti is the key man for Inter vs. Milan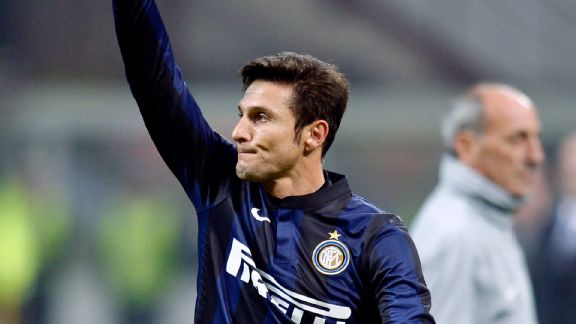 AllsportZanetti may be short of minutes this season but he can make a big impact on Sunday.
Sunday's Derby della Madonnina will be an unusual one as Inter's Curva Nord will be closed after the club's fans were found guilty of abusive chants directed at Napoli supporters during the 4-2 loss in Naples last week.

Not only will the absence of a full and noisy Curva Nord -- it will also be closed for the match against Chievo on Jan. 13 -- deny Inter an advantage, but the closure of the stadium's north section will also detract from the atmosphere.

The clubs first met in 1908 and this will be the 211th meeting between the two. Inter have a slight advantage in wins -- 75 to Milan's 73 -- and goals scored: 289-285.

-Horncastle: Derby still has its spark

Neither side comes into the derby in good form. Inter have only won two of their last six league games, including none of the last four, while Milan have only won one of their last six.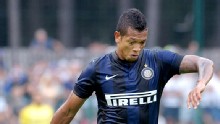 Dino Panato/Getty ImagesAre Guarin's days numbered at Inter?
As for Inter's team, Ricky Alvarez is suspended following his red card at Napoli, while Fredy Guarin is rumoured to have been in talks with Chelsea about a possible January move, so his status is uncertain.

The loss of Alvarez, who has comfortably been Inter's best player this season, is the bigger blow. He leads the team in assists (six) and has been named man of the match five times.

Walter Mazzarri has a difficult decision to make regarding how to replace him. Assuming he plays, Guarin could move back into the midfield role where he started the season, alongside Esteban Cambiasso and Saphir Taider, with Mateo Kovacic in the No. 10 role.

One concern with starting the 19-year-old Croatian in that advanced role is that he is not as creative as either Guarin or Alvarez. That, in turn, would cause Rodrigo Palacio to become isolated up front.

Another option for Mazzarri then is to leave Guarin in the playmaker role and simply swap in Kovacic for Alvarez.

The advantage of having Taider and Kovacic together both do a good job of retaining possession and keeping the ball moving with short, frequent passes. Taider has an 87.8 percent passing accuracy rates this season while Kovacic's is even higher at 91.8 percent.

What worries me despite those numbers, though, is whether Taider and Kovacic have sufficient creativity to fire Inter offensively. Respectively, they rank ninth and 10th among Inter players for key passes according to whoscored.com. That tells me they mainly stay side to side and backwards in possession, without the kind of passes that put the opponents' defence under pressure.

The other concern that Mazzarri has to have with moving Guarin or Kovacic back is that both are weak defensively. Neither player is known for his defensive work and I can see a combination of Guarin, Kovacic and Taider getting overrun on Sunday.

With the likes of Kaka, Balotelli and El Shaarawy, as well as Robinho and Matri, available to Milan, I wonder if Mazzarri will instead be cautious and add another defensive midfielder to help Cambiasso in front of Inter?

Given that Inter has struggled defensively in the last two games, conceding seven goals, playing it safe in the derby is a tactic I can see the coach using.

If he does go that route, then either Javier Zanetti and Zdravko Kuzmanovic would be the most obvious choices to fill that position.

Unfortunately, though, neither has played much this season -- they have only five appearances between them -- and thrusting them into the starting line-up in the Milan derby is a big gamble.

Or maybe not. Zanetti is hugely experienced and understands the importance of the derby to the players and fans. He can certainly sit in front of the Inter back three and pick up the runs from Milan's deep-lying attackers.

With him playing deep, his countryman Cambiasso will be able to push a little further forward like he did so effectively in Naples.

That is why Mazzarri has to start Zanetti in place of Alvarez. He may be 40, but he makes Inter stronger defensively and lets Guarin -- assuming he plays -- stay in the No. 10 role from which he can support Palacio and put pressure on a porous Milan defence.