Numbers show Alvarez needs to be Inter's No.10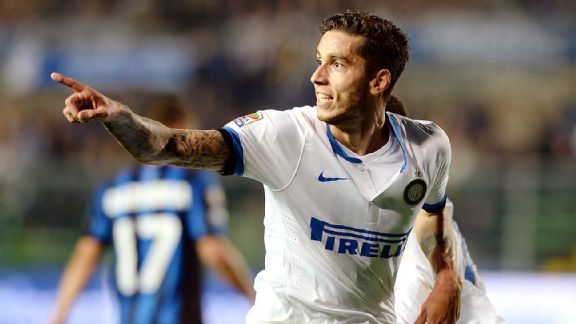 Claudio Villa/Getty ImagesRicky Alvarez and Inter Milan face Parma this weekend in Serie A.
After two disappointing draws against Bologna and Sampdoria, Inter are looking to get on the winning track in the league on Sunday at home to Parma.

- Report: Inter hold on to beat Trapani

Inter have struggled at the Stadio Giuseppe Meazza this season, but hopefully the visit of Parma, who Inter have beaten the last six times they have met in Milan, is just what the doctor has ordered to get Inter's season back in track.

With the attention of Napoli and Juventus possibly diverted because of must-win Champions League games next week, Parma offer Inter another great opportunity to close the gap on the teams ahead of them.

Inter Player Spotlight: Ricky Alvarez

The first month or so of the season Ricky Alvarez was brilliant, and he was the best player in Serie A during that time period according to whoscored.com. Alvarez is still rated as Inter's best player this season, but we have seen a significant drop in Alvarez's play over the last month as the whoscored.com ratings show:

Match Rating
Inter v Genoa -- 8.2
Catania v Inter -- 9.3
Inter v Juventus -- 8.5
Sassuolo v Inter -- 10
Inter v Fiorentina -- 8.55
Cagliari v Inter -- 6.22
Inter v Roma -- 7.37
Inter v Verona -- 7.07
Atalanta v Inter -- 7.86
Udinese v Inter -- 8.13
Inter v Livorno -- 7.2
Bologna v Inter -- 7.37
Inter v Sampdoria -- 7.56

In Inter's first five games of the season, Alvarez had an average player rating of 8.9. In the last five games, that rating has dropped to 7.62. That is a pretty shocking drop-off in form. So what is the cause of Alverez's slump? What is he doing differently now versus his performances earlier in the season?

The biggest change is that Inter boss Walter Mazzarri switched the positions of Alvarez of Fredy Guarin to help Inter defensively. That move has seen Alvarez move into a more traditional central midfield role alongside Esteban Cambiasso while Guarin has assumed Alvarez's No. 10 role.

Playing as a No. 10, Alvarez has an average player rating of 8.3 (7 games). As a central midfielder his average is 7.53 (6 games).

Guarin, on the other hand, has seen his rating go down since moving into a more advanced role. In central midfield he had an average rating of 7.59 (6 games). As a No.10 that rating has fallen to 7.45 (4 games).

So basically Alvarez and Guarin play at the about the same level when they both play in central midfield (7.53 to 7.59), but Alvarez is significantly much better in the No.10 role than Guarin (8.3 to 7.45). Isn't the logical move then by Mazzarri to end this experiment and move Alvarez back into the No.10 role that he is more suited for?

It's not just overall player ratings that show why Alavrez is a better fit than Guarin for the No. 10 role. As a No.10, your job is to create chances both for yourself and for the team. And Alvarez has better statistics than Guarin in almost every category:

Alvarez
-- Passing Accuracy: 89.1%
-- Assists: 4
-- Average passes per game: 40.8
-- Key Passes per game: 2.1

Guarin
-- Passing Accuracy: 73.9%
-- Assists: 3
-- Average passes per game: 34.5
-- Key Passes per game: 1.4

Alvarez
-- Goals: 4
-- Shots per Game: 2.1

Guarin:
-- Goals: 2
-- Shots per game: 3.4

In short, Alvarez passes the ball more often and better than Guarin, scores more goals and creates more goals for teammates. Is there any doubt who should be playing in the No. 10 role for Inter this weekend against Parma?

If Mazzarri was to make that move, the big question then is what to do with Guarin, who was moved out of central midfield because he is a liability defensively?

There are whispers around Inter is that Erick Thohir is considering selling Guarin in January to help fund the acquisition of new players. Guarin, along with Andrea Ranocchia, are probably the two players who Inter are willing to sell that would bring in the most in the transfer market.

If Mazzarri was to make the move, either on a short-term or on permanent basis, who would join Cambiasso and Saphir Taider is the heart of Inter's midfield?

Mateo Kovacic has not shown that he is ready for that responsibility yet, while we have not seen enough of Zdravko Kuzmanovic to make a decision on whether he can fill that role.

One short-term option could be to move Javier Zanetti into that role and let him sit in front of the back three, and push Cambiasso forward a little. It is not a move that I would advocate for the rest of the season, but for the next month or so, it will make Inter stronger defensively, while pushing Alvarez further forward would help Inter be create more chances offensively.