Two minutes that could define a season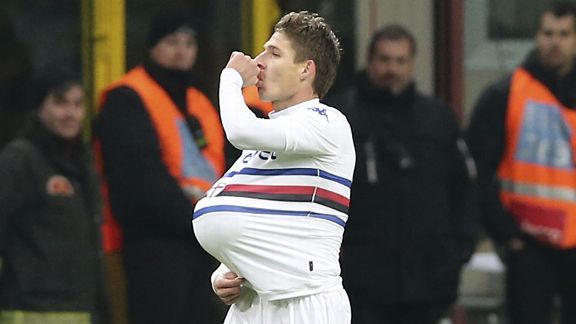 AssociatedSampdoria's Garcia Renan celebrates his late equaliser against Inter Milan.
As we headed towards the 90th minute at the Stadio Giuseppe Meazza on Sunday, Inter were clinging to a 1-0 lead over Sampdoria while in Bergamo, Atalanta were leading second-place Roma, 1-0.

Had those been the final scores, Inter would have closed the gap on second-place Roma to five points and thrust themselves firmly into the title race.

But then a long-range shot from Renan cancelled out Fredy Guarín's earlier Inter goal and when Kevin Strootman equalized for Roma, suddenly that gap between Inter and Roma was back to seven.

Since returning from the international break, Inter has now twice failed to take advantage of the teams ahead of them in the table dropping points. Last week's draw at Bologna meant Inter did not take advantage of Napoli's shock defeat to Parma.

I am beginning to get a little concerned with Inter's inability to close the gap on Roma, Juventus and Napoli. The matches at Bologna and at home against Sampdoria should have been victories. That Inter came out of those games with only two points is disappointing.

In a title race, you only get some many opportunities to take advantage of your rivals dropping points. This is the part of the schedule when Inter should be picking up maximum points, especially as Roma and Napoli are struggling and the fact that they cannot close the gap is worrying.

Outplayed By Sampdoria

Unlike last week when Inter dominated, they were statistically second-best on Sunday. Sampdora dominated possession (56 percent to 44), outshot Inter (14-11) and had more passes (362-256).

Lost The Midfield Battle

Inter's midfield trio of Ricky Alvarez, Esteban Cambiasso and Saphir Taider have rarely been outworked and outplayed this season, but they were dominated by Sampdoria's midfield.

Taider was the worst of Inter's midfield trio, completing only 58 percent of his passes and the heat chart from squawka.com shows how ineffective he was.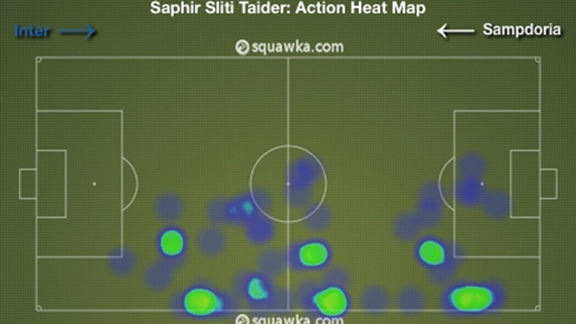 Courtesy of squawka.com
No surprise then that Taider was replaced by Mateo Kovacic in the 62nd minute.

But it was not just Taider who struggled. Alvarez was poor as he seemed unsure of himself after picking up an early yellow card for a hand ball.

Alverez is usually the link between the Inter midfield and attack, as he joins Guarin and Rodrigo Palacio in the Nerazzurri attack. But as the chart from fourfourtwo.com shows, when Alvarez did join up in the attack on Sunday he was ineffective. Note the lack of successful passes into the penalty box from Alvarez, other than his assist on Guarin's goal.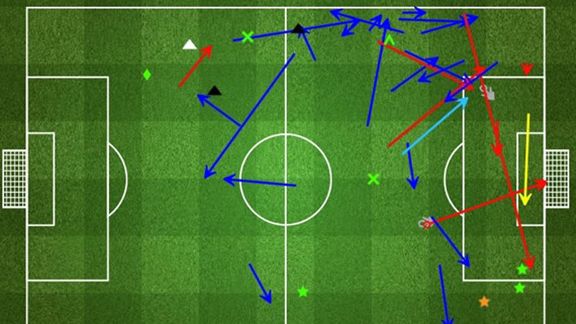 Courtesy of fourfourtwo.com
Because they lost the midfield battle, Inter left Guarin and Palacio isolated. Guarin only had 35 touches while Palacio only took one shot. Inter cannot expect to win games if their forwards are starved for service like this.

Javier Back

Inter legend Javier Zanetti got his first start in seven months as a left-sided wingback against Sampdoria.

The chart below from fourfourfourtwo.com highlights the effectiveness of the Inter captain, who had an 86 percent passing accuracy on 46 touches.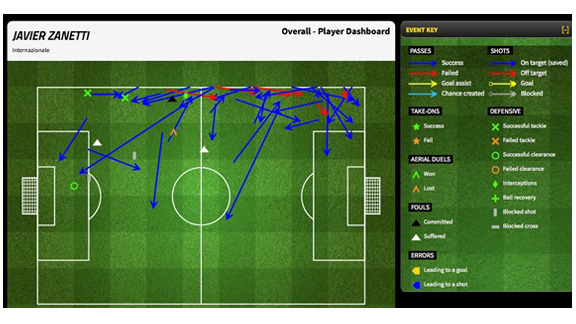 Courtesy of fourfourtwo.com
The problem with playing Zanetti as a wingback in Walter Mazzarri's system is he does not give the Nerazzurri the attacking thrust that someone such as Yuto Nagatomo provides, as can be seen in the chart from fourfourtwo.com below.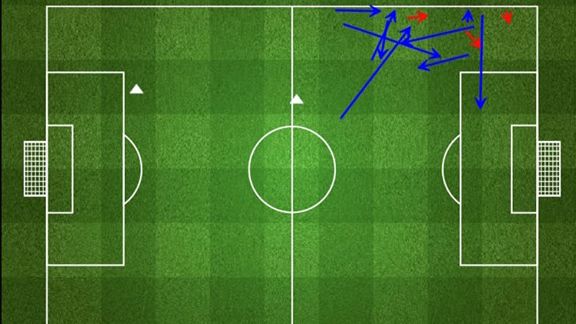 Courtesy of fourfourtwo.com
The lack of attacking play by Zanetti is not his fault as at age 40, nobody can expect him to get up and down the right side of the pitch. I think he best position now is to play in a defensive midfield role sitting in front of the back three.

Mazzarri's preferred style of play is to attack down the flanks and unfortunately Inter did not get that on Sunday from either Zanetti or Jonathan.

Inter need more attacking thrust than what Zanetti provided. With Jonathan resorting back to form and having another poor game on the right (see chart below) Inter's lack of width made it easy for Sampdoria to defend them.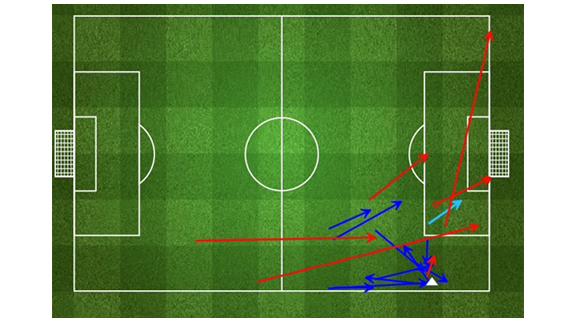 Courtesy of fourfourtwo.com
There has been a lot of talk about Inter targeting a right-sided wingback in the January transfer market and that is certainly the team's number one need. But after Sunday's performance I think Inter needs to also to target a left-sided wingback to back up Nagatomo as Sunday's performance showed Inter doesn't have one in its squad.