Important decisions for Internazionale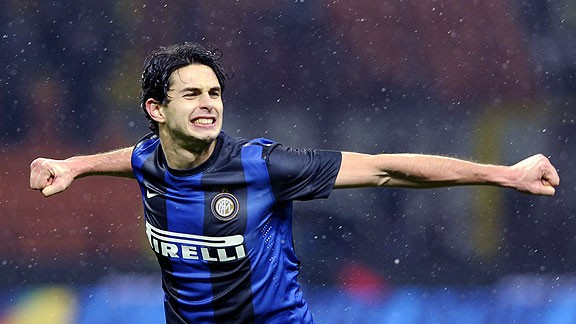 Claudio Villa/Getty ImagesIs it worth giving streaky defender Andrea Ranocchia a new deal?
Earlier this week I wrote about the risk that Inter are taking in not conducting contract talks until the spring with players that are free to leave at the end of the season.

While there are some big names on that list (Esteban Cambiasso, Diego Milito, Walter Samuel), Inter have to quickly make some big decisions on players whose contracts end in 2015. If Inter are not going to be able to reach an agreement with these players on a new deal, then they will have to be sold this summer and their value will dramatically drop the closer they get to the end of their contracts.

According to Transfermarket.co.uk Inter have six players they need to make a decision on in the next six months. They are:

- Andrea Ranocchia (value 15 million euros)
- Rodrigo Palacio (10.5 million euros)
- Hugo Campagnaro (3.7 million euros)
- Jonathan (3.5 million euros)
- Juan Pablo Carrizo (875,000 euros)
- Patrick Olsen (700,00 euros)

So which of these six players should Inter try and sign to new deals and who should they let leave on Bosman transfers in 18 months time?

Andrea Ranocchia

Ronocchia is the big name on the list. The 25-year-old Italian defender is entering the prime of this career and will probably be expecting a sizeable increase from his 2.1 million euros net a year.

The big defender polarizes Inter fans, with some volunteering to drive him to the Milan airport, while others believe that Inter have their centre-half for the next decade.

The truth lies somewhere in between the two extremes. Ranocchia is still developing as a defender and his arrival from Genoa in the January 2011 transfer window coincided with the decline of Inter, putting the spotlight more on Ranocchia to hold together a leaky back four. It was something he struggled with early on at Inter, but he has grown into the position over the last couple of seasons.

According to whoscored.com, Ranocchia has an average score of 7.3 this season, only slightly better than Juan Jesus at 7.2. He is ninth on the team in tackles per game this season and fifth in interceptions. He trails the rest of the Inter defenders in these categories.

There is no doubt that the decision to sign Ranocchia to a new deal in the summer is the biggest decision facing Inter own Erick Thohir. While he has seemingly plateaued at Inter, Ranocchia occasionally shows glimpses that he can be a top defender. But at around 3 million euros net a season you would expect to be paying for the finished product, not someone with potential.

I am not convinced that Ranocchia is going to get better and reach the level that matches his wages. Inter cannot afford to let him walk for free in 18 months, which means they need to sell him this summer.

Recommendation: Sell

---
Rodrigo Palacio

Palacio has been a revelation this season under Walter Mazzarri and the 31-year-old Argentina striker is having a career year.

At 2.7 million euros net, Palacio is one of Inter's highest paid players, but he is worth it this season, as he is on pace to set career highs on goals and assists. His 7.7 average from Whoscored.com ties him with Carlos Tevez as the best striker in Serie A this season.

If Palacio was four years younger, signing him to a new contract would be an easy decision. But he will be 33 when his contract expires and history tells us that strikers start to become less effective in their mid 30's .

Palacio is one of those rare players that I would let enter next season with less than a year on his current deal. I worry whether he can hold up over the course of the long season. Plus, Inter have some good young strikers behind Palacio like Mauro Icardi and Ishak Belfodil that it would be good to see develop and get a chance to play.

With Diego Milito leaving at the end of this season, there will be a place for a veteran striker like Palacio in the Inter squad. But offering Palacio a new contract is not a decision that Inter need to make in the next eight months.

Recommendation: Do nothing at the moment

---
Hugo Campagnaro

I have written several times about how Inter are statistically better with Campagnaro in the line-up than out of it. He understands Mazzarri's system and leads the team in tackles, and is second in interceptions.

At 1.5 million euros net a year in wages, Campagnaro is relatively cheap for a starting defender. The concern with Campagnaro is obviously his age. He will be almost 35 when he contract ends and he has struggled with staying healthy this season.

Similar to Palacio, Inter don't need to make a decision on Campagnaro's future now. Wait and see how he finishes this season and begins next season first. If Campagnaro is playing well in 12-14 months then look at signing him to a new one-year deal.

Recommendation: Do nothing at the moment

---
Jonathan

Despite his performance at the weekend, Jonathan has been a disappointment as a wing-back in Mazzarri's system. Inter are rumoured to be looking to bring in a right-sided wing-back in the January transfer window, and if they do that, it will in all likelihood mean the end of Jonathan's career at Inter.

Recommendation: Sell him in the summer

---
Juan Pablo Carrizo and Patrick Olsen

Carrizo and Olsen are two inexpensive squad players. Carrizzo is the back-up to Inter number one Samir Handanovic and in the three games that he stepped in for Handanovic this season, Carrizo's performances unfortunately left a lot to be desired. His save percentage at Inter is in the 60's which is not good enough.

Olsen is a 19-year-old midfielder who makes around 200,000 euros net a year and has yet to make an appearance for Inter this season.

Olsen's career has stagnated at Inter. In 2011 he was named as one of 11 talents to watch by UEFA. But since arriving at Inter from Brondby he was failed to break into the first team.

Olsen is too young to give up on, but he needs to be playing every week. My recommendation would be to loan Olsen out to another Serie A club so that Inter can determine whether he is good enough to play at that level.

Recommendation: Let Carrizo's contract expire. Loan Olsen out in January to determine whether he can play in Serie A.