Inter blow chance to move into third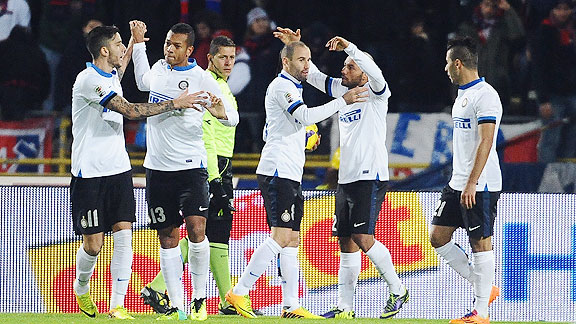 Mario Carlini/Iguana Press/Getty ImagesJonathan's second half goal helped Inter salvage a point at Bologna.
The weekend after an international break is always difficult as teams don't have much time to prepare for the games. This weekend was no exception as Inter missed an opportunity to move ahead of Napoli on goal difference as they could only draw 1-1 at Bologna on Sunday.

- Report: Bologna 1-1 Inter

Panagiotis Kone gave Bologna the lead with his third league goal of the season after 12 minutes and Inter got back on level terms in the 60th minute when Jonathan's shot was deflected by Frederik Sorensen past his own goalkeeper Gianluca Curci.

Inter coach Walter Mazzarri brought Hugo Campagnaro and Juan Jesus back into the starting line-up as Andrea Ranocchia was suspended and Walter Samuel injured.

It was good to see Campagnaro back in the line-up as Inter are stronger defensively when Campagnaro plays. And Campagnaro did not disappoint, as he was Inter's second best player, behind Jonathan.

But this should not have been a game where Inter fans were concerned who was playing at the back. Bologna have the second worse defence in Serie A and Nerazzurri fans were wondering before the game how many goals Inter would get.

The answer should have been plenty, as Inter dominated the game, at least statistically.

-- Possession: Inter 63.8%, Bologna 36.2%
-- Corners: Inter 14, Bologna 2
-- Shots: Inter 22, Bologna 9
-- Attacking third Passes: Inter 132, Bologna 73

Inter Left Shooting Boots At Home

So how did Inter not win a game that they dominated statistically? Not for the first time Inter's shooting accuracy let them down as this chart from fourfourtwo.com illustrates: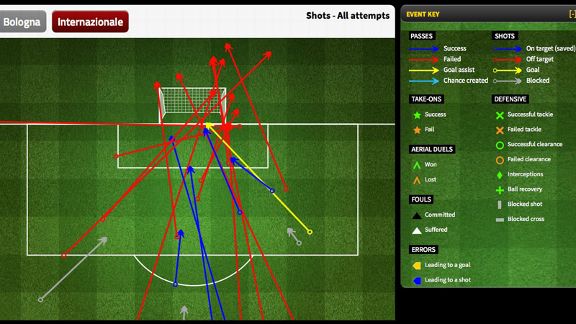 Fourfourtwo.com

The red lines indicate shots that were off target. Another way to look at Inter's shooting is from whoscored.com. The Opta-based site shows that 59 percent of Inter's 22 shots were taken from inside the Bologna penalty box.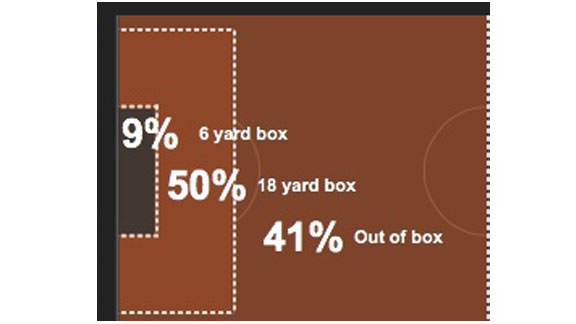 Courtesy of Whoscored.com

Screen shots and stats cannot highlight how bad Inter's finishing was on Sunday. The normally reliable Rodrigo Palacio spurned two great chances in the opening half hour, then Alvaro Pereira and then Saphir Taider both somehow conspired to miss an empty net in the same attack. If Inter are to break into a Champions League spot this season, they have to be more clinical in front of goal.

Against Bologna, Inter only managed to put three of their 13 shots from inside the penalty box on target. That is simply not good enough. I realize that Inter hit the woodwork twice at the end of each half, but finishing has been poor all season and this is something that Mazzarri has to do something about.

The Jekyll and Hyde That Is Fredy Guarin

Fredy Guarin continues to exasperate on a weekly basis. Against Bologna he did some things well. Fifty-seven touches, some great passes and he was all over the Bologna half of the pitch as this heat map from squawka.comshows.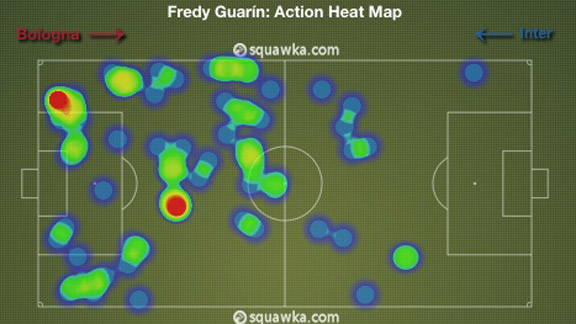 Squawka.com

But while Guarin put in the effort on Sunday, his final ball was lacking, as this chart from fourfourtwo shows: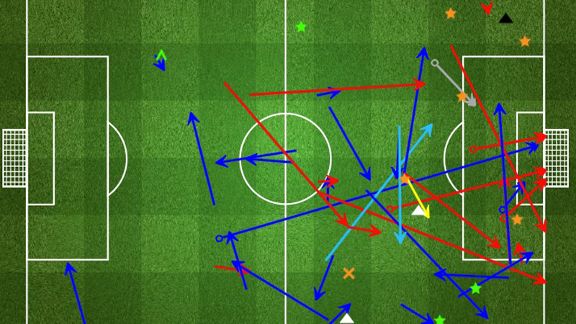 Fourfourtwo.com

The light blue arrows are chances that Guarin created, while the red lines are bad passes or shots that were off target. Guarin had six shots on Sunday, but only two of them were on target.

If Guarin is to continue in this number 10 role, with Alvarez playing deeper in a more traditional midfield role, then the Colombian has to do a much better job of creating chances and scoring goals.

For all his touches and shots this season, Guarin has as many yellow cards (one) as goals. More worrisome is that he leads Inter in shots taken with 39 this season and his paltry two assists are also underwhelming.

When you compare the best No.10s around, not only Serie A but Europe, Guarin does not have the consistency or creativity that the top players have. Guarin's inconsistent play is concerning and has me beginning to wonder if Inter should be in the market for a top No.10 this January or next summer.

Man of the Match: Jonathan

At times this season I have been very critical of Jonathan's play as he gives the ball away too often and his crossing accuracy needs to be better. That was not the case on Sunday as Jonathan was Inter's best player, causing havoc down the right-hand side.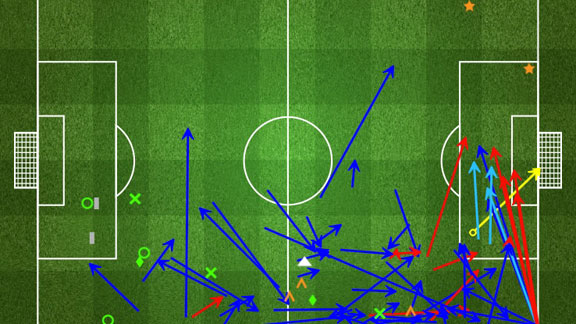 Courtesy of Fourfourtwo.com
Looking Ahead

So disappointing to see Inter not take advantage of Napoli's slip up and move into third place. Inter will have another chance next week to leapfrog Napoli as they host Sampdoria on Saturday while the Partenopei travel to Lazio on Sunday. A tough trip coming for Napoli after their huge Champions League match against Borussia Dortmund in midweek.