Why Dzeko-for-Handanovic is not in Inter's best interest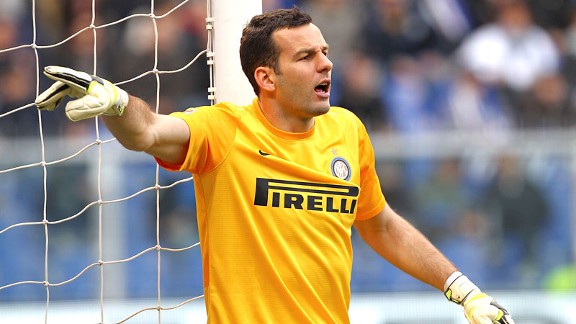 Marco Luzzani/Getty ImagesGoalkeeper Samir Handanovic has been superb this season in net for the Nerazzurri, who would be wise to keep him in Milan.
Reports out of England and Italy suggest that Inter and Manchester City are talking about a January deal that would see City striker Edin Dzeko head to Milan for Inter goalkeeper Samir Handanovic.

The move makes sense in the papers as Man City a looking for a replacement for the out-of-form Joe Hart, while Inter need another striker to ease the load on Rodrigo Palacio.

Both players have a similar valuation (Dzeko at 27 million euros, Handanovic at 24 million). So while the move makes sense in theory, would it be a good move for Inter?

It is difficult to compare players who play different positions, so in order to answer that question, I compared Handanovic to two Serie A goalkeepers who could well be the keepers of two of the favorites at next summer's World Cup: Spain's Pepe Reina and Italy's Gianluigi Buffon.

One of the best measurements of a goalkeeper is save percentage, i.e. if a goalkeeper faces 10 shots, how many does he save? In comparison to Reina and Buffon, Handanovic's numbers are terrific.

Save percentage this season
-Buffon: 75.7
-Reina: 78.8
-Handanovic: 80 (second-best in Serie A)

If you look across the top four leagues in Europe (Serie A, La Liga, Bundesliga and Premier League) only four goalkeepers -- Morgan De Sanctis (Roma), Hugo Lloris (Spurs) Victor Valdes (Barcelona) and Roberto (Granada) -- have a better save percentage this season than Handanovic.

It is not just stopping the ball where the Inter No. 1 has excelled this season. In the modern game, with more and more teams trying to play the ball out from the back into midfield, the ability of the goalkeeper to successfully pass to a teammate is becoming more and more important.

Passing Accuracy
Buffon: 78.1
Reina: 67
Handanovic: 73.7

Two teams Handanovic has been linked to in the last six months are Barcelona and now Manchester City. Valdes' passing accuracy this season is 61.3 while Hart's is 53.4. So it is clear why Man City (and Barca) are interested in the Inter goalkeeper. Handanovic is a superior passer othan both Valdes and Hart, and his shot-stopping ability puts him among the best keepers in Europe.

If Inter does sell Handanovic, one thing to keep in mind is that there is a significant drop statistically to backup Juan Pablo Carrizo. Carrizo's save percentage is only 61. this season and his passing accuracy is only slightly better at 63.3. I am not convinced that Inter can maintain a Champions League push with Carrizo in goal.

Which brings me to Dzeko. Is he the right striker for Inter? Besides Dzeko, Inter have also been linked with a January move for Cagliari striker Mauricio Pinilla. How do these two compare with current Inter No. 9 alacio?

League Goals
Dzeko: 3 goals in 7 games
Pinilla: 2 goals, 10 games
Palacio: 7 goals, 11 games

While Palacio's numbers are vastly superior to Dzeko's and Pinilla's, the goals don't tell the whole story as far as strikers go. Forwards on a top team are likely to score more goals than those who play for teams lower down the table.

A better statistic is goal-scoring accuracy; if a striker has 10 shots on goal, how many of them go in? Once again, Palacio's numbers are much better.

Scoring Accuracy
Dzeko: 27 percent
Pinilla: 28.5
Palacio: 47

It Inter are looking to sign a striker to replace Palacio, then neither Pinilla or Dzeko would be a good choice as they both are statistically inferior.

What is interesting is how similar Dzeko and Pinilla are statistically. It is easy to understand why Inter would be linked with both players. The big difference is each player's value. Dzeko is valued at 27 million euros, Pinilla is at 3.4 million; while Pinilla, 29, is two years older than Dzeko, I cannot see how anyone can make the case that Dzeko is worth almost 24 million euros more than Pinilla.

So would a deal that sent Dzeko to Milan for Handanovic be good for Inter? The answer is no.

Handanovic is one of the top five goalkeepers in Europe based on his form this season. There is such a significant drop in ability from Handanovic to Carrizo that Inter would probably have to go out and sign another goalkeeper if they sold Handanovic. So selling Handanovic does not makes sense unless some team made Inter an offer they could not refuse, which would have to be in excess of 30 million euros.

Dzeko is a nice striker, but compared to someone like Pinilla he is not worth anywhere near the 27 million euro price tag. Since neither Dzeko or Pinilla compare statistically to Palacio, if Inter are looking to add another striker in January, the better option would be to sign the cheaper Pinilla and have him back up Palacio rather than Dzeko.