Looking back on the best of Diego Milito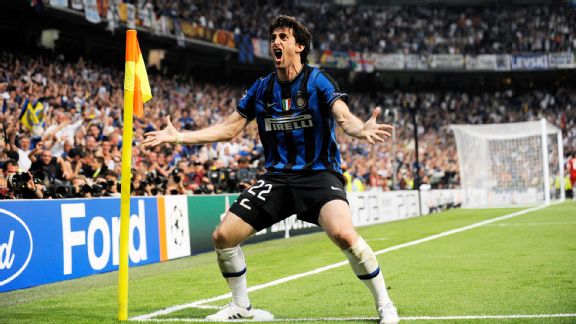 Pierre-Philippe Marcou/AFP/Getty ImagesDiego Milito capped off a sensational 2009-10 season by scoring both goals in Inter's 2-0 Champions League final triumph over Bayern Munich.
It is looking more and more likely that Diego Milito will leave Inter when his contract runs out at the end of the season. Milito is expected to return to his native Argentina to finish his career where it all started: with Racing de Allevaneda.

Milito has spent five seasons with Inter where he has been dogged by injuries. Milito only made more than 30 league appearances in a season twice for Inter, 2009-10 and 2011-12. Despite the injuries, El Principe still managed an impressive 77 goals in 154 appearances.

- Report: Thohir elected as new president

Milito was the missing piece to Inter's magical 2009-10 treble winning side. He was a proven goal scoring threat, more so than Samuel Eto'o, and his 30 goals in 52 games went a long way to Inter winning the treble.

What impressed me the most about Milito in 2010 were not just his goals, but when he scored them.

Some strikers get a reputation for scoring the third or fourth goal in a team's victory, but they never seem to score when the score is 0-0 or 0-1 and his team are in need of a goal. That was not the case with Milito. He was the epitome of a money player. The bigger the occasion, the bigger the situation, the more likely Milito was to score.

Let me illustrate how good Milito was in big games by revisiting that magical 2009-2010 season.

August:
It did not take Milito long to make an impression with Inter fans as he scored a goal and had two assists in the 4-0 Derby della Madonnina win against Milan.

September:
On 13 September, he scored his second league goal in a 2–0 home win against Parma and then followed that up with both goals in an 2-1 away win against Cagliari.

Milito wrapped up the month with the second goal in a 3-1 win against Napoli.

November:
This was a big month for Milito as he scored the winners against Livorno and Fiorentina in the league. His biggest goal though might have been the 86th minute equalizer in the Ukraine against Dynamo Kiev in the Champions League. That goal led to Wesley Sneijder's game-winner in the 89th minute, and the three points that took Inter into the knockout stages. Without Milito's equalizer against Kiev (and Sneijder's unlikely winner), the treble did not happen.

December:
Milito's goal away to Atalanta on 16 December gave Inter a 1-0 victory.

January 2010:
Milito started the New Year like he left the previous one; scoring important goals. He scored the equalizer in a 2-2 draw with Bari, the winner against Milan and the first goal in the 4-3 win over Sienna.

February:
February brought the return of the Champions League and Coppa Italia and Milito carried his goal scoring form into both competitions.

Milito scored the only goal in the Coppa Italia semi-final leg win over Fiorentina and then the first goal in the 2-1 Champions League win over Chelsea.

In the league Milito scored the winner in an important 3-2 away win to Udinese.

March:
After getting past Chelsea in the Champions League, Inter were drawn against CSKA Moscow and Milito's goal gave Inter a slender 1-0 lead that they took to Moscow.

April:
A busy month as Milito helped Inter get a draw away to Fiorentina in the league and then he scored the third goal in the 3-1 home win against Barcelona in the Champions League first leg semi-final win. That was the goal that ultimately sent Inter into the Champions League final as they beat Barcelona 3-2 on aggregate.

May:
Inter entered May on target for a historic treble and the bigger the games that month, the better Milito seemed to play.

First up was the Coppa Italia final against Roma and Milito's 40th minute goal was the difference between the two sides as Inter wrapped up its first trophy of the season.

After scoring the third in Inter's 4-3 win over Chievo, Inter entered the final weekend of play in Serie A two points ahead of Roma. Inter had a tricky away trip to Siena, but Milito's second half goal gave Inter their 18th Scudetto.

After delivering the Coppa Italia and Scudetto to Inter, Milito completed the trifecta with both goals in the Champions League Final over Bayern Munich.

I cannot remember any player who has scored the winners to win three separate trophies as Milito did in May 2010.

By my calculations, out of the 30 goals that Milito scored, 18 of them led directly to an Inter win or draw. That is a remarkable number.

Milito's career with Inter did not have the longevity of Inter legends like Giuseppe Meazza, Alessandro Altobelli, Sandro Mazzola, Javier Zanetti, Giuseppe Bergomi and Giacinto Facchetti, but when you are putting together a list of the most important players in Inter's history, Milito's brilliant 2010 season has to put him on that list of greatest Inter Milan players ever.