Are Inter legitimate title contenders?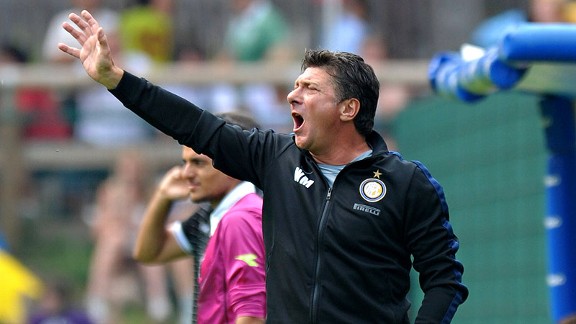 AllsportNew Inter Milan boss Walter Mazzarri is building a solid side.
The international break is always a good time to take a step back and take note about how Inter are doing this season, what is working and what areas need improving.

Inter went into the last international break on the back of a 3-0 defeat to Roma on Oct. 5, were already seven points behind the league leaders, five points out of a Champions League place and were being discounted by the Italian media as a serious title challenger.

After the Roma game, two areas of concern were the lack of consistent wide play opposite Yuto Nagatomo, as well as the form of Ricky Alvarez. When Alvarez struggled, so did Inter's attack

- Di Livio: Inter can challenge for title
- Horncastle: Saluting Zanetti

Inter boss Walter Mazzarri spent the time assessing his team and made some important changes in personnel. The moves paid off as Inter were unbeaten in the five games between international breaks, winning three and picking up 11 points out of a possible 15.

Jonathan has settled into that right wing-back position. While he is not the long-term solution there, he is being more consistent. Jonathan has been helped in the last two games by the emergence of Saphir Taider in the right side of a midfield three. Jonathan and Taider link up better than Jonathan and Fredy Guarin did, and that has made Inter an attacking threat down the right side of the pitch, and not just down the left with Nagatomo.

Moving Taider into a starting role in midfield is just part of the reshuffling that Mazzarri has done. After conceding five goals in the two games after the international break, the Inter boss moved to tighten Inter defensively. Taider was brought into midfield instead of Fredy Guarin, who was moved into Alvarez's No. 10 role, and Alvarez was moved into a more central midfield position.

The moves paid off for two reasons. One is that the combination of Taider/Alvarez is much better defensively than Guarin/rotating player.

Two, Inter have not lost any of the creativity that they had earlier in the season. Guarin is an attack-minded player, while Alvarez has done a phenomenal job joining the attack and creating chances.

The 13 goals in the five games between international breaks show that Mazzarri once again got the moves and tactics right.

So here we sit in mid-November, and Inter is still seven points behind leaders Roma. But after two consecutive draws, Roma does not look as invincible as they did five weeks ago. More important, Inter are only three points behind Napoli for the third Champions League place.

Inter are riding a five-game unbeaten streak and some people like former Italy international Angelo Di Livio are starting to mention Inter as a possible title contender.

"I think that this Inter side are being overlooked by everybody, yet they are silently -- with the excellent job being done by Walter Mazzarri -- doing some really amazing things," Di Livio told Gazzetta dello Sport's "Gazza Offside" programme.

The question is, are Inter legitimate title contenders?

You could build a case that they are. Inter's 29 goals lead Serie A, and the fact that 17 have come in the second half demonstrates that Inter are wearing teams down.

Mazzarri's 3-5-1-1 formation is suited to a counterattacking style, illustrated by Inter's league-leading 18 goals scored away from home.

I am encouraged that Inter are creating chances every game. They are fourth in Serie A with 15.3 shots per game, and if they can improve their accuracy (six shots on target per game, 39.2 percent) there is no reason Inter cannot continue to be one of the top-scoring teams in Italy.

My concern about whether Inter is a legitimate title contender right now is the strength of squad, especially when compared to Juventus and Napoli. Both clubs have invested heavily in new players over the last couple of years, and they have a quality and depth Inter and Roma cannot match.

You cannot win the Scudetto with only 11 players, and at the moment Inter's squad is not as strong as the teams above it. That advantage in squad strength could be taken away due to Juve and Napoli's involvement in European competitions this season, and that will have an impact on their domestic form. Also, the January transfer window will be Erick Thohir's first opportunity to make an impression as Inter owner.

That being said, I do not believe that Roma have a better squad than Inter. After a record-breaking start to the season, Giallorossi fans have to be more than a little worried that despite that great start that they are only one point ahead of Juventus.

As Roma cool off, that gap between them and Inter will continue to shrink and I expect these sides to battle it out for third place in the league.

So to answer the question, "Are Inter legitimate title contenders?" -- I don't think so right now. The team still has some questions defensively, and the depth of squad worries me, especially with all the injuries Inter have had the last two seasons.

But with three very winnable games between the end of this break and the trip to Napoli on Dec. 15, Inter have the opportunity to go into the winter break right in the mix for the top-three finish. And if that happens, the answer to the question might be different.